Taline Gabrielian's classic tomato spaghetti recipe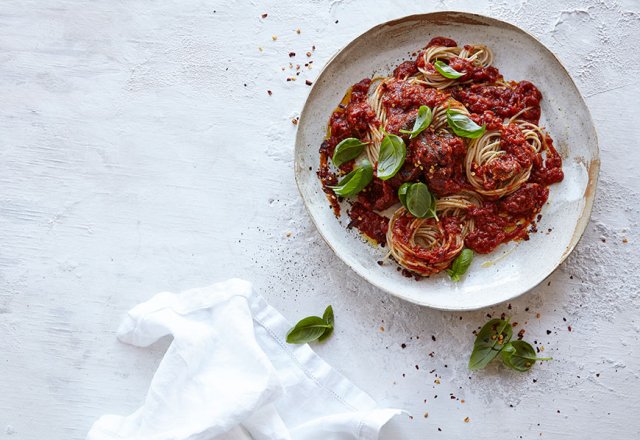 A delicious vegan dinner option.
We're so excited to share this delicious vegan-friendly take on the classic tomato spaghetti.
Ingredients (serves 6)
500 g gluten-free spaghetti, preferably wholegrain
FOR THE TOMATO SAUCE
1 tbsp olive oil
1 onion, finely diced
3 garlic cloves, crushed
1 carrot, finely grated
1 zucchini, finely grated
700 g tomato passata
2 tbsps tomato paste (concentrated purée)
100 g Swiss brown mushrooms (I leave mine whole)
1 bunch fresh basil, tied with string, plus extra basil leaves to serve
1 tsp sea salt, or to taste
½ tsp freshly ground black pepper
1 tbsp extra-virgin olive oil
1 tsp chilli flakes (optional)
Method
Heat the olive oil in a saucepan over medium heat. Add the onion and cook, stirring, for 2–3 minutes. Add the garlic and stir until fragrant.
Stir the carrot and zucchini through. Stir in the passata, tomato paste and 250 ml (1 cup) water and bring to the boil. Add the mushrooms and basil bunch and season with the salt and pepper.
Reduce the heat and simmer, uncovered, for 30 minutes, stirring occasionally. Remove the basil bunch and simmer for a further 30 minutes, stirring occasionally. When the sauce is nearly ready, cook the pasta according to the packet directions.
Drain the pasta and add to a large saucepan with 500 g (2 cups) of the spaghetti sauce; freeze the remaining sauce to use another day. Stir until the spaghetti has reached your desired temperature.
Divide the spaghetti among serving bowls. Drizzle with the extra-virgin olive oil and sprinkle with the chilli flakes, if using. Garnish with extra basil leaves and serve.
Image and recipe from Hippie Lane the Cookbook by Taline Gabrielian, published by Murdoch Books, RRP $39.99, with photography by Petrina Tinslay.
Rate This