Beetroot hummus recipe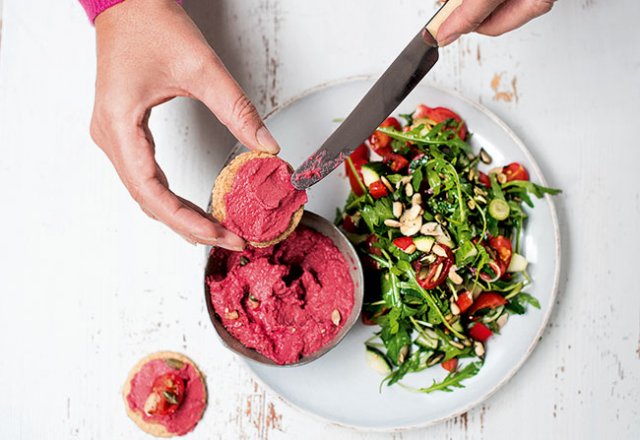 A delicious vegan snack.
Fuel your afternoon cravings with this delicious, vegan-friendly beetroot hummus dip.
Ingredients
1 medium raw beetroot
10 chopped fresh dill (or 2 tsp dried dill)
1 garlic clove, peeled
400g tin of chickpeas, drained and rinsed
3 tbsp tahini
½ tsp salt
juice and grated zest of 1 lemon
Method
Preheat the oven to 170°C.
Wrap the beet in foil lined with baking paper and place on a tray in the oven for 60-90 minutes (the baking time will vary depending on the size of the beetroot), or until a sharp knife slips easily into the centre.
When cool enough to handle, use kitchen paper to slip the skin off the beets (use a lug of olive oil as you would use hand cream to form a skin barrier, then hold the beets with kitchen paper and the skins should slip off easily, without staining your hands).
Place one peeled beetroot in the food processor along with any juices in the foil and the dill. Add all the other ingredients. Blend for 3-4 minutes, until really smooth. You may need to add a tiny splash of cold water if your mixture is looking very thick. Taste and adjust the seasoning as necessary.
Paprika: 1 tsp paprika/smoked paprika
Green: a handful of rocket
Pesto: ½ a bunch of fresh basil (stems removed), 2 tbsp olive oil, 2 tbsp pine nuts
Parsley: ½ bunch of fresh parsley (stems removed) and 1 tsp grated lemon zest
Guacamole: ½ a ripe avocado, extra zest and juice of ½ a lemon, ¼ of a bunch of fresh coriander leaves, ½ tsp chilli powder (optional)
Tomato: 3-4 sun-dried tomatoes (drained of oil)
Olive: 3 tbsp pitted olives and 1 tbsp olive oil
Carrot and coriander: 2 roasted carrots, with 1 tsp ground coriander and ¼ of a bunch of fresh coriander
Curried:1 tsp garam masala, 1 tsp turmeric, ½ tsp grounded cumin, 1 tsp tomato puree, 1 tsp fresh ginger (peeled and grated)
Red pepper and walnut: 1 roasted red pepper (seeds and stems removed) and 2 tbsp chopped walnuts
Tip: To make alternatives to beetroot hummus using the hummus base ingredients (chickpeas, tahini, garlic, lemon and salt), add your choice of the suggested flavours, before blitzing in your food processor.
This beetroot hummus recipe on this page is extracted from Nourish & Glow: The 10-Day Plan by Amelia Freer, $34.99, published by Penguin. Photography by Susan Bell.
Rate This