Are you aware of your 'inner mean girl'?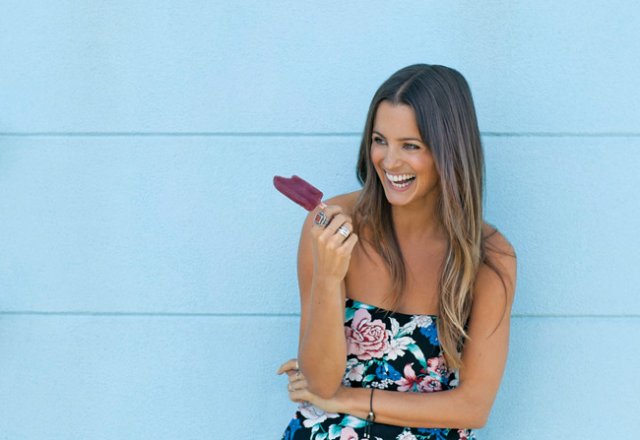 Learn how to form a better relationship with yourself
Wellness warrior Melissa Ambrosini is helping women form better relationships with themselves by calling out their inner mean girls.
The bright and bubbly Sydneysider shares her journey to health and wellness with Megan Gamble.
When presenting to a room jam-packed with 450 women at the recent Sydney Utopia Women's Wellness event, wellness author and speaker Melissa Ambrosini describes the atmosphere as "electric".
"When you gather that many women in the one place at the one time, who all want to live their best lives, there's so much power it's inspiring. You can feel the energy of these hungry, thirsty women, who want to know how to be the best versions of themselves and it's amazing," she says.
Ambrosini is, of course, very tapped into a person's energy and sense of wellbeing, given it's what she helps hone in her coaching clients. She's been inspiring women to lead healthier lives for close to four years now and – alongside the likes of Nat Kringoudis, Sarah Wilson and Jess Ainscough – is a key figure in Australia's growing wellness industry.
All four women share a sunny disposition, huge smiles, colourful, creative blogs, and envy-inspiring Instagram accounts. But Ambrosini's personal mission is to make us all aware of what she calls our "inner mean girl" – to realise that what is most important in life is what's going on between our ears. When we conquer that, we can live our lives from a place of love, rather than fear.
What is 'your inner mean girl'?
"Your inner mean girl is basically your ego, I just renamed it," she says. "She sits on your shoulder all day long. I teach women how to reprogram their mean girl, to become besties with her. Once you're aware of your mean girl patterns, you can allow yourself to live the life of your dreams, rather than listening to that voice in your head. The chatter that goes on, non-stop; it's all ego. The truth is not what she's telling us. I get women to connect with their hearts. The heart is like an internal GPS – once you know how to work it, you can't ignore it."
Ambrosini takes an honest and direct approach with her coaching clients. "I help them with their health and life goals, like finding a purposeful career, having meaningful relationships, and helping them clean up areas of their life.
"But the most important thing is what's going on between their ears. You can have enemas 'til the cows come home, but if you're not in a state of bliss and love, none of it matters," she says.
A personal journey
A former model, actress and dancer, Ambrosini is also candid about her own health and wellness journey. "Four-and-a-half years ago, I hit rock bottom with a cocktail of health issues. I had an eating disorder, toxic friends, no job and no money. I was hospitalised and diagnosed with thyroid issues, adrenal fatigue, depression and a serious outbreak of the cold sore virus. My light bulb moment occurred when a doctor plonked a tray of drugs down in front of me, and said I'd have to take all of these pills ongoing. I knew deep down I could heal myself – I was the only person who could help me get out of this situation."
Ambrosini's outlook was somewhat influenced by her reading of Louise Hay's 1984 bestseller You Can Heal Your Life. The experience put her on a life-changing path.
"I realised some pretty potent truths while in hospital," Ambrosini says. "What's important is what we tell ourselves on a day-to-day basis. All it takes is a positive thought or a negative thought."
When she left hospital, Ambrosini immersed herself in holistic medicine and a range of healing modalities, enrolled at the Institute of Integrative Nutrition (IIN) and did her yoga teacher training. She's spent the past five years reading widely and further up-skilling with a life-coaching course through Be Free People.
Healing through food and meditation
Ambrosini's experience at IIN forever changed her relationship with food, and she firmly believes in its power to heal saying, "There is honestly nothing more powerful than food". Of course, every item that enters her and her husband's Bondi Beach apartment has their best health intentions in mind. "I'm so grateful to have a partner who's on the same path as me," she says. "My husband is a massive foodie. He started doing his own research into food and we try and eat as close to nature as possible; the way our ancestors ate. No muesli bars or Coco Pops, for example. Food is either medicine or poison, it's there to support and help you thrive, so we try and honour that with our choices."
Another choice she has made is to include meditation in her daily routine. Ambrosini also uses it as a valuable tool in her coaching, and meditation is an important part of her soon-to-be-released program, Get Your Glow On, which she says is a "no BS guide to becoming fabulously healthy and bursting with love!".
"Meditation completely changed my life; it's so powerful. I no longer take any medication – it calms and grounds me and is the best medicine. I meditate twice a day for 20 minutes at a time, and it's non-negotiable. I schedule it in my digital calendar and will plan my meetings and commitments around it; it's that important."
She doesn't stand for excuses about busy lives getting in the way of meditation either. "We all have the same hours in a day. You need to make it a priority – make yourself a priority. We're all busy and have stuff going on. I tell my clients to let go of any and all expectations of what meditation should be, and to start small, even with five minutes. Just focus on your breath. Some days I do it in the car while waiting to pick up my stepson from school. Most days I do it sitting on the couch at home. You don't need an altar. I meditated on the beach in Italy on my honeymoon – anywhere goes."
The wellness revolution
Ambrosini applies that same non-judgmental approach to herself and to her clients. She says the biggest lesson she's learnt through coaching is to not to sweat the small stuff. "When we embark on a health journey, we can be so hard on ourselves. Every time we slip up or fall over, our mean girl comes up. I tell people to treat themselves as though they were a young child, with that child-like innocence and naivety. I apply that thinking to myself, too. I'm normal, I also have mean girl thoughts and want to be the best version of myself."
With the success of events like the Utopia Women's Wellness expo and the proliferation of wellness blogs and health coaches, Ambrosini acknowledges there's a waking up happening in society, and it's not just confined to women. "There's a definite shift happening right now, and it's awesome to be a part of that. Health coaches are increasingly common and everyone's tried yoga."
In the southeastern suburbs of Sydney where she lives, everyone is at the beach meditating in the morning, or doing Qi Gong or Tai Chai. Melissa even walked past a meditation boot camp recently where there were 15-plus people sitting in a circle, meditating as the sun rose.
"Look at our world. There's so much war, chaos, fear, pain and disaster. It's been happening for many years," she says. "But there has to be a shift because there is no other way. Love diffuses everything. The movement is people giving love, and love is the answer."
You might also like: The science of kissing or How to say no
Rate This