Anti-wrinkle power foods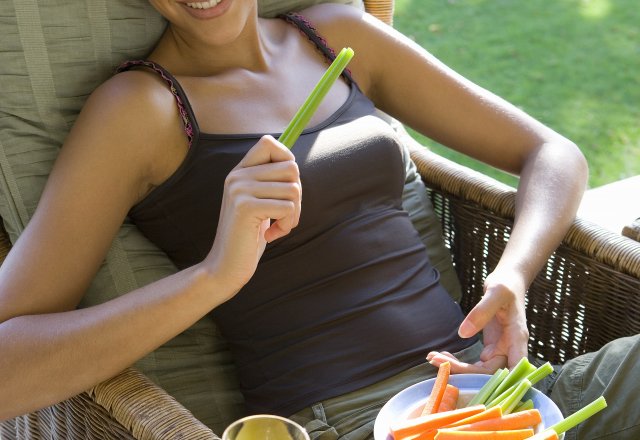 Mother Nature-approved anti-ageing offerings straight from your fridge
Why resort to chemical-laden, anti-ageing beauty products or drastic cosmetic procedures when you have a fridge filled with delicious anti-ageing power foods ready to reveal a naturally youthful you?
Here are your go-to food sources for age-proofing your skin, because what you put in makes far more difference than what you put on!
Pomegranates
Enriched with vitamins C and A, which are well-known anti-ageing vitamins, the red, pearl-like seeds in this heart-healthy fruit help prevent the appearance of wrinkles and also help rejuvenate and revive the skin, promoting cell renewal and helping it heal from wounds.
Its anti-inflammatory properties have been found to help protect the skin against skin conditions such as psoriasis, rosacea and acne, which contribute to premature ageing through scarring and the use of strong medicated creams as a form of treatment.
This antioxidant-rich winter fruit has been found to ward off cancer and according to a 2009 study published in Experimental Dermatology, products derived from the fruit such as juice, extract and oil have been found to have a protective effect against UVB-induced harm to the skin, thereby preventing sun spots and serious, long-lasting damage to the skin.
Salmon
This omega-3-rich 'brain food' is also a good 'skin food'. The presence of omega-3 in salmon means it will help your skin retain moisture and softness by strengthening the walls of our cells, including skin cell walls.
Salmon also helps improve the production of collagen, which helps maintain the skin's elasticity and suppleness.
Naturopath, nutritionist and food and wellness coach, Johanna Clark, says the skin benefits of salmon come down to its omega-3 content and good fats.
"Omega-3 is particularly good for the structure of your cells, keeping them firm and strengthening them," Clark says. "It strengthens the cells to hold more moisture, which nourishes them."
Salmon also has skin hydrating qualities and has been shown to boost the skin's ability to retain water, also preventing dryness and flaky skin, which can accelerate the ageing process.
"The omega-3 component in salmon moistens the skin, gives it bounce and helps alleviate dry skin, which can weaken the cells and contribute to the skin ageing," Clark says.
Carrots
Vitamin A, found in celery, carrots, sweet potatoes and spinach superpowers your skin by increasing cell turnover as well as having a 'resurfacing' function on the skin, making it appear more youthful. It's found in beta-carotene, which can be best sourced from red, yellow and orange fruits and vegetables. Carrots are a good source of beta-carotene and aid in the regeneration of skin cells.
"Beta-carotene is a precursor to vitamin A, so carrots can aid in the healthy ageing of the skin," Clark says.
"It can also help with a range of other skin conditions from dermatitis to acne, which can contribute to ageing. Beta-carotene is also good for the repair and strength of skin."
Carrots are also a great source of fibre, good for keeping your bowels regular. "Having a healthy functioning gut has a tremendous effect on your skin – if your bowels aren't working effectively, then your skin is going to suffer," Clark says.

Nuts
Aside from being a good afternoon pick-me-up, many nuts including almonds and walnuts are a good source of omega-3 fatty acids, which, in addition to promoting stronger, healthier cell walls, also reduce inflammation and swelling which can make the skin appear run-down and puffy.
A ¼ cup of walnuts can give you up to 95 per cent of your daily omega-3 requirements and as 'brain food' it nourishes the 'dry mass' in the brain, which is made up of essential fatty acids. The B group vitamin presence in walnuts also means it'll help you manage stress and mood, and in turn, prevent those wrinkles and frown lines from appearing on your skin.
Almonds and seeds, such as pumpkin, are also a good source of vitamin E, which helps repair the skin and acts as a powerful antioxidant. Nuts are also a good source of fibre, meaning toxins and waste can be eliminated from the body, thereby promoting a good digestive system and healthy, glowing skin as a result.
Many nuts are also enriched with the trace element selenium, which, according to a 2003 study published in the British Journal of Dermatology, can protect the skin from oxidative damage. High levels of selenium in the skin can prevent the appearance of spots and help banish dark-spot blemishes. Brazil nuts and macadamia nuts are rich sources of selenium – a handful of these nuts are an effective anti-ageing snack.

Oysters
They may not look pretty, but oysters will make your skin pretty fabulous! Oysters are rich in zinc, which promotes skin cell reproduction and faster wound healing.
"Zinc is a key nutrient for skin health – if you've got slow-healing wounds, then you may need to increase your zinc uptake," Clark says.
Slow-healing wounds could increase the chances and appearance of scarring, which can make the skin look a lot more damaged and worn-out than it really is. The zinc content in oysters will also allow your skin to balance and maintain its natural moisture and oils.
Clark explains a balance in hormones, particularly oestrogen, can be achieved with the help of good amounts of zinc in the body, which can in turn, boost sexual desire and also give you a healthy glow to your skin.

Tomatoes
High in vitamins C and A, tomatoes are high in lycopene, a phytochemical that gives tomato its red colour, which reduces your risk of cancer and leaves your skin with a healthy looking radiance. "Lycopene is a fabulous antioxidant, and antioxidants have been shown to reduce premature ageing," Clark says.
Cooked tomatoes are a better skin food than raw tomatoes, as cooked tomatoes have a greater lycopene content. "Having cooked tomatoes is very advantageous to get the specific antioxidant that can potentially facilitate skin health," Clark says.

Avocados
High in minerals and rich in the powerful antioxidant glutathione, avocados are a flavoursome face food that helps prevent premature ageing. This creamy, green fruit is rich in essential oils that help nourish the skin and retain its moisture.
Containing oleic acid, which acts as a powerful anti-inflammatory agent, avocados can also help skin retain its youth through its vitamin C and E content. Avocado is also a good source of niacin, which has anti-inflammatory properties, which helps soothe irritated and blotchy skin that can help contribute to and accelerate the ageing process.

Blueberries
These sweet-tasting, anti-skin-ageing berries contain the free-radical fighting pycnogenol, which, according to research conducted by the University of Sydney, was found to reduce the amount of inflammatory sunburn in mice. Because free radicals, which are produced by stress, pollution, the environment and sun damage are the biggest causes of premature and accelerated ageing, blueberries can protect your skin against both causes, lessening the effects of sun damage and also arming the skin with the necessary defences against external ageing aggravators.
They're also rich in vitamin C, which maintains collagen levels in the skin, keeping the skin firm, tightened and toned.

Garlic
Garlic boosts circulation in the body, and good circulation is important for healthy skin. Natural health experts also claim that garlic has detoxifying effects on the body, cleansing the blood and eliminating age-accelerating toxins stored in cells. It also contains vitamin C and sulphur, which have been found to reduce blemishes including pimples and acne, which can cause scarring and also accelerate the ageing process.
It's also a good source of selenium, which prevents oxidative damage in the skin.
"Selenium is a great antioxidant and antioxidants prevent oxidation of cells, which can age the skin," Clark says. "Selenium has been used for a range of skin conditions, particularly for those who have poor detoxification pathways, which contributes to the health and age of the skin."
By: Jennifer Kang
Johanna Clark runs a naturopathic clinic based in Melbourne's CBD and provides health solutions to the corporate sector around Australia through wellness programs, presentations and workshops. For more information on Johanna's services, visit www.johannaclark.com.
NEXT: Browse healthy recipe ideas to kick-start that anti-wrinkle plan!
Rate This