Wellness and balance with Ash Hart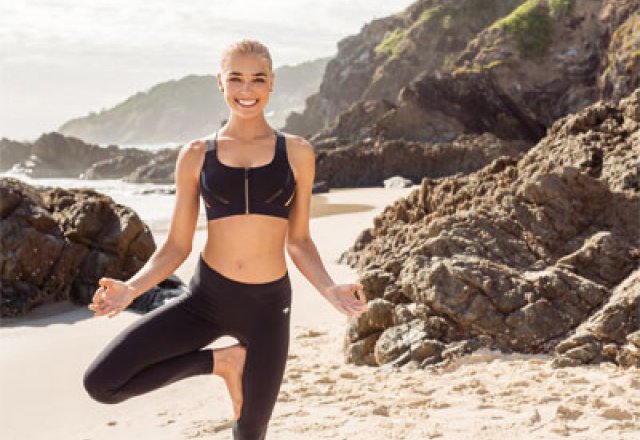 Living a healthy, well balanced life is the best way to live.
For Ash Hart life's about being happy, healthy and sharing it with the world.
At 15 Hart entered the modelling industry and felt the all too familiar pressure from society to be 'perfect'. Two years later she found her escape: yoga. She started to reconnect with who she was and that was exhilarating. " …when I began practising yoga and meditation, I started to remember who I was and came back to centre…it was then that I became really aware of the importance of mind and spiritual health, and this realisation changed everything."
Now, as a qualified yoga instructor, she's ditched the pursuit of perfection for one of inner peace and self-love and wants to share it with you.
The Hart of self-love
In a quest to spread the beauty of self-love, Hart believes in staying true to yourself and embracing the real you. "We all have these issues, but I was born the way I am and I want to stay true to that, which is why I work on self-acceptance and self-love daily," she explains.
She uses yoga as a practice rather than a workout and mediates twice a day. For her, it's about maintaining her energy, vitality and calmness, even when her schedules get busy. Her health is her number one priority and " it's the constant thing in my life no matter where I am or who I'm with."
"Yoga," she continues. "Constantly reminds us that we're imperfect, and to me, that's perfect."
Living well
It's about balance. As a Swisse brand ambassador she's a true advocate for wellness and happiness. She throws the fad diets out the door and focuses on eating the good stuff, fats and treats included.
The importance of family
With older sister, Jessica pursuing a career in modelling, you might think there'd be some sort of sibling rivalry but for Hart, nothing's more inspiring than having her sister to look up to. "As sisters, it's an unspoken agreement between us that we are unconditionally there for each other, always.
But we have to admit; there are surely so many good things about having a sister who is a Victoria Secret model – the endless wardrobe sharing opportunities! "[Jess] has the most ridiculous wardrobe and she's really generous with her stuff – that's definitely a major perk of being the 'little sister' and having a big sister who is an international supermodel!"
NEXT: Find out the bonus benefits of yoga.
Rate This