Spirit sessions with Xavier Rudd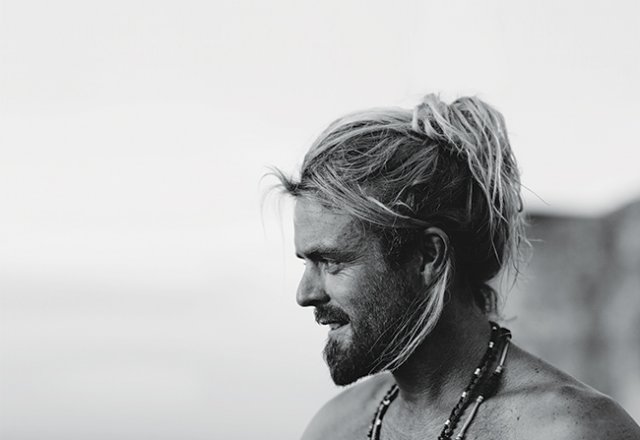 How he maintains health and wellbeing.
Maddie Lakos talks to award-winning Australian artist Xavier Rudd about music, spirituality and feeling the earth beneath your feet.
Music has the ability to bring people together, and this is particularly true of Xavier Rudd. For those who don't know him, he has described his sound as a blend of roots, reggae and folk. But it is not the genre that people know him for, but his message. Songs such as 'Follow the Sun' from his 2012 album Spirit Bird still reverberate on radios and much-loved playlists of fans who can't get enough of his message: respect for the earth, respect your kin and a zest for life.
The Spirit Bird album is regarded as the pinnacle of Rudd's solo career, capturing the most beautiful aspects of his voice, his songs and his spirit. But across his nine studio albums, Rudd has been celebrated for his ability to weave genres together – from tribal beats to delicate acoustic guitar. In 2015 Rudd wrapped up his most recent project, Nanna – a reference to Mother Earth – with the help of his new collective The United Nations. This collaboration was, in many was, an homage to world peace, symbolising "all people coming together around the globe to return to spirit, respect the ancient ways and protect the Earth and the very essence of creation".
Characterised by tousled blonde hair, bare feet and a bright-blue, pensive gaze, Rudd emanates freedom of spirit. But for all his bohemian flair, he is naturally grounded. The 'rock and roll' lifestyle of song-writing, touring and performing often doesn't make wellness a priority – something Rudd has learnt to overcome. A diligent vegetarian (and activist against animal cruelty and world hunger) and yogi, Rudd also champions self-love and respect for your body when it comes to health. "I maintain my health and wellbeing through lots of yoga and training, eating well and treating my body like a temple," he says. "I think that's the only way to maintain good health on the road and when life gets busy; it takes time to learn and it's important to be strict with your program and your choices."
Although the wellness industry has experienced a boom in recent years with mindfulness and meditation on trend and more and more people favouring organically produced products, shunning processed food and questioning the effects of capitalism and materialism on society – Rudd believes this movement is as old as time. "Wellness has always been a movement, or it is one of the oldest movements on the planet," he says. "I think it is great to see people coming back to it after such a massive detour, and with social media it's a lot easier to grow support and to spread understanding on these types of things."
Rudd first became a vegetarian after passing a Californian cattle farm while touring the USA. In an interview with the People for the Ethical Treatment of Animals (PETA), he recalls the putrid smell and the limited space the animals had to live in. "My biggest problem with society now is the mass production and no one even considering all those lives that are being factory farmed for human greed," he says. Named the 'sexiest Australian male vegetarian in 2007 by PETA, Rudd has accepted the lifestyle wholeheartedly and without any second thoughts. "Vegetarianism feels good for my body," he says. "Everyone is entitled to choose what is right for them, but to be honest, I couldn't imagine anything worse than having meat in my system."
As well as taking care of his body, Rudd also advocates the nourishment of spirit. Something that sets his music apart from other folk, reggae and roots artists is his reference and strong ties to Aboriginal lore. He is of Wurundjeri descent and frequently sings of reconciliation and connection to the land. "There is much to learn from Aboriginal culture," he says. "Every little thing in creation is considered as equal, and when you actually take time to look around and consider this in your day, it becomes a very powerful meditation. It can be difficult to take in at first, but a great respect for country and culture can only come from this."
Song-writing, Rudd tells us, is a direct reflection of his journey. "And it is always a powerful one," he says. "I meet lots of amazing people and visit so many different places, and each person and place has lessons, so there is always lots of material to draw from." This also means that his river of creativity and inspiration seldom ever runs dry. As he encourages us all to be through his music, Rudd is guided strongly by spirit. "And as spirit guides I write about it. This is a natural flow and I don't feel it will ever dry up."
Of his new project with The United Nations, Rudd says it has long been his ambition to bring a group of so many cultures and talents together to make music. "It's been a long-time dream of mine to put a band like this together," he says. "And it is an absolute honour to play with such incredible musicians and humans from so many different cultures around the world." Those who attend Wanderlust festival (wanderlust.com) in Great Lake Taupo, New Zealand (February 4–7), and Threadbo in Australia (February 18–21) will have the opportunity to experience this symbiotic musical venture for themselves. The festival brings together inspirational speakers, yoga pros and wellness warriors together for four amazing days of music, meditation and activities (and let's not forget healthful food).
If after all this talk of connection and freedom of spirit you are seeking a way to become more 'one' with the earth, may we suggest removing your shoes? Rudd is seldom seen without bare feet, a custom he believes helps him remain connected, and we are sure will make you feel, above all else, free. "I like to feel where I am at," says Rudd. "I like to feel the energy of the place that I am in. A lot can be felt through the feet."
Rate This