Spiced Prawns and Dolmades with Saffron Vinaigrette recipe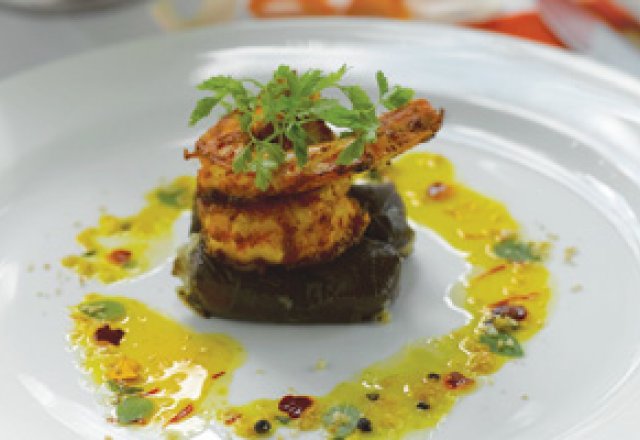 Fancy cooking up a storm this weekend? Try these spicy prawns drizzled with saffron vinaigrette
Using organic local produce and from-the-garden ingredients couldn't be more important for Dan Trewartha, head chef at Gaia Retreat & Spa. He shares his these indulgent recipes that incorporate a fresh and balanced approach to cooking.
Ingredients (serves 4)
2 tsp harissa
2 tbsp olive oil
8 large green prawns, peeled, deveined
40ml white balsamic vinegar
1 pinch saffron threads
120ml extra virgin olive oil
Sea salt and cracked black pepper to season
8 good-quality dolmades, room temperature
To serve
Drizzle vinaigrette
50g macadamia nuts, roasted, chopped fine
Coriander, edible flowers to garnish

Method
Mix harissa and olive oil well, add prawns and coat well, marinate for a few hours in refrigerator.
Gently warm white balsamic vinegar, add saffron threads. Sit for 10 minutes to infuse. Whisk in extra virgin olive oil and season with sea salt and cracked black pepper.
Heat barbeque to medium heat, cook prawns till just opaque.
Arrange dolmades on plate, top with prawns and drizzle vinigarette around plate. Scatter with macadamia nuts and add coriander and flowers.
Get more recipes and diet advice in our nutrition section and don't forget to find us on Facebook!
Rate This