Raw carrot cake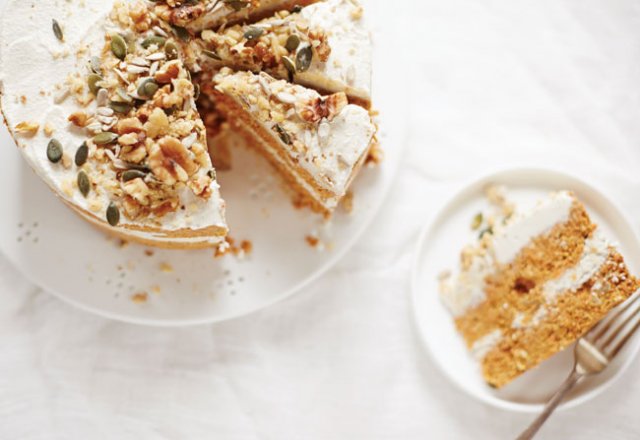 No baking fuss!
Everything you need to recreate Dani Venn's raw carrot cake.
Ingredients
500 g carrots, finely grated
1 cup medjool dates, seeds removed
1 ½ cups oat flour or make your own by blitzing whole rolled oats into a fine powder in a food processor (for a gluten-free alternative you could use almond meal)
1 tsp ground ginger
1 tsp ground cinnamon
1 cup walnuts, roughly chopped

Icing
200 g raw cashews, soaked overnight or place in boiled water for a few hours
½ cup thickened coconut cream
1 tbsp raw coconut oil
1 tbsp raw sweetener like maple, honey or agave
½ lemon, juice only
Extra walnuts, pumpkin and sunflower seeds, for garnish

Method
1. Line a 20 cm-wide pan with baking paper on the base and sides. I find using a loose-based cake pan or springform pan is perfect is for this recipe.
It's really easy to do all your prep such as chopping walnuts, making oat flour and grating carrots in a food processor. Once this is done, blitz dates in a food processor until a mushy, smooth consistency is formed and then add in carrots, oat flour, spices, walnuts and pulse until mixture is well combined
2. Place mixture into cake pan and smooth out and leave it in the fridge to set for an hour or so. Or if you would like two layers of cake (pictured), add only half of the mixture and then add icing – wait for it to set for an hour or so then repeat. I've also served this dessert in small jars, because everything looks cute in a jar.
3. To make icing, place cashews, coconut cream and oil, raw sweetener and lemon juice into a high-powered food processor and blend on high until a smooth consistency is achieved, scraping down the sides as needed.
4. To ice the cake, remove cake from pan, smooth over icing and garnish with pumpkin, sunflower seeds and walnuts. YUMMO!
Rate This