Perfect Packed Lunches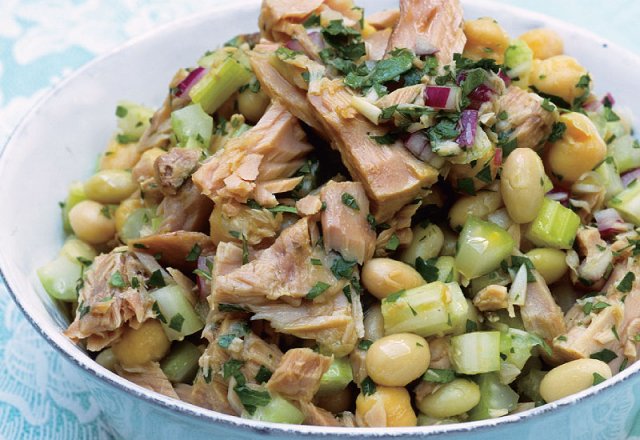 Bored of soggy sandwiches and greasy canteen food? Tired of tasteless salads and sugar-laden soups? A nutritious and flavoursome lunch can be difficult to come by when you are away from home all day.
Liz Nowosad asked five top nutritionists from around the country for their pick of the packed lunches. The brief was; delicious, nutritious, simple and satisfying enough to keep you going till dinner.
Four bean tuna salad
"This lunch is high in protein from the fish and beans, as well as slow release carbs and nutrient rich veggies. It is easy to make beforehand, or at the office after a quick trip to the supermarket."
Ingredients
1 ½ cups raw veg (such as red onion, sugar snap peas, celery, cucumber, capers, artichokes)

½ cup 4 bean mix

1 x 95g can tuna in oil (the oil serves as the dressing)
Method
Mix all the ingredients together in a bowl, pop it in a Tupperware box and off you go!
Tuna melt with tomato
"The most important part of a lunch is the protein. It is the heart of the meal – the anchor, the part that keeps you from getting hungry and keeps you going throughout the afternoon."
Ingredients
2 slices of Light Rye bread

3 slices tomato

1 x 95g can Tuna in spring water

1tsp whole egg mayo - mix with tuna

1⁄6 avocado - spread on bread

1 slice light cheese
Method
Construct the sandwich and toast it in a sandwich toaster for a couple of minutes. If you don't have a sandwich toaster in your office, toast the bread first and then assemble the sarnie.
Lentil and vegetable soup
"This is a great, warm and filling recipe. It is rich in antioxidants, thanks to the vegetables and crushed tomatoes and high in dietary fibre. Plus, the lentils provide a low glycaemic index source of carbohydrate as well as protein to help you feeling full
for longer."
Ingredients
1 cup spinach

1 cup shredded cabbage

½ cup diced mushrooms

1 diced carrot

1 diced zucchini

½ cup tinned lentils, drained

1 tin crushed tomatoes

1 cup salt reduced vegetable stock

Garlic clove (if desired)

2 tsp Parmesan cheese

Mixed herbs to taste
Method
Place all ingredients (except the cheese) in a saucepan and bring to the boil, stirring regularly. Reduce heat and simmer for a further 30 minutes. Serve topped with Parmesan cheese with a wholegrain bread roll. You can prepare this soup on the weekend and freeze in individual servings to heat up in the microwave at work.
Chicken and vegetable pizza
"This is a delicious alternative to a usual high fat pizza. The whole meal pita bread is low in fat and high in dietary fibre. The chicken is lean and a great source of protein to help sustain you through the afternoon - as protein rich foods help to slow stomach emptying after a meal. The pizza and salad contain a great mix of vegetables for extra vitamins, minerals and antioxidants."
Ingredients
100g cooked skinless chicken

1 small whole meal pita-bread

2 tbsp tomato paste

2 sliced mushrooms

½ diced capsicum

½ cup baby spinach leaves

40g grated mozzarella cheese

Salad of lettuce, tomato, cucumber, carrot, snow peas and ½ avocado

Oil free salad dressing
Method
Top the pita bread with tomato paste. Add the chicken and vegetables and sprinkle the cheese over the top. Cook the pizza in a moderate oven (180ºC) for 15-20 minutes until the cheese is melted and the base is crisp. Prepare this at home the night before so it can be easily heated in the microwave at work, or eaten cold.
Toasted pesto rye
"Rye bread assists with serotonin release, which helps to balance blood sugar and regulate appetite, whilst also uplifting our mood. This is a perfect, high protein, omega 3 filled, antioxidant packed lunch!"
Ingredients
1-2 slices Rye bread or spelt / sourdough bread

1 ybsp Organic or homemade pesto

Chopped tomatoes

Organic extra virgin,cold pressed olive oil

Organic balsamic vinegar

1 sliced, cooked turkey

breast or 2 soft-boiled free-range eggs.
Method
Toast your bread, add pesto tomato and turkey breast or soft-boiled eggs. Drizzle a little olive oil and balsamic vinegar on top… Delicious!
Chickpea salad
"Chickpeas in particular
are packed full of protein, omega 3 and phytosterols, therefore supporting hormone balance as well as stabilizing energy levels."
Ingredients
½ can of organic chickpeas

1 handful of fresh parsley

½ roma tomato

1⁄3 medium sized cucumber

¼ purple onion

1 tbsp of crushed almonds

1 tbsp of Dijon mustard

Dash balsamic vinegar
Method
Rinse the chickpeas. Finely chop all ingredients and combine. Stir in the dijion mustard and add a dash of balsamic vinegar.
Egg and seed salad
"This lunch is great as the weather warms up, as we don't need heavy cooked meals at lunch. Black pepper & vinegar both stimulate digestion and the Celtic sea salt adds minerals to keep the appetite at bay. Combining 2 or more types of protein (eggs, labneh & trail mix) feeds satiety, as does the flaxseed oil, which is also high in omega 3."
Ingredients
2 large handfuls mixed green salad leaves

2 soft-boiled eggs

2 labneh balls (yoghurt balls) broken into bite size pieces

1 tbsp tamari trail mix (try the Macro brand from Woolworth's)

Generous splash balsamic vinegar

Generous splash flaxseed oil

1⁄6 red onion finely sliced

Large pinch Celtic sea salt and freshly ground pepper
Method
Top the mixed salad leaves with 2 soft boiled eggs cut into wedges and bite size labna balls and sprinkle with 1 tablespoon of tamari trail mix. In a separate jar, add 1 generous splash balsamic vinegar, 1 generous splash flaxseed oil, 1 large pinch Celtic sea salt and freshly ground pepper. Add it just before serving.
Pumpkin bread, avocado and ricotta sandwich
"Pumpkin seeds are high in zinc for wound healing, skin health & can help to balance blood sugar levels. Always have dark green leafy veggies twice a day if possible for magnesium & calcium. Ricotta & avocado are both good substitutes for butter or margarine."
Ingredients
2 slices pumpkin seed bread (e.g. Burgen)

60g low fat ricotta

½ avocado

1 tbsp sunflower seeds

3 sun dried tomatos (thinly sliced)

8 baby spinach leaves.
Mix the sunflower seeds into the ricotta (for crunch factor) and spread on one slice of the pumpkin bread, then top with the spinach and sun dried tomato. Spread the other slice with avocado and place on top to make a delicious and filling sandwich.
Quinoa salad
"Quinoa is a winner as it is the highest containing protein grain, giving you slow release energy and keeping you feeling full for longer. Not only that, it's gluten-free which makes it easy to digest for everyone. Quinoa salad lasts for about 5 days, so you can make a big batch at the start of the week and have it throughout."
Ingredients
½ cup red or white wholegrain quinoa, rinsed
3 roma tomatoes, finely diced
50g baby spinach leaves, shredded
1⁄

5 Spanish onion, finely diced

½ large beetroot, peeled and grated
Juice and zest of ½ lemon
Dried cranberries, 1tbsp
½ tbsp sunflower seeds
½ tbs pepita pumpkin seeds
Pinch sumac
Agave Dressing
Juice of ½ small lemon
1 ½ tbsp tamari (wheat free soy sauce)
½ tbsp agave
1tsp of apple cider vinegar
Method
Cook the quinoa according to packet instructions. When it's cooked, add the tomatoes, baby spinach, salad onion, grated beetroot, dried cranberries and sunflower seeds. Toss and add agave dressing. Finish with a sprinkle of pepitas and sumac.
Rye wrap with hummus, avocado, cherry tomato and grated raw beetroot
"Wraps are an easy-peasy way to get a nutritionally dense meal as most of the ingredients are raw and the combination of ingredients tastes delicious!"
Ingredients
2 x Rye Wraps (available from your local health food store or supermarket)
½ Beetroot, grated
1 Carrot, grated
½ Avocado, pipped and sliced
3 Cherry Tomatoes, halved
2 tbsp Hummus
Method
Place the wrap on a sheet of greaseproof paper, then make a line of hummus up the middle – leave about an inch clear at the bottom so you can flick the end up and tuck it in. Place avocado segments on the hummus, spread grated beetroot and carrot over the avocado then place the cherry tomatoes on top. Add a little salt and pepper to taste, then fold up the end and roll the wrap, using the greaseproof paper to roll it like a sushi matt. Fasten with a bit of tape.
Rate This