Avocado, spinach and asparagus salad with parma ham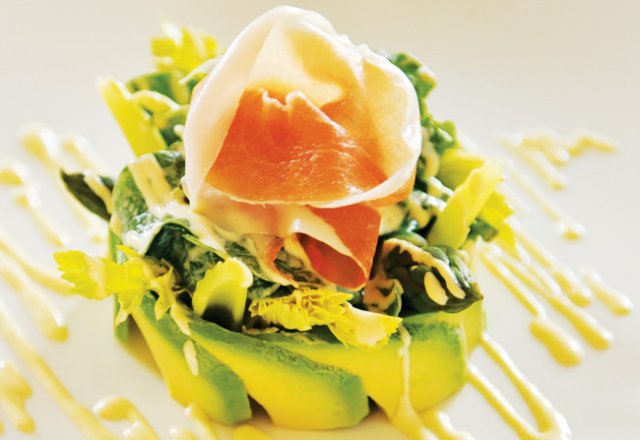 Tasty recipes from Dorota and Walter Trupp
It's time to ditch the heavy meals in favour of some light, summer salads.
Ingredients
12 ripe, large avocados
12 spears asparagus, steamed for 2 minutes and cut into 3 pieces
1 celery heart, leafs picked, stems cut and steamed for 2 minutes
4 handfuls baby spinach leaves
½ cup sour cream
¼ cup extra virgin olive oil
3-4 tbsp hot mustard
Half a lemon
4 slices Parma ham
Salt, pepper
Method
Mix sour cream with olive oil and mustard. Finish with a dash of lemon juice and season with salt and pepper.
Cut the avocados in half, remove the stone and peel them by pulling the skin off, then cut them lengthwise into thin strips. Transfer onto a plate and fan them into a circular shape.
Mix the asparagus and celery leafs, celery stems and spinach with half the dressing and place into the centre of the avocado rings.
Drizzle the remaining dressing over (you can do this by filling it into a squeezy bottle).
Garnish with a slice of Parma ham and serve.
Rate This