Orange Vegemite noodles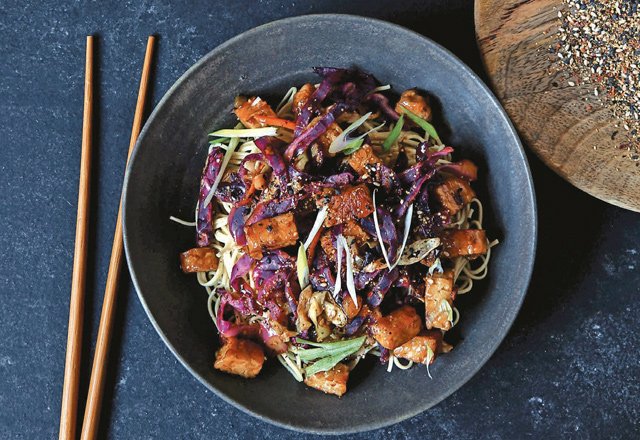 Try this vegan-friendly orange noodle dish with a uniquely Australian twist.
Vegemite is a great source of of Vitamin B and so is this delicious noodle dish.
Serves 3
Ingredients:
2 tsp organic cornflour
60ml fresh orange juice – about 1 orange, grate the zest of half the orange before juicing
60ml mushroom dashi
1½ tbsp low-sodium tamari
1–2 tbsp Vegemite, to taste
2 tbsp agave nectar
1 tbsp melted coconut oil or peanut oil
227g tempeh or super firm tofu, cut into bite-sized cubes
255g shredded cabbage (both colours) and carrot
2 large garlic cloves, minced
1 small mild or hot pepper, seeded, cored and minced
3 bundles of instant ramen (about 150g total), cooked according to package directions
shichimi togarashi and thinly sliced spring onions, to serve
Place the cornflour in a small saucepan and whisk to combine with the orange juice. Add the dashi, tamari,
Vegemite and agave nectar. Whisk to combine. Alternatively, combine these ingredients in a blender if the Vegemite is extremely thick.
Heat on medium-high heat and cook until it starts to thicken, about 4 minutes, whisking frequently. Set aside.
Heat the oil in a large skillet on medium heat. Add the tempeh cubes and sauté until golden brown, about 6 minutes, stirring frequently. Add the cabbage, garlic and pepper. Sauté until just softened, about 4 minutes, stirring frequently.
Add the yeast extract sauce, stirring to combine, and cook for another minute.
Divide the cooked noodles among three bowls. Top with the tempeh, shichimi togarashi to taste and the spring onions.
Rate This