Orange and fig quinoa breakfast bowls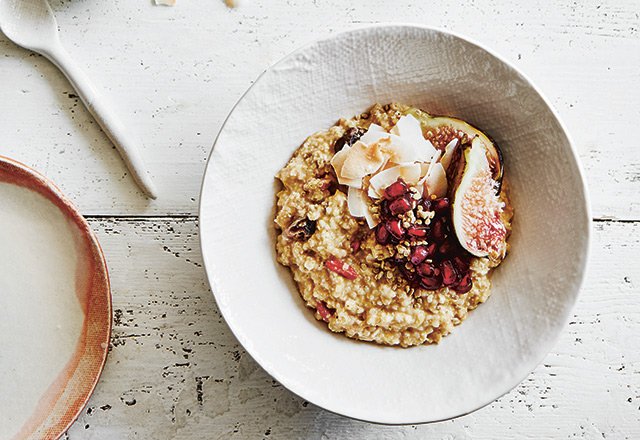 The perfect way to start your day.
Kick-start your day with this healthy, vegetarian breakfast bowl.
In nature, seeds are meant to pass through the system of animals relatively undigested so they can be planted elsewhere. To make it possible for seeds to pass through undigested, they contain phytic acids to make them difficult to digest.
Seeds also need to be preserved until the time is right for sprouting, so they contain compounds that stop the active enzyme activity of germination. These compounds also serve to hinder active enzyme activity in the digestive system. Beginning the sprouting process, by soaking, makes seeds, grains and nuts more digestible and helps the digestive system obtain all the wonderful nutrients within them. Prepare this the night before you want to eat it.
Ingredients (serves 2)
200 g (2 cups) quinoa flakes
100 g (1 cup) quinoa puffs
100 g (1 cup) gluten-free oats
1 tbsp vanilla extract
400 ml (1 ¾ cups) freshly pressed orange juice (or other juice of choice such as apple, carrot or pink grapefruit)
150 ml (2⁄3 cup) filtered water, plus extra for soaking
10 dried figs, roughly chopped
75 g (2 ½ cups) goji berries
25 g (¼ cup) sunflower seeds
25 g (¼ cup) pumpkin seeds
Toasted coconut flakes and fresh fruit (such as figs or blueberries) to serve
Method
The evening before, place the quinoa flakes, puffs and oats into a large mixing bowl. Stir to combine, then add the vanilla extract, orange juice and water and stir to combine again. Now add the chopped figs and goji berries and stir well. Cover the bowl with cling film.
Place the sunflower seeds in a small bowl and just cover them with filtered water. Cover the bowl with cling film. Place both bowls in the refrigerator overnight.
In the morning, uncover the soaked quinoa mixture and stir to loosen. You may like to add a little more juice or water to help soften it. Drain the soaked seeds and divide among 4 bowls (or keep the seeds for garnishing the top of the oats).
Scoop the soaked quinoa into the bowls, then top with toasted coconut flakes and fresh fruit. Keeps for 3–5 days in the refrigerator.
This is an edited extract from The Yoga Kitchen by Kimberly Parsons, published by Quadrille, RRP $39.99, available in stores nationally.
Rate This