Norfolk Island: a food lover's getaway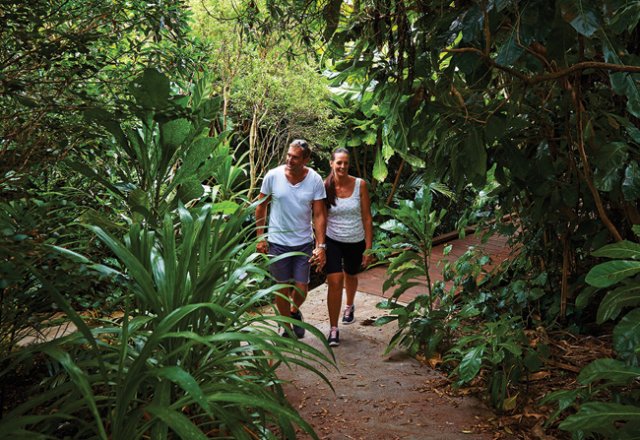 There are over 35 restaurant and cafes on the island
This pine-peppered archipelago in the South Pacific is fast gaining a reputation as a gastronomic destination, writes Tatyana Leonov.
The Saturday farmers' markets usually have two regular vendors. Sometimes a third seller will come along too. About 20 people are meandering around and no-one is in a rush. There is food to buy and things to do but that doesn't stop the locals from taking it slow. Many of the residents hold down several jobs, see friends frequently, contribute with volunteer work, do yoga/tai chi/visit the local gym…yet they never seem hurried. Or tired. Or stressed.
A different way of life
It's a way of life here and it's contagious. Any traveller who ventures out to this Australian island gem (Norfolk Island is less than three hours flight time from Sydney, Brisbane or Auckland, and Air New Zealand flies direct from all three cities) leaves a different person. Mobile phones are put away, emails become inconsequential and deadlines are forgotten.
Aside from basking under the native Norfolk pines, snorkelling in coral-carpeted coves, and trekking through natural park terrain where sharp mountain peaks leap into the sky, travellers feast on some of the freshest, highly organic and most delicious food in the world. Seriously.
Most locals will tell you it's the collective result of location, soil and climate. The subtropical island is a volcanic outcrop that was formed three million years ago, and although it's a third of its original size, the erosion over the centuries has formed an extraordinarily unique ecosystem.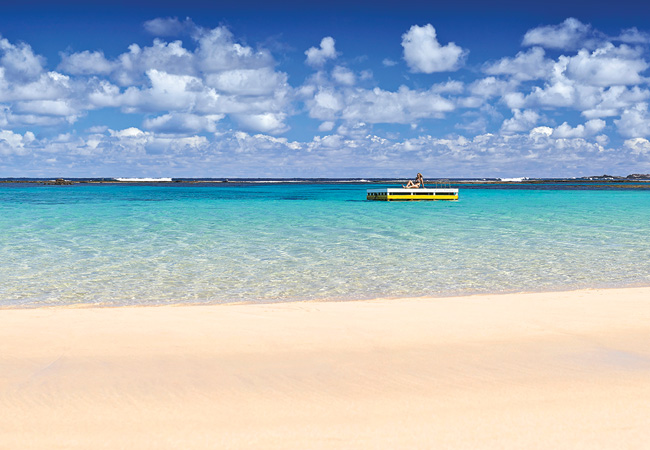 "The soil here today is unique to Norfolk Island and we grow so many different vegetables and herb varieties here because we can," Peter Barney, head gardener at Hilli Restaurant and Cafe explains.
Peter has been a gardener for more than 15 years and cites working at Hilli (where he has worked for close to five years) as a highlight. He also looks after his own vegetable and herb garden and anticipates selling his fresh harvest at the Saturday markets one day soon, laughing, "Maybe there will be three vendors later this year".
Peter travelled to Norfolk Island for a holiday and fell in love with the place. His second visit was to relocate and his story is not at all unusual. The serene island is full of people who came for a break and ended up staying. Owners of Hilli restaurant, Kim and Stephen Wilson, holidayed here in 2009 and also decided they wanted to make the island their home. They purchased a property (which is now home to the expansive garden), and soon after decided to go all out and bought the restaurant too.
At Hilli guests come face to face with fresh, seasonal and organic (the Hilli salad is one of the most popular dishes and showcases their home-grown herbs and vegetables), and if they want to learn more about where the food comes from, the Wilsons run a taste tour too. It begins with a walk about the garden (conducted by Peter) followed by a cooking class, lunch and then finally dessert…of course.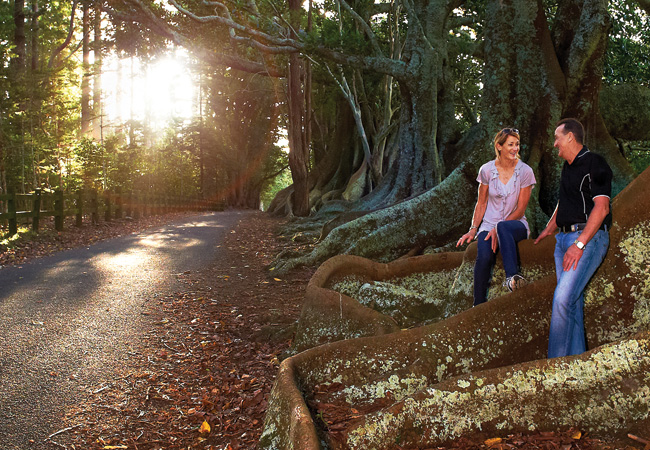 Spoilt for choice
For an island that's only eight by five kilometres in size, the food offerings are abundant (there are over 35 restaurant and cafes on the island) and dessert is a hedonistic affair. Fresh, seasonal, organic; these are not buzzwords here but necessities.
"It's truly seasonal here. Produced, harvested – or even fish caught in the morning – it's all on your plate by lunchtime or that evening," says Robyn Menghetti, manager and owner of Norfolk Blue Restaurant, Grill and Bar.
"It has to be. There are no major cool storages on the island, so unlike what you experience in supermarkets – where by the time you buy your produce it's likely to have been harvested many days, weeks or months prior – we experience the full just-harvested flavour."
Although Robyn's specialty is the Norfolk Blue beef (in 2006 she began breeding a unique heritage breed of blue-tinged cattle not found anywhere else in the world) and guests come from all over to her award-winning Norfolk Blue restaurant to sample the high-quality steak. Dessert is regarded highly too and Robyn ensures as much as possible is fresh.
"Our local pineapple and passionfruit pannacotta is always a hit. We combine the delightful flavours of Norfolk Island pineapple (a flavour like no other) and locally grown Hawaiian passionfruit and then finish the dish off with a subtle sorbet made using our beautiful Norfolk Island bush lemons," she says. "Our toffee-crusted crème brulee is also scrumptious. It's made from our free-range farm eggs. And then there's the chef's baked cheesecake, which changes regularly and is based on whatever seasonal produce is available at the time."
Locals and chefs alike use whatever is growing to craft desserts that entice anyone who has an inkling of a sweet tooth. In the right season juicy red cherry guavas are used to make jams and jellies, home-made ice cream is topped with plump mangos, and beautiful peaches, melons and mandarins are used to make vibrant fruit salads – and anything goes in a pie.
"Without a doubt one of the best desserts on Norfolk Island is the island pies," says Emily Ryves, the island's first and only goat farmer (zachandemily@ninet.nf).
"Coconut, lemon or passionfruit, to me these pies are the true taste of Norfolk!" Emily is working on producing goats' cheese to sell (a first for the island) and also plans to conduct sustainable farming tours at her property in Anson Bay – so that guests can learn about how all this delicious produce comes together on a plate. "We nurture our home and in return our island provides for us through the tastiest of produce, the healthiest of stock and an abundance of fish," Emily says. "Norfolk Island is life the way it was meant to be lived."
All photos supplied by Norfolk Island Tourism. For information go to norfolkisland.com.au
Rate This