Marinated tempeh wraps (vegetarian)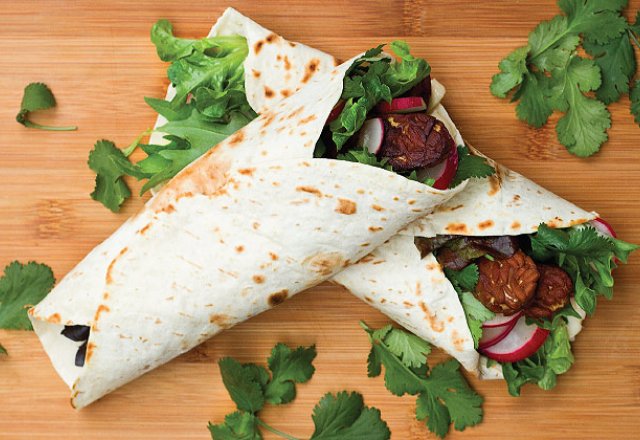 Quick and easy recipes from Green Cooks
These marinated tempeh wraps are bursting with flavour and are super easy to make.
Marinate your tempeh well in advance to cut down even further on prep time. Use soy mayo or yoghurt for vegan wraps.
Ingredients (Serves 2)
200g plain tempeh
1½ tbsp kecap manis
1½ tbsp tamari
2 tsp sesame oil
1 clove garlic, crushed
Spray olive oil
2 large tortillas
1 tbsp good quality mayonnaise (made with free-range eggs) or natural yoghurt
Handful of mixed salad leaves
1 radish, thinly sliced
Coriander leaves and lime juice, to serve
Method
Chop tempeh into 3cm fingers. Combine kecap manis, tamari, sesame oil and garlic in a wide, shallow bowl or small zip-lock bag. Add tempeh fingers and mix to coat. Place in the fridge and leave to marinate for at least 30 minutes.
Place a grill pan over a medium heat and spray with olive oil. Place tempeh fingers on the grill and cook until golden brown and charred on all sides. Remove from the pan and add tortillas one at a time, to warm.
Spread mayonnaise or yoghurt onto each tortilla and top with salad leaves and radish. Divide tempeh amongst tortillas, scatter over coriander leaves and add a squeeze of lime juice. Roll up and serve the wraps warm.
Browse more healthy recipes or connect with us on Facebook!
Recipe from Ruth Friedlander; Photo credit: Jessica Bicknell
Rate This