Love your moves!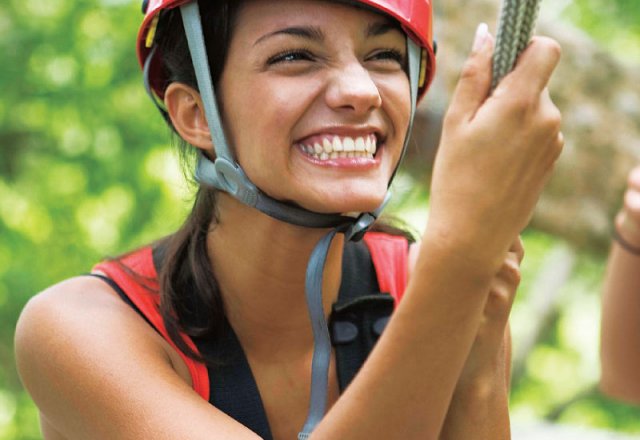 From yoga and rock climbing to trapeze and the latest dance craze, Emma Krieger's got plenty of fun workout options to beat the boredom factor.
Ever purchased an annual gym membership only to regret it a month or two later?
Ever purchased an annual gym membership only to regret it a month or two later? For some of us, being cooped up inside a gym doing repetitive exercises, staring at mirrors and wall's is not all that fun. And, the boredom factor is the most likely culprit when it comes to losing drive and motivation in the pursuit of fitness.
Luckily, there are plenty of alternatives that don't involve fluorescent lighting and Lycra.
Climbing the walls
In the last decade, rock climbing (once seen as an extreme sport) has hit the mainstream and as a result, the popularity of indoor rock climbing facilities has increased too. Whether you are a seasoned outdoor enthusiast or a novice, rock climbing is an excellent exercise alternative for people of any fitness level.
Sue Floyed of Hardrock Climbing Company started Australia's very first indoor rock climbing gym in Melbourne 12 years ago, because her husband was sick of braving the elements.
"My husband has always loved climbing and used to go outdoor climbing regularly. It'd be raining and he'd come home and say, 'I think we need somewhere to train where we're away from the elements'," says Floyed.
"Since we opened we've seen involvement in indoor climbing increase hugely."
Floyed attributes this to the enormous physical benefits climbing can provide.
"Rock climbing addresses four of the five components of physical fitness," she says. "Muscular strength, muscular endurance, body composition and flexibility."
New climbers will quickly begin to develop arm, back and core strength as a result of the many reaches and holds that are repeated over and over throughout the completion of a climb.
Beginners will start with easier climbs, first learning how to tie the safety knots and fasten their harnesses and helmets. Then you're ready to attempt to climb under the supervision and aid of a trained guide.
As you begin to learn to reach and stretch your limbs to find the tiny holds that your fingers and toes will grip in order to stay on the wall, your body will be working to provide balance, coordination and mental focus.
"It's definitely a bit of an adrenaline rush," says Floyed. "Climbing clears the mind – it's a bit like a puzzle. You start climbing up the wall, you follow a certain path and you're thinking about that path. There's a feeling of accomplishment – you feel quite exhilarated when you come down."
For more information visit: Hardrock Climbing Company, www.hardrock.com.au.
Getting down with downward dog
Yoga, which derives its name from the word "yoke" – meaning "to bring together", does just that, uniting the mind, body and spirit. But whether you use yoga for spiritual transformation or for stress management and physical wellbeing, the benefits are numerous. While most people are familiar with the basic concept and moves of traditional yoga, there are actually a plethora of different styles that are taught and practiced.
One of the most psychically demanding forms is Ashtanga, or "power" yoga. Ashtanga is fast-paced and intense, with a set series of poses, always performed in the same order, which is combined with a breathing technique known as Ujjayi Breath (breathing with sound).
According to yoga instructor Usha Bala, "Ashtanga, a Sanskrit word, means eight arms. This refers to the eight arms of yoga that give you a better understanding of yourself, culminating in a healthy mind, body and soul."
Along with increased flexibility, stamina and strength, Ashtanga yoga has psychological, emotional and spiritual benefits.
"Ashtanga yoga enables you to replace negative energy with positive energy," says Bala. "Since it involves focusing your mind as well as your body, this helps to eliminate stress.
"The Ujjayi breathing increases oxygen supply to the brain and meditation enhances your powers of concentration," Bala says. "As you exhale, the waste products are expelled from your body."
"Regular practice results in a strong, supple and pain-free body, a clear and focused mind and a sense of wellbeing and contentment. The idea is that the physical practice of Ashtanga yoga can bring about health and balance in the body, freeing the mind for the pursuit of meditation."
For more information visit:
Find Yoga Australia, www.findyoga.com.au.
Shall we dance?
The latest craze sweeping the dance world is Nia, a low impact holistic movement practice that involves skillfully designed steps and stances that are easy to follow. Nia is inspired by yoga and tai chi and its philosophy celebrates "the joy of movement".
Su-lin Sze, a certified Nia technique instructor, says Nia is more than a simple dance class.
"Have you ever heard a dance teacher say, 'Do this move your body's way, at your own level'? In my experience, I hadn't and so my first Nia class was a revelation," says Sze.
"If you are one of those people who find dance classes perfectionistic or even intimidating then a Nia class will be a welcome space for you to just enjoy moving your body for its own sake. Many of my students have had very little dance experience before coming to Nia."
Regular Nia classes increase your body's circulation, helping to boost your metabolism and detoxify, which is great for both the heart and lungs. You're also improving your flexibility, balance and cardiac endurance.
Nia not only offers physical benefits but also emotional ones too.
"The benefits of Nia are far reaching. It helps to reduce tension and encourage mental wellbeing," says Sze. "It's a great practice for releasing pent-up tension through exercise and vocalisation. Nia helps one to centre mentally and improves alertness and also boosts self-esteem.
"Personally, Nia is something that I use in my life to transform and make me more aware. I like to think of my classes as a safe space to explore oneself. At the end of class we are all beaming, in touch with our bodies and more deeply connected."
For more information visit: Nia Australia, www.niaaustralia.com.au.
And for something really different…
Why don't you try flying through the air with the greatest of ease?
The somewhat novel sport of trapeze tones your core, strengthens your arms and best of all, is a heck of a lot of fun! For Samantha Wills, 26, trapeze is her favourite form of exercise.
"I love the feeling of being free, soaring through the air," says Wills, who started trapeze lessons in 2008 and hasn't looked back.
Wills says she became intrigued with trapeze "after I saw an episode of Sex And The City in which Carrie takes trapeze lessons. I thought, 'Why not?'"
A trapeze training session starts with a lesson in safety procedures and basic body positions. Then it's time to put on a safety harness, climb the platform, attach the safety ropes and swing. After a few swings, most can master the "release and catch" (you let go, someone catches you). This in turn, leads to flips and more advanced maneuvers.
Wills says it's a great workout. "Trapeze is about core strength - you have to use those muscles to climb the ropes and hang onto the swing. I've definitely become more toned, particularly in the tummy area. Trapeze allows me to combine creativity, fitness and wellbeing. It challenges me and is the perfect distraction from work."
"It is a bit daunting to be up that high," says Wills. "Although I'm not afraid of heights, you have to have your wits about you."
For more information visit:
Flying Trapeze Australia,
www.flytrapeze.com.au. NH
Rate This