Leeks à la grecque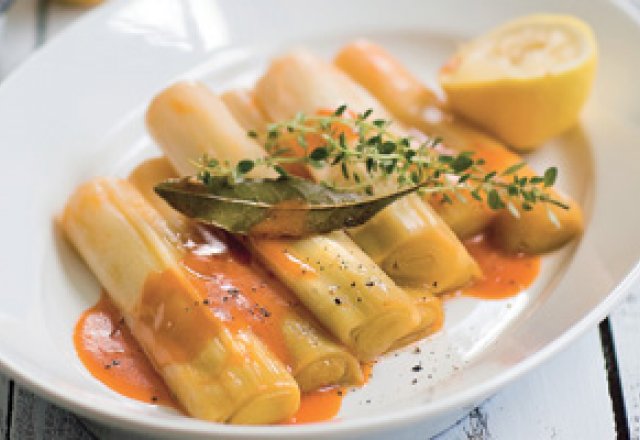 A delicious vegetarian side dish
This recipe has been taken from Cooking from the Market: Vegetables by Murdoch Books.
Ingredients (serves 4 as a side dish)
3 tbs extra virgin olive oil

1 ½ tbs white wine

1 tbs tomato paste (concentrated purée)

¼ tsp sugar

1 bay leaf

1 thyme sprig

1 garlic clove, crushed

4 coriander seeds, crushed

4 peppercorns

8 small leeks, white part only, rinsed well

1 tsp lemon juice

1 tbs chopped parsley

Lemon halves or wedges, to serve
Method
Put the olive oil, wine, tomato paste, sugar, bay leaf, thyme, garlic, coriander seeds, peppercorns and 250ml (1 cup) water in a large heavy-based frying pan with a lid. Bring to the boil, cover and simmer for five minutes.
Add the leeks in a single layer and bring to simmering point. Reduce the heat, then cover and simmer gently for 20-30 minutes, or until the leeks are tender when pierced with a skewer.
Drain the leeks well, reserving the liquid, then transfer to a serving dish. Add the lemon juice to the reserved cooking liquid and boil rapidly for one minute, or until the liquid has reduced and is slightly syrupy.
Browse more recipes or connect with us on Facebook.
Rate This