How to restore your skin and hair's hydration with pure filtered water.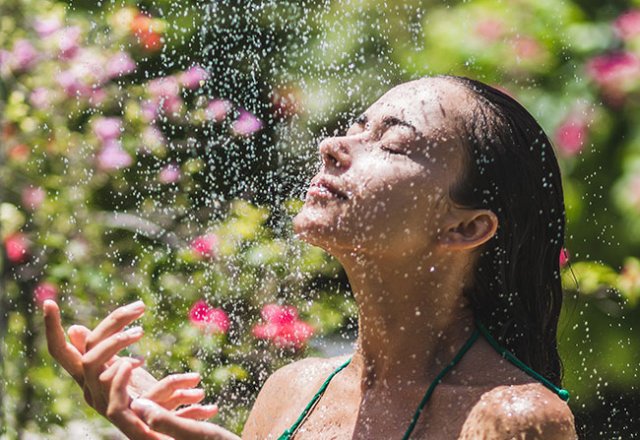 The fuss-free way.
Dry skin? Lacklustre hair? While well-intentioned serums and creams can provide instant relief, they're not a long-term fix. Luckily, there's a fuss-free way to restore your skin and hair's hydration, naturally.
The combination of cold air, billowing winds and indoor heating can dehydrate our bodies, which can also take a toll on our complexion, often resulting in dry skin and brittle, lacklustre hair throughout the cooler months.
The simple answer would be to stay hydrated, use natural skin and hair serums to restore moisture and shine. But what if there are hidden nasties coming right out from your showerhead that are causing your hair and skin to dry out? And water is water, right?
THE PROBLEM
The water that pours straight from your tap and shower has, in fact, travelled through miles of pipeline, picking up contaminants, pesticides, hormones and industrial run-off along the way. It doesn't get much better once it reaches the 'purification' treatment plant, with further chemicals, such as chlorine, ammonia and chloramines, added to kill off the various impurities that have come along for the ride. These chemicals are directly absorbed into the body when showering, and are also present in the taste of your drinking water.
So, despite initial chlorine disinfection being a necessary evil to ensure that our water supply makes it to our homes safely (without bacterial contamination), why would you choose to subject your body to such impurities if you don't have to?
THE SOLUTION
Modern technology has given birth to filtered water systems that remove any impurities, leaving you with fresh, clean water sourced from the convenience of your own kitchen and bathroom. It's a cheap and effective way to make sure you're avoiding the nasties and getting the best quality water possible.
But beware – not all filters are created equal. The quality of the filtered water is, in fact, determined by the quality of the filter cartridge itself.
THE RESULT
Making the switch to clean and filtered shower water is one of the easiest and most natural ways to reduce harmful exposure to chlorine, chemicals and hidden nasties. The absence of chlorine allows your skin and hair to rebalance, rehydrate and restore their natural oils. The result? Brighter, replenished and soft-to-the-touch skin.
ANH LOVES
Pure Water Systems Shower Filter Deluxe
Combat the damaging effects of the cooler winter weather and the change of season with the help of contaminant-free, filtered water. Pure Water Systems offers the stylish Shower Filter
Deluxe as a natural solution to rejuvenate your skin and hair this spring.
It helps to protect your skin from the harsh effects of chlorine, chemicals and other contaminants in your water supply. With continued use, it may also provide relief from common skin irritations.
So you can trust that by the time that water hits your skin, you are getting the best water for optimum health. and wellness.
The Pure Water Systems Shower Filter Deluxe retails for $89.90. Shop here.
Rate This