How to make your own lip balm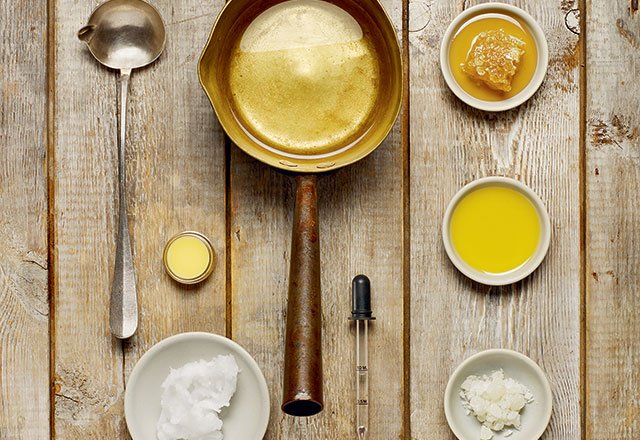 If you're a DIY diehard or simple looking for a new project, this is for you.
Don't let cracked or dry lips stop you from smiling. This extremely nourishing lip balm will give you smooth lips in no time.
INGREDIENTS
1 glass or ceramic bowl
15 g beeswax
15 g virgin, cold-pressed coconut oil
30 g jojoba oil
3 drops of honey
3 drops of lavender
8 to 9 small lip balm tubs
METHOD
Mix all ingredients together except for the lavender oil in a glass or ceramic bowl. Melt the ingredients carefully and slowly at a low heat by sitting this bowl atop a pot of steaming water. Be careful not to overheat it as the ingredients are extremely heat sensitive. Once all the bees wax has liquefied, add the lavender oil to the mixture while stirring. Now, quickly and carefully, pour the liquid into the lip balm tubs. Beeswax hardens quickly when cooling.
WHY IT WORKS:
Beeswax is a highly agreeable fat component and can be easily mixed with the other ingredients in this recipe. It has skin-protecting and moisturising properties and a soothing effect.
Coconut oil is antibacterial, antiviral and fungicidal. It fights infections, supports the skin's natural healing process and reduces scar formation.
Jojoba oil has a natural sun protection factor of 3–4 and is rich in vitamin A and E. It is easily absorbed by the skin, penetrating the deepest layers. Although it is called an oil, it is actually a liquid wax.
Honey is a natural antiseptic agent, is antibacterial and anti-inflammatory. It facilitates in healing wounds.
Lavender oil is antiseptic, antibacterial, anti-fungal, anti-inflammatory and has
pain-relieving properties.
NEXT: For more creative ideas, try make this DIY natural perfume.
Rate This