How to look after your breasts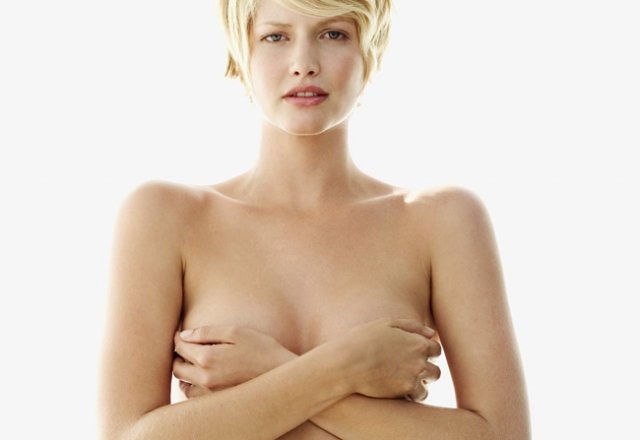 Take a hands-on approach!
We may hold the solutions to achieving breast health, writes Jenan Taylor.
Angelina Jolie's decision to have a double mastectomy was a sobering reminder of the prevalence of breast disease in the global community and highlighted the importance of knowing family medical history.
While being forearmed means being forewarned, Florence Williams, author of Breasts, a natural and unnatural history, established that many of today's women may be the first in their family line to get breast diseases such as cancer.
She found that while human breast milk helped shape the human brain and thus our world, that world is now shaping our breasts – and it isn't necessarily a good thing.
Our polluted environment, our food and our sedentary lifestyles are having profound effects on our breasts. These in turn play a lead role in soaring breast cancer rates – an estimated 14,600 cases in Australia were diagnosed in 2012.
As daunting as it seems, it is possible to protect our health with a bit of knowledge and a few simple steps.
Know the breastscape
Breasts vary a great deal. Sometimes they vary due to their host's age, sometimes race. They vary so much that even in a 'typical' healthy pair, one is likely to be different to the other. In 62 per cent of cases, it's the left breast that's larger, says specialist breast and oncologist surgeon Jane O'Brien.
Furthermore, as Brava Lingerie's Lin Windram attests from the sales records of her retail outlets for women with a D cup and over, many Australian breasts are larger than today's so-called C cup 'average'.
Fitness, weight range and the stage of the menstrual cycle also leads to fluctuations in size, shape and texture. Then there's reproduction.
"After pregnancy, a woman's breasts enter a new world of changes as milk production begins," says naturopath Moira Bradfield. "…Becoming familiar with your breasts, what a 'milk let-down' feels like, what a blocked duct feels like and how to treat one are all necessary and sometimes steep learning curves."
The upshot is it can be difficult to know when things are not 'normal', but there are, as Bradfield says, resources like the Australian Breastfeeding Association and the National Breast Cancer Foundation that "provide invaluable support" and advice.
Learn to detect disease
In between and in conjunction with breast screening visits, regular self-examination can be the window into potential diseases – benign and unfriendly. However, breast cancer survivor and Victorian-based counsellor Sandra Wilson believes it's also important to think beyond the lumps.
Six years ago, Sandra was diagnosed with the particularly aggressive inflammatory breast cancer (IBC). Her symptoms began with itching, and within weeks progressed to redness and orange-peel consistency in her breast's skin. Eventually, the breast swelled up to a football size. By the time the lump showed – a rocky ledge that protruded from her chest – she was diagnosed as having stage-three breast cancer.
Wilson is one of a few to survive IBC and insists women don't take the absence of lumps as a reason to be complacent, and also look out for burning, excessive itching, orange-peel skin, redness and sudden ballooning.
"It is important to be aware of the early warning signs…These may be being aware of changes such as pain in my armpit or swelling along the collarbone area. I have regular check-ups with my surgeon and oncologist, which are a part of my routine now. Education and being familiar with your body is the key to breast health. [This means] noticing any changes in your breasts, getting it checked out early and not putting it off," Wilson says. "My motto is when in doubt, check it out!"
Get the breast support
The importance of wearing a supportive bra that fits properly can't be understated, says University of Wollongong breast reasearcher and physiotherapist Dr Deirdre McGhee.
"Insufficient breast support leads to excessive breast movement, which is a deterrent to women being physically active," says McGhee, who identifies two problems when women aren't properly supported, particularly when it comes to doing physical exercise – a must for optimum health and for those trying to recover from breast disease.
"There's embarrassment about the appearance of bouncing for those with larger breasts; this is particularly an issue in younger girls and is a reason they pull out of sports. The other problem is that older women experience breast discomfort from excessive breast movement and so tend to not want to be as active."
McGhee says the problem is often cyclical, with women gaining more weight and hence developing bigger breasts, so they become even more reluctant to participate in physical activity.
"For larger breasted women who aren't wearing the proper support every day, the weight of the breast affects posture, tends to lead to roundedness in the back and forward movement in the shoulders and that tends to contribute to musculoskeletal pain, headaches, shoulder and neck pain and nerve pain."
"Women need to wear good supportive bras, not to stop breast sag – there's no evidence to say better bras stop breasts sagging – but to be more comfortable and therefore more active, to have better health, better posture, and so they don't have musculoskeletal problems."
She says small-breasted women also need good exercise support. "If you're involved in running and jumping then you have to understand that your breasts bounce every time your heel hits the ground. Many small-breasted women in my research say they feel freer in the movement of arms and trunk when they wear exercise bras while doing vigorous activity."
Although there is no evidence that wearing underwire bras cause cancer, where it sits on the breast is an issue, says McGhee. "Many women wear bras where the underwire sits on breast tissue and that's not good in the long term. If you can't get an underwire bra to fit then you need a soft cup bra. Breasts are made of fat and gland so they're really soft tissue and not designed to tolerate compressive forces, whereas bone is. If you've got an underwire sitting on your breast bone at the front and ribs under your armpit then it can tolerate that compressive force for 12 to 14 hours a day. But if you have an underwire sitting on your breast tissue, you're acting against your physiology."
Windram says that women may need to be fitted every 12 months. "Weight loss and gain and pregnancy and life change your body shape. Obviously, some exercise bras need replacing more often because of wear and tear and because the woman's shape has changed. If the back band is feeling loose, it's not supporting you. The shoulder straps won't fit the way they did before and the underwires won't sit where they're supposed to sit. It's very bad, because if the back band is loose, you tend to hunch over to round out your back and it creates neck and shoulder pain.
"Women are often smaller in the back than they realise. When they do find the right size, they see their waist and they actually look smaller because their breasts are lifted. It's really a matter of getting the right size, trying a few brands and spending a little bit of time on it – like looking for shoes."
Move for health
Strengthening the pec muscles underneath the breasts and improving posture are important, says McGhee. "Bench press, pectoral flyes and cable crossocers help to strengthen the pec major, while upright rows help develop the muscles around the shoulder blades. Because it's all about the upper torso, the posture adopted while performing exercise is very important.
"They want to have posture upright and shoulder blades retracted or pulled together, so they shouldn't neglect the rhomboids and middle trapezius at the back. The more erect the trunk is, the better the breasts will look."
But McGhee cautions anyone recovering from illness and surgery about plunging into exercise. "There could be a high incidence of shoulder problems, also scarring from radiotherapy. For these people it's about restoring normal function, so they need to be very careful." As a practitioner of qi gong, McGhee cites the exercise as one of the best forms around. "It's fantastic both physically and mentally. It gets three-dimensional motion back in the trunk because it really addresses the posture and arm movement, so it's great for people who are recovering from illness and surgery."
Take a hands-on approach
Massage is a great way to promote wellbeing and better health and can also be the basis of the regular breast check.
"During pregnancy, breast massage can be important to reduce blockages, increase milk flow and make a woman feel a little sensual, as motherhood has the tendency to only view the breasts for their true function – as a feeding machine," Bradfield says, and suggests coconut oil as an effective topical treatment.
"Coconut oil may help reduce the risk of thrush (fungal) infections on the nipple and is safe for baby to get in their mouth if there is still residue on the nipple. Other beneficial topical herbs include calendula (for cracked nipples) and poke root (topical only) mixed into coconut oil for blocked ducts that are less responsive to massage. Care should be taken. Seek medical attention if fever or throbbing pain present," she says.
Given the breasts sensitivity to pollutants, it's essential that topical creams and oils are chemical free, pure and gentle. To that end, Bradfield also recommends Evohe's Omega Body Oil, while users of Miessence's Belly and Breast Balm regard it as another exceptional organic cream for this purpose.
Nourish your assets
A good diet and good supplementation can help reduce and prevent problems such as fibrocystic disease and help relieve the pain of tender breasts that may be caused by too much oestrogen.
"The imbalance can be improved by some everyday foods like broccoli, cabbage and cauliflower," Bradfield says and also countenances the potential of evening primrose oil for breast tenderness and fibrocystic breast disease. "Beneficial fats that also include omega 3 may help hormone production and reduce inflammation. Oily deep sea fish is the best source both in supplemental and dietary form, while herbs such as Siberian ginseng, withania and lemon balm can be used to help those recovering from illness and the effects of cancer.
"Everyday consumption of bitter green leafy vegetables, turmeric and antioxidant-and mineral-rich foods can supply the body with the resources it requires to maintain health and reduce negative cellular change."
The road after illness
Wilson says maintaining her newfound health involves knowing her limitations. "If I feel fatigued, I recognise the signs and rest. I often take a long bath, walk, dance, meditate and do things that feed my soul and inspire me. I am aware of my energy levels and try not to overdo things.
"My body is not the same after cancer, so after coming to terms with the changes, I've accommodated these into my daily life. I try to eat as well as possible; lots of fresh, unprocessed foods, drink plenty of water and take my daily vitamin supplements. I try to remain positive about the future and live each day to it's fullest."
Check out the McGrath Foundation's national breast awareness initiative at www.curvelurve.com.au
Photo credit: Thinkstock
Rate This