Green Cooks Nature´s super seed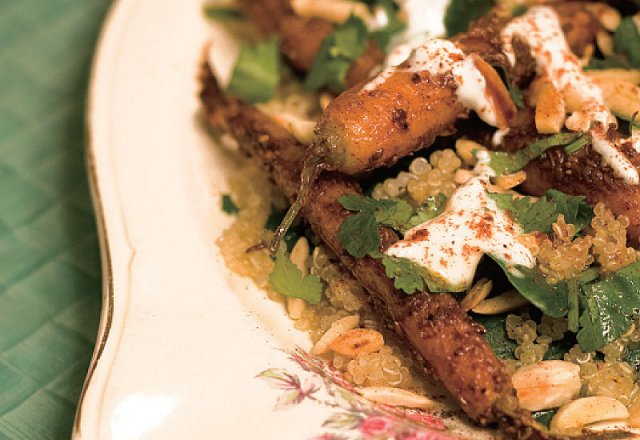 With the days getting longer and spring on the horizon, it's time to shed off the winter cocoon, head outside, breathe the fresh fragrant air and read our debut column for Australian Natural Health!
We're delighted to join a fantastic team and share our love of good food and green living, inspire the inner cook and kindle the eco-bug in all of you. In each issue we will discuss a few food related tidbits and provide a tasty and healthy home-style recipe with some simple tips to help expand your culinary repertoire.
And what better way to start then to extol the virtues of the lesser-known, yet nutritionally powerful little seed called quinoa?
Quinoa is a hidden gem, a super-food as they say. When we first came across it, we were overjoyed to discover that something reputed to have so many health benefits could taste so great in so many different forms. Of course we then embarrassingly went around telling anybody who would listen all about "cue-know-ah". Luckily we were soon advised of the error of our ways and to spare you the same embarrassment, the correct pronunciation is "keen-wah".
The mother of all grains, though technically it is a seed, quinoa boasts a surprisingly high protein content of 12-18% (higher than that of most meats). Its increase in popularity can be attributed to the fact that it's high in dietary fibre, rich in nutrients and gluten free; no wonder it's on the top ten foods list for astronauts on long space flights! Like corn and grapes, quinoa comes in a variety of colours: black, red and white, the latter being the most popular and readily available. You can buy quinoa from whole food stores and specialty grocers, as well as the health aisle of most supermarkets - where you'll find it in a variety forms including puffed, flaked, ground and whole. Though it may seem expensive upon purchase, it's really quite economical, almost tripling in its size once cooked.
Quinoa is the perfect grainy substitute for those with gluten intolerance. However, anyone can benefit from its powerful nutrients and subtle nutty flavour. It can be used in a variety of different ways - as a warm breakfast, in a salad or soup, baked into a loaf of bread, or as a dessert. Use quinoa in the same way you would rice, couscous or barley: it will soak up the flavours of a curry, stew or tagine and can even be used in stir-frys and risottos. Or, for a fuss-free introduction to quinoa, try our recipe for a Moroccan spiced baby carrot and quinoa salad… Enjoy!
Moroccan Spiced Baby Carrot and Quinoa Salad
This Moroccan inspired salad would work just as well with couscous, but by using quinoa we've enhanced the nutritional value and created a gluten free celebration of tasty and seasonal baby vegetables. The toasted and freshly ground spices add a lovely aroma and interesting flavour, however if you don't own a mortar and pestle or a spice grinder you can use pre-ground spices.
Serves 2-3 as a light meal or entrée * gluten-free
½ C quinoa, rinsed

2 tbsp slivered almonds

1 ½ tsp cumin seed

1 tsp coriander seed

1 tsp sweet paprika

2 tbsp olive oil

10-12 baby carrots, washed, leaves and roots trimmed

sea salt and freshly ground black pepper to taste

1 large handful Baby spinach

2 tbsp coriander leaves, chopped

2 tbsp thick plain yoghurt
Honey and orange dressing
3 tbsp orange juice

2 tbsp extra virgin olive oil

1/2 tbsp honey

1 tsp orange rind (optional)
Place quinoa in a medium sized pot with 1 cup of water and a pinch of salt. Bring to a boil, reduce heat, cover and simmer for 12-15 minutes, or until water has been completely absorbed and the germ ring has separated from the seed. Spread quinoa out on to a large plate and set aside to cool.
Dry roast almonds in a small pan over a medium heat and set aside to cool. Dry roast cumin and coriander seeds until fragrant and grind to a powder with a mortar and pestle or spice grinder. If you don't have either of these, use pre-ground spices.
Heat oil in a pan over a medium heat and add baby carrots. Cover and cook for 5 minutes or until carrots are just tender, shaking the pan from time to time to prevent sticking. Add ground spices, paprika and season with salt and pepper. Stir to coat carrots in spices, remove from heat and set aside.
To make dressing whisk orange juice, honey, olive oil and orange rind to combine.
To serve, arrange quinoa and baby spinach leaves on a platter or divide among individual plates. Top with baby carrots and toasted almonds. Scatter coriander leaves and drizzle dressing over the salad. Top the salad with yoghurt and for an extra burst of colour, a sprinkle of paprika. NH
Rate This