Finding balance with Elle Macpherson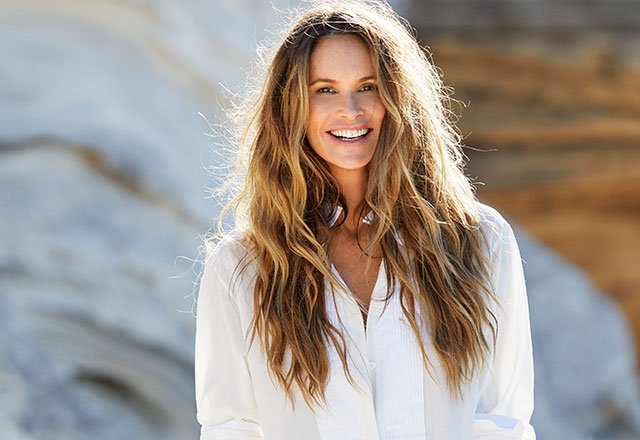 A sneak peek of her cover model interview.
We chat on of the world's most iconic supermodels on finding balance and happiness as she graces the cover of Australian Natural Health magazine.
Why do you believe it's important to adopt a holistic approach to nutrition and diet?
One thing I've learned over the years is that beauty isn't skin deep – it comes from within. It isn't about a 'quick fix', it's about an approach to all aspects of life.
I have learned that by reducing acid-forming foods and replacing them with 'live' nutrients, raw vegetables and fruits, the body can return to an alkaline state, rid itself of toxins and allow the digestive system and liver to rest and recuperate.
For the body to work optimally, the pH of blood sits in a slightly alkaline state, and the body does everything it can to maintain this value. This is why we developed THE SUPER ELIXIR [by WelleCo], made from 45 premium wholefood ingredients, carefully selected to work together to ensure maximum absorption. When you are nourished and maintain a healthy pH balance, it assists with lowering acidity in the body that can lead to inflammation, low energy, weight gain and accelerated ageing of the cells.
By being mindful of my body's alkalinity, I transformed the way I felt. It made me realise what a profound impact food can have on the way I feel – it's that realisation that keeps me motivated.
When I eat, I like to think about how it's nourishing me and the benefits the nutrients are having. It makes me feel good to give my body what it actually needs.
This issue, we're celebrating gratitude as our central theme. Do you have a gratitude practice and, if so, how has it positively influenced you?

Rather than waking up and immediately racing through everything I need to do that day in my mind, I practise being grateful. I think of five things I am grateful for and sometimes write them down. That way, I always start my day on a positive note [by] thinking about the things in my life that bring me joy or have a positive impact on my life, and it changes my outlook for the day. I tackle things in a more positive and upbeat way, and it has a knock-on effect.
What do you believe is the key to happiness?
I feel best when I'm purposeful in my actions and I'm taking my time. Funny you should ask this question [because] on our social platform @superelixir we have just launched our #HappyOnTheInside campaign. We have asked our friends and followers to tell us what makes them happy – the response has been incredible, so many joyous faces and smiles a plenty.
Read her full cover story in the October - November edition of Australian Natural Health magazine.
Rate This