Why you should forget the work-life balance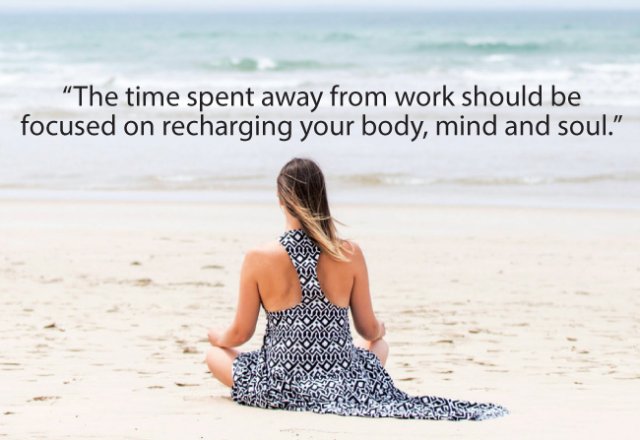 Learn to see work as part of your life by making it meaningful, says author Kate Toholka
With more stress than ever in our lives, it's easy to feel overworked, overwhelmed and, well, over it.
Kate Toholka, founder of The Happiness Hub and author of best-selling e-book, Healthy Habits: The Busy Woman's Guide to Boosting Productivity, Health and Happiness, helps you learn how to keep calm and carry on.
Our work has a huge impact on our health and happiness, probably more than we'd like to admit. Learning how to manage our stress in the workplace is essential to develop long-lasting health and happiness. Use the following five suggestions to boost your morale and limit the negative impact of stress:
1. Forget the work-life balance
If there's one movement that needs to gain momentum, it's this: forget the work-life balance. The danger of this mentality is that it separates work from life. Did you know you spend approximately 10.3 years of your entire life working? You also spend 25 years sleeping, so that equates to 35.3 years of your entire life working or sleeping. That's a long time to be sleeping or working. Learn to see work as part of your life by making it meaningful. Entrepreneurs are excellent examples here. They understand that their work is a significant part of their life and have made all attempts to ensure that it is a meaningful, rewarding part of life.
2. Use weekends wisely
The time spent away from your work should be focused on recharging your body, mind and soul. Yes, we all have responsibilities, such as children, but too many are not taking the time to rejuvenate. Make the habit of scheduling in time to recharge every Sunday, whether it's getting a massage, hitting the gym or going to your favourite yoga class. You'll be re-energised and prepared to tackle anything work throws at you by Monday.
3. Reframe the daily challenges
Perception is a powerful thing. The next time your boss challenges you to complete a task that will push your capacity, reframe the feeling of stress to the feeling of 'preparing for battle'. The stress response is very much our body's tool to prepare to fight or flee. Instead of succumbing to that feeling, become empowered. Create a mantra to help reframe the feeling, such as 'My body is preparing me to excel at this task'.
4. Keep your productivity high
Do you experience that feeling of stress when you have a deadline looming and just not enough time? This is a common experience in the workplace, which can be relegated by improving our productivity in the first place. Eliminate all low-priority tasks and focus on the three most important tasks. That means turning emails off during the day, attending meetings only if important and delegating tasks where possible.
5. Nourish yourself well
Healthy eating and exercise can be the first thing to go when we are highly stressed. Ensure this doesn't happen, as stress thrives on a lack of nourishment. Prepare healthy foods so that your body is fuelled to tackle anything that comes its way. Exercise is an excellent stress reliever and should be your number-one stress-busting tool. Every time you feel stressed, your body releases a horde of stress hormones, namely cortisol. The best way to burn those hormones is through exercise. Just by breaking a sweat, you are burning the excess stress hormones circulating in your blood.
Rate This