Detox & energy chocolate slice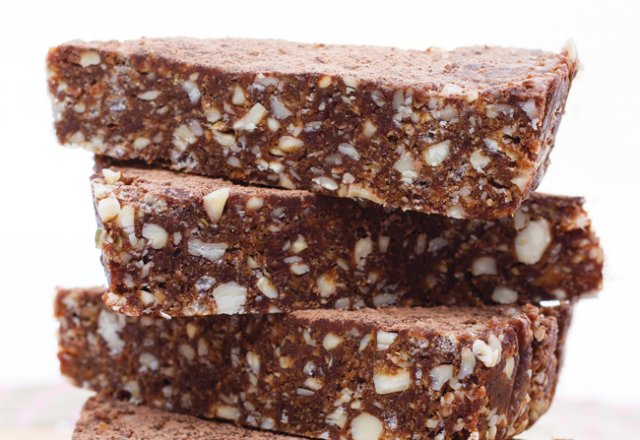 This delectable superfood slice is packed full of good stuff to help wean you off the bad stuff!
Don't be shy to experiment with different flavour combos by substituting any nuts and seeds with what you have on hand – a pinch of spirulina powder or a spoonful of tahini or nut butter wouldn't go astray either. If you have a dehydrator at home, then dried fruits such as plums or figs can be used in place of dates.
Ingredients (makes 16 slices)
1 cup raw nuts (almond, cashew, hazelnut, macadamia or Brazil)
¼ cup seeds (pumpkin, sunflower, chia or linseed)
2 tbsp psyllium husks
½ cup puffed cereal (rice, millet, quinoa or amaranth)
400 g (3 cups) chopped pitted dates
¼ cup cacao powder, sifted
¼ cup coconut oil, melted
2 tbsp liquid sweetener (maple, agave syrup or honey)
1 tsp vanilla bean paste
Pinch cinnamon powder

Pinch fine sea salt
Pinch chilli powder (optional)
Extra cacao powder for dusting
METHOD
Line a 20 cm circle cake tin with baking paper and set aside.
In a food processor, add nuts, seeds and psyllium husks and whiz until coarsely chopped. Transfer to a large bowl with puffed cereal and set aside.
Add chopped dates and all other ingredients to food processor and whiz until a sticky paste-like mixture forms and add to large bowl.
Using your hands, mix until evenly combined. Add mixture to lined baking tin and press mixture out evenly. Refrigerate for at least two hours or overnight until firm.
To serve, dust with sifted cacao powder and slice.
Recipe from Rosie Percival from Green Cooks; Photo credit: Jessica Symonds
Rate This