Chilled spring-time soup with oysters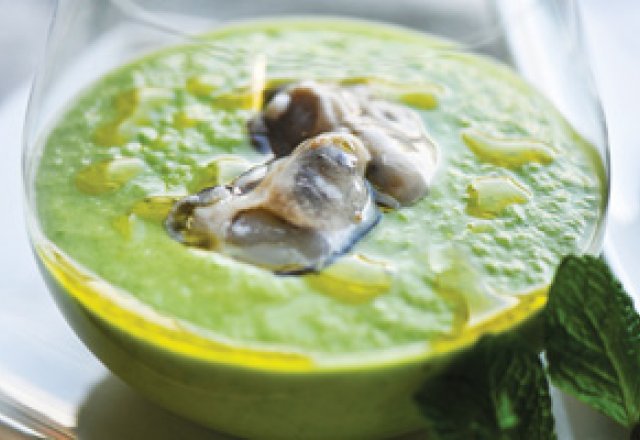 Become a 5-star chef at home
Walter and Dorota Trupp of Trupp Cooking School share some of their most mouth-watering recipes
Preparation time: 10 mintes; Completion time: 10 minutes
Ingredients (serves 4)
1/2 small brown onion chopped
1 small Lebanese cucumber
4 tablespoon olive or flax seed oil
250ml vegetable stock
2 sprigs of mint
450g frozen organic peas
1 avocado
Salt & pepper to taste
1 dozen of opened oysters
Four mint tips for the garnish
Method
Run some warm water over the peas to soften and slightly defrost. Place all ingredients without the oysters and oil into a blender and blend until smooth, season with salt and pepper, considering the saltiness of oysters.
Carefully stir in the oil.
To serve, pour the soup into four soup bowls or serving glasses and garnish with oysters and mint.

Note: You can garnish the soup with other ingredients such as shredded Parma ham, prawns, a poached egg or creamy feta cheese.
If you love this recipe, why not try the Moroccan mussel and harrisa stew?

Rate This