Asparagus soup with crème fraîche, chervil & hazelnut crumbs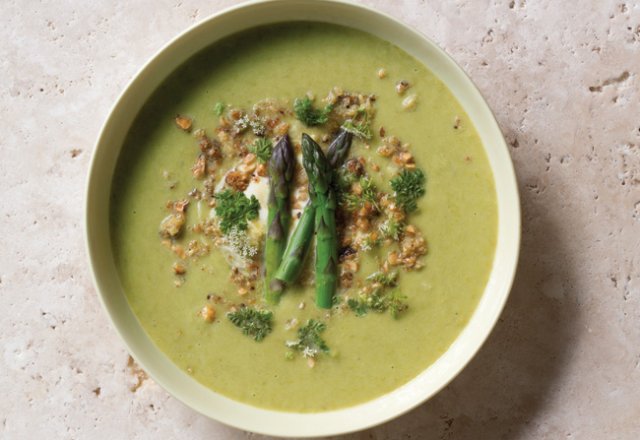 Healthy soup recipes
Looking for healthy soup ideas? We love this asparagus soup with crème fraîche, chervil & hazelnut crumbs.
Ingredients (serves 6)
800g asparagus
1 leek, the white part washed and roughly chopped
30 g unsalted butter
½ cup white wine
1 medium potato, peeled anddiced
1½ litres vegetable stock
Salt flakes
Freshly cracked black pepper
¼ cup cream (optional)
½ cup roasted hazelnuts,
finely chopped
½ cup toasted coarse breadcrumbs
Créme fraîche, to serve
½ cup chervil or dill sprigs, to garnish
Method
Trim the very ends of the asparagus and discard. Cut the tips of 18 spears approximately 5cm in length from the top and put to one side for garnish. Cut the remaining whole and partially cut spears in halves.
In a medium-sized pot, gently fry the leek in the butter until softened. Add the white wine and simmer for a couple of minutes before adding the potato, vegetable stock and halved asparagus spears. Bring to the simmer and cook for 10 minutes until the potato is soft.
Puree with a stick blender or allow to cool a little before pureeing in a food processor. Pass through a coarse sieve, pressing with a spatula to remove any fibres. Return to the pot, season to taste and stir through the cream.
Blanch the asparagus tips in boiling salted water and drain well. Combine the toasted breadcrumbs and roasted hazelnuts.
Serve the soup with a dollop of crème fraîche, a sprinkling of the hazelnut crumb, a few chervil sprigs and three asparagus tips each to garnish.
Recipe from Sophie Zalokar; Photo credit: Craig Kinder
Rate This