Bircher Muesli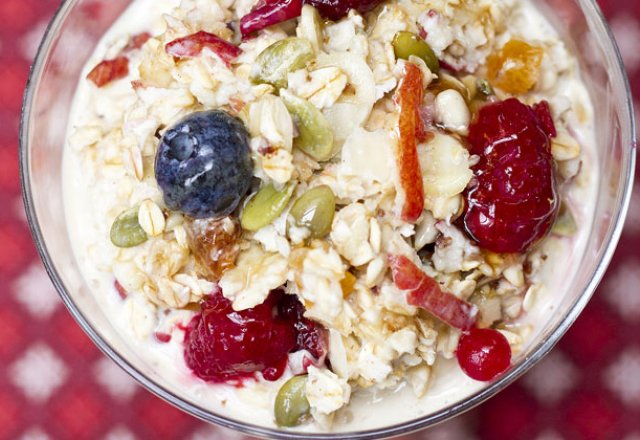 Rosie Percival shares her secret recipe
While there are a mountain of different variations on the original recipe, the beauty with muesli is that there's loads of scope to play with different flavour combos and make your own bespoke Bircher muesli.
Bircher Muesli (serves 1)
½ apple, cored and coarsely grated
½ cup rolled oats
½ cup apple juice
¼ cup natural yoghurt
½ tbsp flaked almonds
Pinch of cinnamon
LSA Mix (linseed, sunflower, almond)
3 cups raw linseeds/flaxseeds
2 cups raw sunflower seeds
1 cup raw almonds
To Serve
Sprinkle of LSA 
(see recipe)
Extra yoghurt
Handful of fresh berries
Drizzle of honey (Optional)
METHOD
In a bowl, add grated apple, rolled oats, apple juice, yoghurt, almonds and cinnamon and mix to combine. Cover and refrigerate for at least one hour, or overnight.
To serve, add LSA, extra yoghurt and a handful of fresh berries.
In a food processor, blend ingredients into a coarse meal. Store in a dark airtight container in the fridge for up to two to three months.
Some lovely additions/substitutions are grated pear, orange juice, lemon, any dried nuts and fruits – raisins, cranberries, pepita seeds, hazelnuts, dates, prunes – and if you have favourite store-bought muesli, that can easily be converted into Bircher muesli.
Browse more breakfast ideas or conenct with us on Facebook!
Photo credit: Jessica Symonds
Rate This