AntiGravity aerial yoga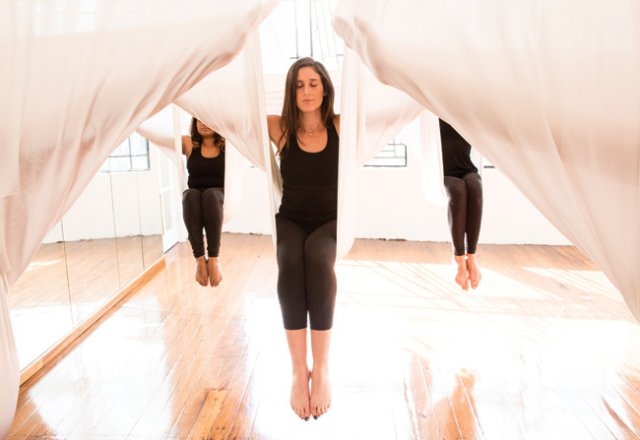 Yoga with a twist!
AntiGravity aerial yoga uses a silk hammock suspended from the ceiling to literally heighten your yoga practice.
Created by New Yorker Christopher Harrison in 1991, AntiGravity aerial yoga has finally started popping up on Australian shores.
Sydney's Sky-lab studio founder, Shari Veitch, says many traditional yoga poses are recognisable in her AntiGravity aerial yoga classes, but participants approach them in a totally different way.
"The hammock is a really supportive apparatus and allows you to use a number of different muscle groups than you would in a mat-based class," Veitch says.
Health benefits of AntiGravity aerial yoga include releasing muscular tension, core strengthening, low-impact cardiovascular conditioning, fine-tuning of balance and gentle decompression of the spine.
From complete beginners to professional athletes, the classes are both a great introduction to fitness and also complement a vigorous training regime. Above all, Veitch says this new style of yoga allows students to have fun and be themselves while enjoying savasana blissed out in their hammocks.
Class info and timetables at facebook.com/skylabsurryhills.
NEXT: 5 yoga poses to help detox the body>>

Photo credit: Stephanie Simcox
Rate This