Adele McConnell: A story of self discovery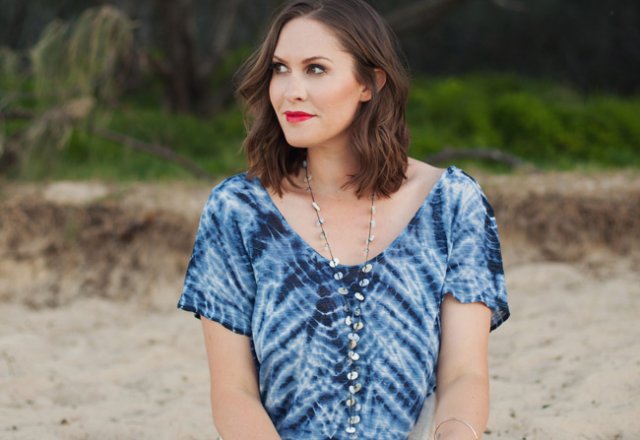 "I don't diet. I don't deprive myself. I enjoy every single moment."
Adele McConnell, the health food advocate, has battled her own body issues as a teenager and throughout her formative years. Now the time has come to share her story, so others can learn to rebuild their self-esteem in just the same way.
When I was five, I had this stencil kit. They were stencils of a generic girl and the outlines of their dresses, so you'd colour them in and make the clothes as fancy as you liked. I'd sit there for hours 'fashion designing' and imagine the clothes being modelled and photographed (by myself, of course) on runways.
I loved to dress up, changing three or four times a day. Little pink gumboots, a tutu and fairy wings seem to appear a lot in photo albums. I loved being a little bit different and 'out there'. When you're young, you don't think about your looks as 'good' or 'bad'. They just are. You have brown hair, green eyes, some freckles on your nose and that's it. That's how you describe yourself.
Awkward moments
Enter my teens. And I know I'm not alone in this story. I know that when I touched on this story on my blog, I had hundreds of comments and emails from people all around the world. We've all gone through it, or something like it.
Those teen years can be awkward at best and downright gut-wrenching at worst. How we look, unfortunately, plays a major role in how our peers treat us. I didn't look like the 'beautiful group', who were always dressed in the trendiest clothes, with perfect blonde hair and clear skin. I looked like...well, me I guess – an older version of that girl with the brown hair, green eyes, and a few freckles.
Bad skin, extra weight, and a DD chest sprouted, seemingly overnight. Hiding behind my baggy school jumper, big jackets and scarves, that chest would be the bane of my teenage years.
Why couldn't I have been a size six like the girls in the magazines, with a washboard stomach and chest?
Now, it's not to take away any of the pain that slimmer girls may have gone through. This is purely my experience, and I know many insecure girls who struggle to gain some much wanted weight.
I am what I eat
My mum (love her to bits) was always perfect. She never berated me for anything. So when I decided at the age of 16 to give up meat and dairy (after reading about hormones, steroids and a number of other yucky things I was consuming), my parents both said okay. I'd never been a meat eater anyway – didn't drink milk or like eggs – so it wasn't hard.
They were fantastic. Making me something delicious for dinner every night, I was always spoilt for choice. Mum made gluten-free bread for me each week and had fun trying new vegetarian recipes out on the family (it may not have been fun at all for her, but she never let on). The change in my diet was just what I needed. It enabled me to be aware of what I was eating and forced me to make things from scratch, and to not just eat fast food like so many of my friends were. I started going to the gym; this again, was something that my body needed.
The change in my diet caused a ripple effect. I ditched the idea of studying law and gravitated towards the road less travelled – health. I was at the age when choosing a career was tantamount to life and when all of your friends are studying business management, law, commerce or psychology. Anything health-related seemed like a cop-out. But I inhaled books, consumed documentaries and used the Internet to find recipes that Mum and I could make at home. I turned to natural healers, craniosacral therapists, naturopaths, acupuncture and traditional Chinese medicine – a modality that has truly changed my life, and a practice I continue to this day.
My skin cleared up. The blotchy, uneven skin and regular hormonal breakouts began to lessen. Excess weight just fell off. I never missed out on anything and don't actually remember being hungry ever (still don't!). My moods balanced out and my energy skyrocketed. And my mind…my mind felt clear and at ease for the first time ever. It was truly a turning point for me – we are what we eat.
That realisation has stayed with me through my 20s – when I studied nursing and then beauty therapy, worked full time and travelled, married and started my own business – to now, at age 30.
I don't diet. I don't deprive myself. I'm mindful of the foods I eat and I enjoy every single moment.
Once we realise that food isn't the enemy, that we are infinite beings, and that absolutely anything is possible, it changes the course of your life. NH
Adele McConnell is the owner of vegiehead.com, author of The Vegan Cookbook and six e-books, and creator of the Stripped Bare program and the Vegie Head Academy.
Rate This