A vegan's guide to Los Angeles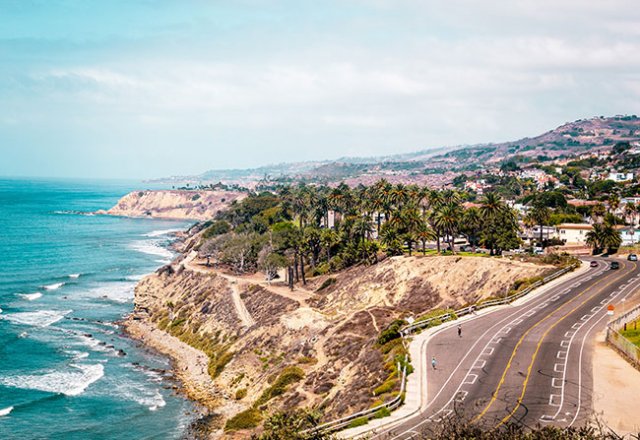 Where to eat, stay and see.
It's not just the fantastic choice of food and vegan restaurants that is the draw for this Californian oasis on the west coast of the USA – there's a warm climate, great beaches nearby and star spotting, too. For some of the best vegan food you will ever eat, head way out west. Sally-Anne Bedford investigates.
Where to eat
Situated on the west coast of the USA in the state of California, Los Angeles is arguably one of the hottest vegan spots in the world. The only problem you will have being a vegan here is the amount of choice you're going to have. Imagine a place where you can go to practically any restaurant, vegan or not, and they understand exactly what you mean when you say "I am a vegan." With so much choice on offer it's good to have a few go-to places to start.
Vegetarian and Vegan only
Little Pine
This LA gem is everything you'd expect from Moby, one of the coolest and most ethical musicians of the last 30 years. Little Pine is a calming haven in a bustling city, cool décor, happy staff and food that will blow you away. The standout dish had to be the stuffed pasta shells – I don't know how they make that vegan ricotta, but if a cookbook comes out it'll be a sell-out. The lemon meringue for dessert was epic too. All profits from the restaurant go to animal welfare organisations – perfection.
2870 Rowena Ave, Silver lake, CA 90039
Crossroads Kitchen
This upscale vegan eatery in LA is the brainchild of Tal Ronnen, vegan chef extraordinaire. The décor is ultra-smart and you will feel like part of the Hollywood elite just sitting down here. We made two visits, one for breakfast, when I had my first vegan 'eggs' Benedict, which was heaven, and then for dinner I had one of the nicest lasagnes I've ever eaten. Crossroads Kitchen is one of the restaurants offering the 'Impossible Burger', the meat-like creation that is wowing meat eaters and vegans alike across America – although it is only served at lunch and after 10pm.
8284 Melrose Avenue, Los Angeles, CA 90046
Veggie Grill
With several restaurants throughout the LA area, Veggie Grill came highly recommended by my Californian vegan friends. So many delicious options, from burgers to salads, not to mention some amazing vegan desserts. Try the 'Tres 'Fish' Tacos' or the 'Mediterranean Supergreens Salad' for a healthy fresh option. They also have some very tempting desserts.
6374-A Sunset Blvd, Hollywood,
CA 90028
Café Gratitude
Raw food lovers should make the pilgrimage to this health food and spiritual hot (or not) spot. Café Gratitude is more than just food, it's a lifestyle of wellbeing and positive affirmation, as you'll find out when you order from the menu – a bowl of 'I am Happy', anyone? They have restaurants in Los Angeles, Beverly Hills and Venice Beach. They also offer a takeaway service. Venice Beach location – 512 Rose Ave, Venice, CA 90291. Los Angeles location – 639 N Larchmont Blvd, Los Angeles, CA 90004
Satdha Kitchen
Fancying something fresh and light we headed to Satdha Kitchen, a Thai vegan restaurant just outside of LA in the coastal city of Santa Monica. 'Beet Dyed' noodles were recommended to me by a fellow diner and LA local, and they were spot-on. Lots of fresh tasty food that any food lover would rave about. Try also the endive cups and 'Koa Kling', you will want to go back again and again. It's the kind of food that you will remember for a long time. 2218 Lincoln Blvd, Santa Monica, CA 90405
Out & about
You will not have a problem finding vegan food in LA and surrounding cities. Most restaurants we visited had vegan options – the diet and lifestyle is very familiar to them. Here are just a few of the ones I visited.
Le Pain Au Quotidien
This familiar chain caters well for vegans and is a great option when travelling, as they are dotted about most cities. 1122 S Gayley Ave, Los Angeles, CA 90024
True Food Kitchen
This is a bright, stylish place to enjoy lunch or dinner. There is inside and outside space too, so you can bring your dog or swoon over other people's like I do when I'm away.
395 Santa Monica Place, Suite 172, Santa Monica, CA 90401
The Butcher's Daughter
You'll feel glowing and healthy just walking through the door of this fully vegetarian restaurant with many vegan options. Try the avocado on sourdough with a side of adzuki bean 'bacon'. Lots of juices available and many vegan desserts. 1205 Abbot Kinney Blvd, Venice, CA 90291
Fruit Gallery
While taking in the unique experience that is Venice Beach, look out for this juice and smoothie bar, which also sells vegan wraps and cookies. There is limited seating outside. 1 Westminster Ave, Venice, CA 90291
Where to stay
You are spoilt for choice in Los Angeles and the surrounding areas, but it is a wealthy area, so hotels can be expensive. If you want to splurge, I'd recommend a beachfront hotel in Santa Monica, where you will have access to all that LA has to offer (though I recommend you use taxis to travel into LA as hotel cars can be much more expensive). We stayed at the Shangri-La on Ocean Ave. Lowes Santa Monica is also recommended. For a lower cost real LA vegan experience I found this Airbnb gem with outstanding reviews, situated in Los Angeles itself: airbnb.co.uk/rooms/5773300
Getting to LA
No matter what your diet or the class you fly, airplane food can leave a lot to be desired, so I highly recommend packing healthy vegan snacks in your hand luggage.
Sally-Anne is a writer and animal artist who has written for international, national and local print and digital publications. A vegetarian since the age of 12 and vegan since 2005, her passion is animals and, in particular, dogs, who frequently pop up in her pet portraits. She shares her life with four dogs, five pigs and a hamster called Ricardo.
Follow Sally-Anne on:
Instagram: @sallyannebedford
Facebook: @gretalovesmabel
Twitter: @gretalovesm
gretalovesmabel.com
Rate This