Spiritual retreats in Australia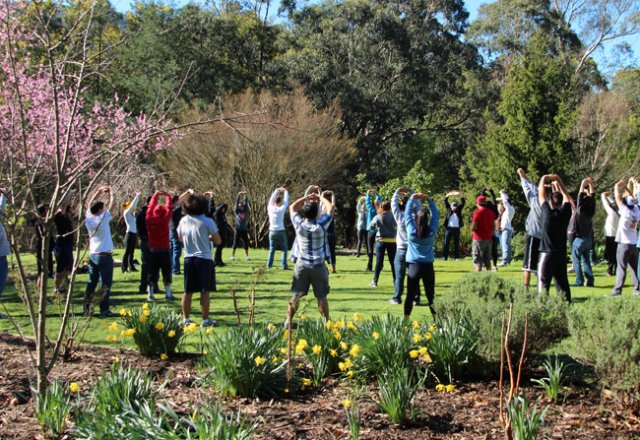 Discover the deeper meaning of life
Spiritual retreats provide an escape to learn, love and discover the deeper meaning of life. If the stresses of work and family leave you searching for answers and devoid of self-esteem, sign up to learn healing practices from the best in business, writes Penny Lara.
Quest for Life, NSW
Quest for Life Foundation is a not-for profit organisation providing wellness education and spiritual and personal development to create peace in our lives. Retreats hosted by the foundation are located in Bundanoon, in the Southern Highlands of NSW. The centre is housed on nine acres of landscaped gardens, providing an ideal location for reflection, healing and time out.
Inspirational speaker, teacher, author and survivor of acute myeloid leukaemia, Petrea King, established the foundation in 1989. A qualified naturopath, herbalist, clinical hypnotherapist, yoga and meditation teacher, King is the reason many people are drawn to retreats.
"Petrea provides a practical and spiritual perspective in the challenging arenas of life including facing mortality, grief, loss and trauma," says Michelle Bell from Quest for Life Foundation. "Our changing world demands a robust version of spirituality and Petrea is well versed in articulating that for individuals, groups and the media. She makes the invisible world accessible and is able to shed light and wisdom on living a meaningful life in the midst of difficult circumstances."
Through the residential retreats, King has counselled tens of thousands of people living with cancer or experiencing grief, loss, trauma and tragedy. "King sees crisis as a catalyst for personal growth and understanding and as an opportunity for healing and peace," says Bell.
Initially, the foundation was set up to support people with cancer and other serious illnesses, but over time has extended to provide practical skills for those suffering from depression, grief, anxiety, stress, trauma, eating disorders or anyone looking for spiritual and personal growth. Bell says the Quest for Life retreats are for anyone seeking peace and healing, as they provide the tools to create emotional resilience and peace of mind. "We provide a proven, effective and holistic approach to physical, mental, emotional and spiritual wellbeing," Bell says.
Nutritious meals are made on-site with attention to seasonal, local, organic, fresh and whole foods. Much of the fresh produce is from their own garden. The menu includes fish, organic chicken and eggs as a source of complete protein.
Beyond Suffering, QLD
Beyond Suffering's weekend retreat for the heart, mind, body and soul is located at Temple Byron, just a few minutes drive from the heart of Byron Bay. Temple Byron is surrounded by tropical gardens that feature healing crystals, Buddha statues and tranquil water features, with peaceful areas for quiet meditation. The weekend is run by internationally renowned spiritual leader, teacher, author and alternative medicine practitioner Blake D. Bauer, who has trained with spiritual teachers from all over the world. With qualifications in nutritional medicine, Chinese medicine, psychology and other forms of traditional healing, Bauer takes a holistic approach to guiding people toward greater psychological, emotional, physical, financial and spiritual freedom.
Bauer's retreat is based on spiritual and self-healing practices along with his bestselling book You Were Not Born to Suffer. Bauer says he has been influenced deeply by oriental views on healing, medicine, energy, nature, health, spirituality and life. "I draw on philosophies, religions and spiritual paths from all over the world, leading to the conclusion that all paths lead back to love," he says.
The retreat focuses on healing through unconditional self-love, fulfilling your life's purpose and how to practically honour, value and care for oneself as the key to health, happiness and success. The sessions include mindfulness meditation, qigong healing exercises, and discussion sessions that are "aimed to be nourishing, healing and empowering for everyone present," Bauer says. "My intention is for each person to return to their life empowered with a clear understanding, of firstly, how all their suffering, unhappiness and illness was the result of them not loving themselves throughout their lives, and secondly, how to practically and consistently love, honour and value themselves in every personal and professional situation so they can fulfil their life's purpose while enjoying their life to the fullest daily." The retreat also includes an evening concert with live music and an open fire on the Saturday evening.
The Gawler 
Foundation, VIC
The Gawler Foundation retreats are conducted at Yarra Valley Living Centre, set in 40 acres of natural bushland in Yarra Junction, Victoria.
The foundation provides a peaceful and nurturing environment where people can take time out in a natural setting. The Gawler Foundation is a not-for-profit organisation founded in 1983, initially set up to teach people how to increase their rates of survival from cancer. In 2004, the foundation began offering a range of retreats to help people gain knowledge of their body's potential for inner healing, improved health and sustainable wellbeing. Bronwyn Gillespie from The Gawler Foundation says the retreats provide more than a break away from people's busy lives.
"Our retreats are experiential and truly transformational, providing a rare opportunity for life review, reflection, contemplation and deep meditation. We encourage people to peacefully retreat in the true sense, switching off their mobile phones and electronic devices and connecting with the beauty of nature," she says. The foundation's philosophy is a holistic approach to life, which allows for profound healing and improved health. This approach is based on seven essential elements taught at the centre: regular meditation, good nutrition, moderate exercise, emotional healing, effective support, power of mind and the quest for meaning.
Guests enjoy predominantly vegan meals and fresh vegetable juices for optimum nutrients, based on biodynamic and organic wholefoods, many of which are grown on the premises. They also offer practical cooking demonstrations to teach people how to continue the diet and gain confidence when returning home.
Gillespie says the retreats are designed for people to take time to explore their purpose in life, let go of habits that no longer serve them and for people to better understand stress responses with support and guidance along the way. Most importantly, guests are guided to achieve a greater sense of peace, meaning and wellbeing in their lives. "We aim to educate, inspire and motivate participants to make positive and realistic changes to create their best life. We teach people the lifestyle tools to better manage stress, communication and uncomfortable emotions to live more vibrantly and with a deeper sense of purpose. The retreats provide you with practical take-home lifestyle tools and techniques for a new way of mindful and purposeful living," says Gillespie.
Rate This