Seafood paella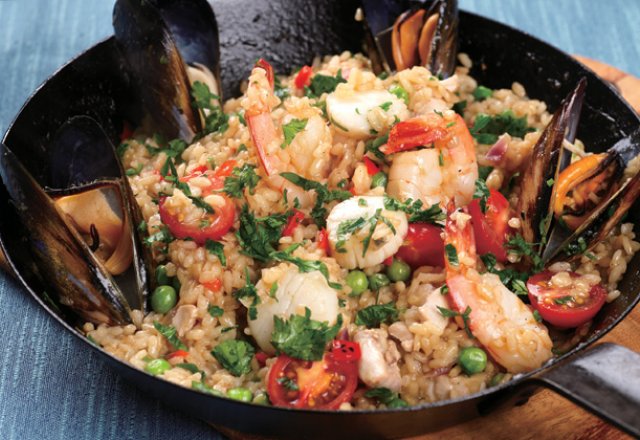 With tuna, prawns and scallops
Enjoy a taste of the Mediterranean
Ingredients (serves 4)
100g fresh tuna, diced
8 raw prawns, peeled and
de-veined
8 raw scallops
½ cup red onion, finely chopped
2 tbs garlic, crushed
1 celery stick, chopped
1 tbs olive oil
1 cup paella, arborio or long
grain rice
½ cup cooking sherry or
white wine
1L vegetable or fish stock
8 mussels, cleaned
1 cup frozen peas
2 tbs flat leaf parsley, chopped
1 lemon, juiced
Method
Heat some spray oil in a saucepan on medium heat. Add the tuna, prawns and scallops and cook for 30 seconds on each side and set aside.
Place the onion, garlic and celery in the same saucepan on medium heat with the olive oil and cook for one minute or until the onion is softened. Add the rice and coat with ingredients for one minute, then add the sherry. In a separate saucepan, bring the stock to a simmer. Pour a small ladle of stock over the rice and stir constantly.
Keep adding a small amount of stock to the rice while stirring until the rice is cooked.
Browse more recipes or connect with us on Facebook.
Energy: 1685kj; Protein: 29.2g; Carbs: 46.8g; Fat: 7.6g; Fibre: 3.1g; GI med
Rate This