Kimchi recipe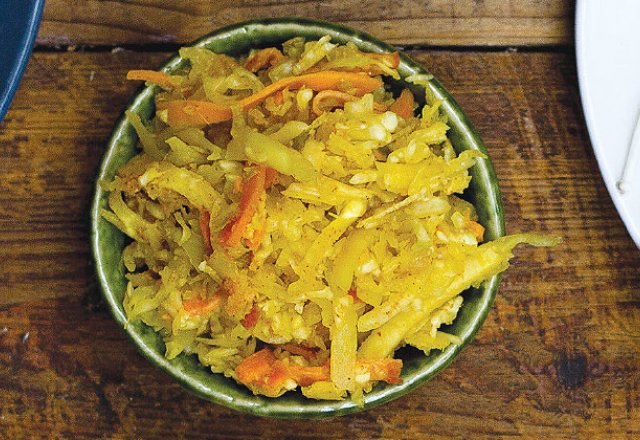 A simple vegetarian dish
There are as many versions of kimchi as there are people making it. This is a relatively simple one, made vegetarian by substituting fish sauce with tamari: a Japanese wheat-free soy sauce.
Korean chilli powder can be found in Asian supermarkets – feel free to decrease the amount for a milder kimchi or add even more if you enjoy a fiery kick.
Ingredients (Makes approx. 1 litre)
1 large head of wombok (Chinese cabbage approx. 1 kg)
½ cup (100g) + pinch non-iodised rock sea salt
3 large cloves garlic, chopped
1 tbsp grated ginger
3 tbsp Korean chilli powder
1 tbsp natural cane sugar
1½ tbsp tamari
1 medium daikon (white) radish (approx. 200g)
3 spring onions
Method
Chop cabbage into quarters lengthwise, remove the core and roughly chop the leaves and stems (approx. 2.5 cm wide). Rinse cabbage in a colander and place in a large bowl. Sprinkle over half a cup salt and massage into the cabbage leaves for 30 seconds or so. Add enough warm water to completely cover the cabbage and stir until salt has dissolved. Leave to sit for at least an hour.
Add garlic, ginger, pinch of salt, chilli powder and sugar to a mortar and pestle. Pound to a rough paste, leaving the garlic a little chunky. Add tamari and a tablespoon of water and mix through. Alternatively, use a small food processor to blend the ingredients together.
Peel and julienne the radish into thin matchsticks. Roughly chop the white and green parts of the spring onion. Add the chilli paste, radish and spring onions to a small bowl and mix well.
Drain the cabbage and rinse a few times in a colander. Squeeze excess liquid from the leaves and return to the large bowl. Add the radish mix and, using your hands (use gloves if you wish, to avoid any staining), thoroughly mix everything together.
Transfer to one or two large, clean glass jars with airtight lids. Press down on the vegetables with a spoon until they are submerged in the brine. Seal the jars and keep in a cool, dark place for 24 hours. Your brine may have started to bubble at this stage – this is good! Place kimchi in the fridge – you can start eating it now but it's better after a week or so. Kimchi will keep in the fridge for up to a month. Make sure you press down on the vegetables with a spoon to submerge in brine each time you take some from the jar (this will help to prevent bad bacteria from growing in the kimchi).
Recipes by Ruth Friedlander | Photography by Jessica Bicknell
Rate This