Inside a dietitian's pantry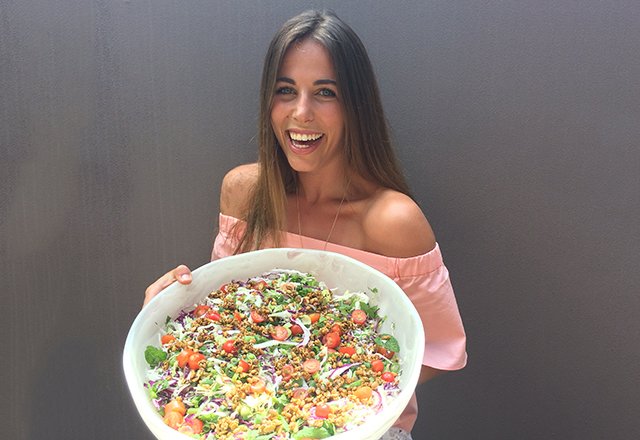 Lyndi Cohen aka The Nude Nutritionist go-to ingredients.
Her no-nonsense approach to nutrition has positioned her as a go-to expert on health and wellbeing. Here, she shares five pantry essentials she can't live without.
Chickpeas
Legumes play a big part of my diet as they're a convenient, fuss-free way to add fibre, protein and slow-burning carbohydrates to my meals. I throw chickpeas into almost anything including soups, bakes and casseroles, but mostly salads.
Plain Greek yoghurt
I'm all about eating for gut and brain health, which is one of the reasons I snack on plain Greek yoghurt packed with probiotics. It's such a tasty way to eat more calcium and protein, keeping me feeling full for longer. For snacks, I add a handful of seeds like linseeds or pepitas to my yoghurt for extra fibre. I often make a yoghurt salad dressing with lemon, tahini, garlic and yoghurt, which goes perfectly on salads or drizzled on top of grilled meats and fish.
Lemon
You'll always find lemons in my kitchen, as I love to add citrus to salad dressings and marinades for salmon or meat. The zesty taste and smell is so refreshing and it is the perfect ingredient for healthy cooking because it gives so much flavour without making the food too heavy.
Salmon
From improved brain function to boosting heart health, there are so many benefits from eating oily fish like salmon so I try to eat it at least two to three times each week. My favourite brand is Huon Salmon because you can really taste the quality in the Tasmanian produce and I love that the fish are sustainably farmed.
Tahini
Tahini is a paste or condiment made from ground sesame seeds and it's a standard ingredient in my cooking. Loaded with heart-healthy unsaturated fat, calcium, B-group vitamins (for healthy hair and skin) and minerals, tahini is rich in nutrients and flavour, meaning you don't need to add much to get a lot of taste. I often drizzle tahini on baked pumpkin or stir it through a warm couscous and rocket salad.
Rate This