How to teach yoga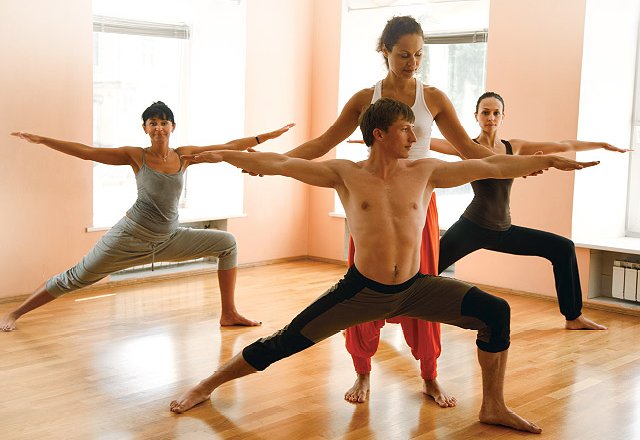 Tips from yoga instructor Emma Palmer
The modern yoga teacher must be versed in the eastern practices of the tradition along with a new range of knowledge associated with the ever-evolving western world. Emma Palmer reveals what to look for in a respected training course.
It's undeniable that the popularity of yoga has grown since it first arrived on our shores in the 1950s. This is thanks to the efforts, commitment and dedication of yoga teachers of that era – including Michael Volin, Margrit Segesman and Roma Blair. Back then, yoga attracted only a select few devoted students who were predominantly fit, healthy and flexible.
Fast forward to the current day and the general public's perception of yoga has changed. The modern student is attracted to yoga as a respected complementary health modality, thought to establish and maintain health, increase flexibility, support rehabilitation post-injury and manage the stresses of day to day life through a philosophy-based framework.
As a result of the changing needs of the student, the knowledge required of a modern yoga teacher far exceeds that of when it originated approximately 2500 years ago.
The modern yoga teacher
Increasingly, research highlights yoga as a reputable complementary health modality to assist in the management and alleviation of symptoms of injury and disease, both physical and psychological. Yoga acts as a healing mechanism designed to treat the whole person and not just their condition.
It is essential that yoga teachers' knowledge of theory and practice surpasses the teachings of old, purely because the ancient yogi didn't experience the same lifestyle factors, injuries, diseases, socioeconomic struggles and pressures we face today. The modern yoga teacher therefore bears a greater responsibility than ever before, not only through their duty of care, but through self-enquiry and desire for a greater sense of purpose.
Yoga teachers today are required to understand and apply the benefits of all asana, bandha and pranayama practices, as well as possess a thorough understanding of contraindications in order not to exacerbate symptoms further.
It is extremely common for a prospective yoga teacher to question if their own practice is good enough, partly because there are still some asana by which they are challenged. Remember that teachers are all first and foremost students of yoga, and their practice is forever growing and developing. Yoga isn't just about asana, and that aspect of your practice is forever blossoming.
Student becomes the master
When considering your vocation as a yoga teacher, ask yourself the following questions:
Are you ready to live your life in service to others? Yoga teaching offers the opportunity for personal transformation, self-reflection and increased awareness, breaking old patterns and creating new ones.
What can you commit to time wise? This might be a short one month intensive course, or one that's completed over a long period of time. Weigh up the pros and cons of both options.
Can you make a genuine commitment? The journey of undertaking any yoga teacher training course requires openness to a process of transformation. Are you willing and ready to be challenged?
What will your point of difference be? The yoga industry is saturated with yoga teachers, all with something different to offer in terms of training and expertise.
Who regulates the industry?
There are currently two independent associations for yoga education in Australia – Yoga Alliance and Yoga Australia. Universally, yoga is not government regulated; however, a number of self-regulated professional associations standardise the yoga industry. US-based Yoga Alliance is currently considered to be the largest organisation with more than 50,000 registered yoga teachers and 3000 registered yoga schools worldwide.
Yoga Australia attracts approximately 2500 national members with 65 registered courses, a figure that continues to grow. President of Yoga Australia, Leigh Blashki, says it has become increasingly evident over the last 15 years that there is a need for clearly defined educational standards to guide the curricula to providers of yoga teacher training. Yoga Australia is viewed as having the highest standard of education required by an independent peak association, and its guidelines are being used as a curriculum template for a growing number of yoga schools internationally.
Upholding these standards of education is of the upmost importance to the industry's leaders. "Currently, the need for skilled, educated yoga teachers is crucial. The ability to establish comprehensive and rigorous teaching methodology is imperative, not only to support the consistent delivery of best practice for yoga, but to reach the core needs of every student," Blashki says. "When choosing an independent yoga association, think local first."
Yoga as therapy
There are thousands of reputable research articles of a biomedical nature highlighting yoga as a therapy for health conditions. These findings further support the integrity of yoga teachers and their place in the complementary medical field. In January 2014 it was published in the International Journal of Yoga that: "The promotion of yoga practice as a preventative and treatment therapy for health outcomes is increasing rapidly and it is important to investigate the trends of yoga as a therapeutic intervention in academic literature."
Choosing your course
Here are some key components to look out for when researching your chosen training provider:
Know the lecturers of your chosen faculty. Identify their experience, professional bodies they are registered with, as well as their own practice and knowledge in their specialised field.
Explore the units and modules within the course and request an in-depth syllabus. Know exactly what you're going to be studying and determine if this resonates with what you're looking for in a yoga teaching training course.
Know the difference between contact and non-contact hours. A course advertised as a 500 hour course may not actually be 500 hours of face-to-face learning. Ask if you are learning from the senior teachers directly.
Know the terms and conditions of enrolment, and make sure you can commit to the time required, standards and expectations.
Check who the course is registered with. Ideally this is with both Yoga Australia and Yoga Alliance.
Make sure you resonate with the school, teachers and lecturers. Shortlist the schools you're most interested in and then attend classes, speak to the senior lecturers/teachers/existing students and get a feel for the school beyond what you read. Take your friends and family along with you and get their opinion too.
Look for a balance between eastern traditions and the western teachings required for the modern yogi and ensure the key modules exceed the minimum industry requirements.
Confirm your chosen course provides plenty of opportunities to teach a full class to the public prior to your course completion. This practical component is absolutely essential to your learning.
Be sure you receive mentoring throughout your training. This support is essential to your learning, especially in your first year of teaching.
Ensure the learning materials are thorough, well researched and updated regularly to reflect industry changes and standards.
Ask if your chosen provider offers unlimited access to classes to practice and to help absorb theory taught in lectures.
Verify the qualification you're obtaining will allow you to teach straight away and aligns with your goals post-graduation.
A final word
If you are considering a career change to yoga teaching, establish a consistent practice for at least 12 months prior to training. Your own teachings will be drawn from your own practice.
And at the end of the day, let your heart be your guide. Let that inner voice of wisdom guide you the rest of the way, and trust that the right teachers will come to you. NH
Emma Palmer, (E-RYT-500 and Level 3 Senior Yoga Teacher), is the founder and principal teacher at the Moksha Academy of Yoga in Melbourne. Moksha offers four intakes for the RYT200, Level 1 Yoga Teacher Training each year, which is registered by Yoga Alliance and Yoga Australia. For info, visit mokshayoga.com.au
Rate This