How to spring clean your home naturally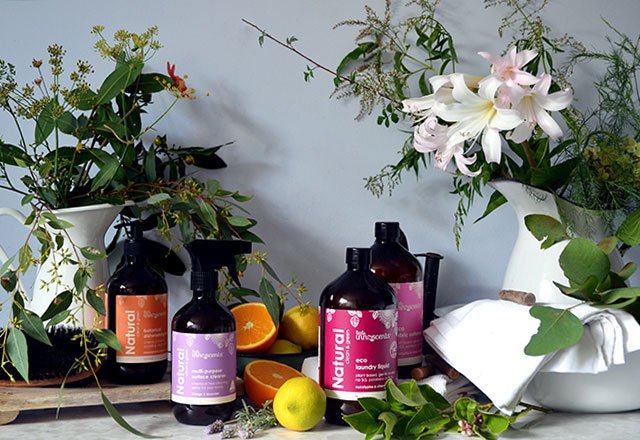 'Tis the season!
Spring is here meaning it's the perfect time to throw open the doors and windows while you start freshening and cleaning your home as you make the most of the sun shiny days.
But before you pick up your cleaning caddy, it's important to consider if there are some more natural ways to clean your home to help limit your family's exposure to harsh chemicals found in many cleaning products.
It's actually super easy to make your own cleaning sprays by simply mixing water with a little vinegar and some essential oils.
There are also some great non-toxic products on the market these days, such as Little Innoscents' cleaning range made from plant-based, 100% natural and botanical ingredients, free from phosphate, ammonia, nitrate and chlorine.
In addition, Little Innoscents has a great range of essential oils, which is great if you are considering going down the DIY path towards homemade cleaning products. Teamed with some microfibre or cotton cloths and you'll be well on your way to cutting the number of toxins in your home.
Kitchen
Little Innoscents offers a multi-purpose surface cleaner as well as a botanical dishwashing liquid to help remove everyday grime from your dishes, benches and tabletops around the home. Making your own cleaning spray is also simple - mix 3/4 water, 1/4 vinegar and a few drops of essential oil (lemon, orange, lavender and eucalyptus are great options) in a spray bottle and it's time to get cleaning.
Laundry
Choose an eco-friendly laundry detergent, such as Little Innoscents' laundry liquid wash and fabric softener, to clean those winter blankets and bed sheets. Or consider skipping the fabric softener altogether by filling your fabric softener compartment with vinegar to help keep your clothes soft naturally.
Bathroom
Bicarb soda and vinegar are your best friends for helping to remove grime in the shower and basin, or even to clean the toilet - simply sprinkle on some bicarb soda, spray with vinegar, scrub and rinse. The vinegar also helps to keep mould at bay.
Floors
When cleaning the floors, add a few drops of essential oils to your vacuum cleaner bag to freshen your home as you clean. Then mop using a bucket filled with hot water, a good splash of vinegar and a few drops of lemon essential oil for sparkling floors and a fresh-smelling home.
Head to their website for more information on the Little Innoscents cleaning range.
Words by Erika Atwill.
Rate This