How to create a minisphere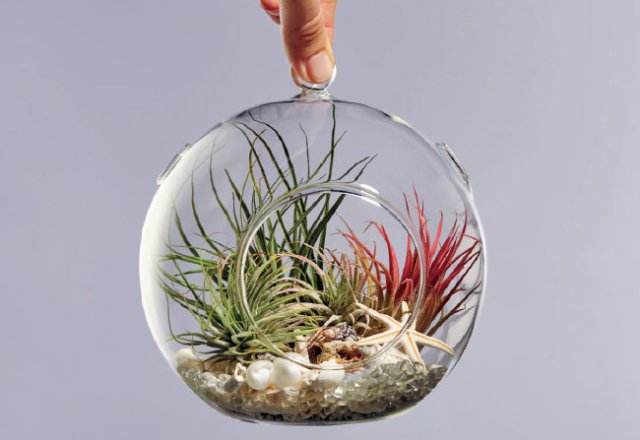 Sharing the plant love.
Tealight orbs are ideal for hanging terrariums. Air plants work particularly well, as they don't require any soil, which can make the terrarium heavy.
BASIC EQUIPMENT
15 cm glass tealight orb
¼ cup decorative grey stones
¼ cup glass bead pebbles
PLANTS
1 Tillandsia stricta
1 Tillandsia ionantha 'Rubra'
1 Tillandsia ionantha 'Mexico'
1 Tillandsia ionantha 'Peach'
DECORATIONS
Small handful of coral rubble
Handful of small shells
1 dried sea urchin
1 dried starfish
Project steps
Give the glass a good wash inside and out.
Soak the air plants in a bowl of water for 30 minutes.
Pour the grey stones into the orb.
Add the glass pebbles around the front of the orb.
Drain the air plants and shake off any excess water, as they may rot if they hold extra moisture for too long.
Arrange your air plants in the orb.
Add the coral, shells, sea urchin and starfish.
Attach fishing wire or string to the glass loop at the top of the terrarium, and hang in a sunny spot.
GUIDELINES
Bright, indirect sunlight. Remove the plants and soak in water once a week for 30 minutes. Spritz with a water-spray bottle in warmer months.
Air plants do not require soil; they use their roots to anchor themselves to rocks and branches.
Curled leaves indicate that the plants are not getting enough water.
Rate This