'A Feast of Nutrition'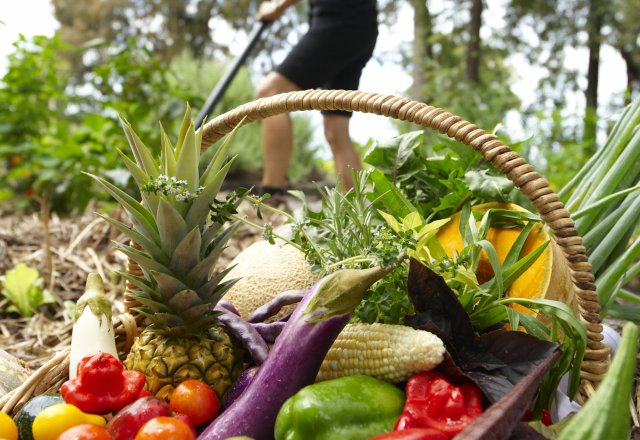 Liz Nowosad took some time out to attend Gwinganna Lifestyle Retreat's four-day speciality retreat, A Feast of Nutrition, led by dietitian Caroline Scott.
Liz Nowosad took some time out to attend Gwinganna Lifestyle Retreat's four-day speciality retreat, A Feast of Nutrition, led by dietitian Caroline Scott.
Anyone who has been fortunate enough to stay at Gwinganna would surely agree that it is a very special place. There is something quite magical that takes place atop the mountain. I have been accused of over-using the word amazing, but it is amazing. And I am not alone in my opinion. The amount of second, third and fourth-time guests surely speaks for itself.
"I came when it opened, five years ago, and have been back every year since," said one guest.
"It's great to just get away every so often and re-charge. Kick start healthy habits," said another.
Half an hour from the Gold Coast airport (a.k.a. Coolangatta), Gwinganna sits atop a plateau, part of 500 acres in a hidden region of the Tallebudgera Valley. The Aboriginal people were the original custodians of the region and it was they who gave name to the place. Gwinganna translates to 'lookout', aptly named given its position offering views from Moreton Bay to Coolangatta.
It was my second visit to Gwinganna. I came a couple of years ago to attend the five-day Optimum Wellbeing Retreat, which was also, well…amazing. Ha.
This time around, for the Feast Of Nutrition Retreat, we were in the very capable hands of dietitian, Caroline Scott. A wealth of knowledge and one of the most engaging speakers I have ever had the pleasure of hearing. Each day after morning tea, myself and 35 fellow guests filed into the airy seminar room to learn from this oracle on all things nutrition. From emotional drivers and sugar cravings, to detoxification, hormones, fat and everything in between. My pen was ablaze! (We got handouts on our last day that covered all the info Caroline shared, but I am a geek when it comes to note taking.) There was a lot of information. And quite a few of my previously held food beliefs were challenged.
DAY 1 – ARRIVAL DAY
My plane touched down at Coolangatta airport at midday, so I was in plenty of time for Gwinganna's courtesy transfer, scheduled to leave the airport at 12.45pm. Twelve strangers, some apprehensive, some excited, piled onto the coach, luggage was stowed and we were off.
We arrived at the retreat at about 1.30pm and were greeted with a wholemeal salad wrap, fresh fruit and a selection of teas. Herbal, naturally. There is no caffeine or wine on any retreats over three days in duration. Lucky I started cutting back on the long macchiatos last week.
We had an orientation talk and tour, during which we were invited to the spa for fresh juice mocktails and mingling at 5pm.
At 7pm dinner was served in the dining room, a beautiful, rustic building that overlooks the pool on one side and the valley on the other. Our entree was a tasting plate of mushroom pate, fresh scallop and a soupcon of broccoli soup. Main was a choice of Thai style green fish curry or mushroom risotto with cashew nut cheese. All the food served at Gwinganna is organic and locally sourced, so it is ethical, environmentally friendly and full of nutrients. Every morsel is delicious and leaves your body singing. As the food was eaten, friendships were formed and everyone visibly began to unwind.

DAY 2
5.50am A knock on the door and a friendly ' Good morning' signals it's time to get up. Yikes.
6.30am We meet on the side of the valley for Qigong with the sunrise. A relaxing, calming, and Zen way to greet the day.
7am We are off for a guided walk. There are two options each day for walkers; challenging to get your heart rate up or a less taxing moderate stroll with resident botanist and environmentalist, John Palmer. Both are a great opportunity to take in the awesome scenery.
8am Back from our walk and ready for breakfast. Before breakfast, however, we are offered a tablespoon of apple cider vinegar served in a shot glass. It's said to stimulate stomach acids and aid digestion. Down the hatch.
Every day there is a hot option for breakfast as well as a buffet. The buffet includes soaked bircher muesli, hot quinoa and oat porridge, homemade fruit compote and a choice of natural or sheep's yoghurt, as well as LSA sprinkle. Today's hot option is scrambled egg with sourdough bread, cherry tomatoes and spinach. We are advised to choose either the hot option or the buffet, purely as a means to control portion size. Before making the choice, an organic fruit platter and bowl of soaked nuts arrives on the table. The Gwinganna chefs soak all their nuts in water overnight as it makes them more digestible, as well as increasing enzyme-content, considerably.
9am After breakfast comes a half-hour stretch class followed by an hour and a half of movement classes. There is a yin option, such as yoga or Pilates for those who need to be calm and unwind, or a yang option, such as boxing, pump and spin for those who want to get their heart pumping, boost their fitness and maybe trim a pound or two from their frame. All classes are designed with functional movement, core strength, cardio and flexibility in mind. They are also a lot of fun! By this point, I am becoming increasingly aware that the people who work at Gwinganna are pretty special. They love what they do, they love people and they themselves are living testament to the benefits of holistically healthy living. They literally glow with health.
11am It's time for morning tea. A bite size snack, fresh fruit and herbal tea later, we are invited to attend our first seminar with Caroline.
The seminar on day one is all about detoxification. Caroline covers the importance of caring for your liver and the implications a tired or lardy liver can have on your health, weight, mood and energy levels. She outlines the top liver loaders: stress, alcohol, caffeine, drugs (both illegal and prescription), refined sugar, damaged fats, toxins, refined flour, and petro chemicals. Incidentally, stress is the most damaging, or more specifically, the excess stress hormones we produce in times of stress that the liver has to process. We also covered the top liver helpers, all of which we need good levels of in our life, including exercise, water, sleep, whole foods, breathing, love, joy, laughter and sex. (The men in the room look around knowingly as this last point is made.)
1pm Lunchtime. Lunch each day begins with a warming soup and is followed by an array of salads and a protein, such as marinated calamari, Asian style chicken or barbecued fish. Delicious.
2pm After lunch comes dreamtime. This is the time to relax and indulge in some of the fabulous spa treatments. The spa menu is comprehensive, varied and well balanced. From facials and massage to equine therapy, holistic counselling, consultations with a naturopath or nutritionist, eye iridology, psychotherapy…you name it, they have it. And the therapists are some of the best in the world. There is also a whisper room, steam room and sound therapy room, making the spa a lovely place to relax and unwind whether you have a treatment booked or not.
7pm It's back to the dining room where dinner is served. The conversation is light and humorous and sometimes, deep and soulful. I think the guests help each other to heal and restore as much as the therapists do. We are in this together…caffeine withdrawal headaches and all!

DAYS 3 AND 4
Days three and four follow much the same pattern. There is something so comforting about the routine that you so easily slip into during the stay. All activities and seminars are optional and nothing is compulsory, if you want to stay in bed until breakfast and spend the morning by the pool, you can. The ultimate goal is to give your body, mind and soul what it needs most. In many cases, that may be sleep-ins and rest.
I learnt such a huge amount from the seminars that Caroline gave each day and I got the impression it changed the lives of quite a few people in the room. There was always a post-seminar discussion at lunch, where we digested and absorbed more than just the food on our plates. All of us were excited about food and nutrition, sharing ideas and suggestions on how to implement our newfound knowledge into our lives back home when preparing meals and nourishing our families and ourselves. Sourcing food from local farmers, shopping at farmers markets as opposed to supermarkets, and eating organic when possible were resolutions many of us chose to make.
The coach ride back to the airport was a different story to the one on the way to Gwinganna four days previous. Numbers and emails were exchanged, those who arrived alone left with friends. And everyone looked and felt…amazing!

Go to www.gwinganna.com
Rate This