Chocolate-avocado ice-cream recipe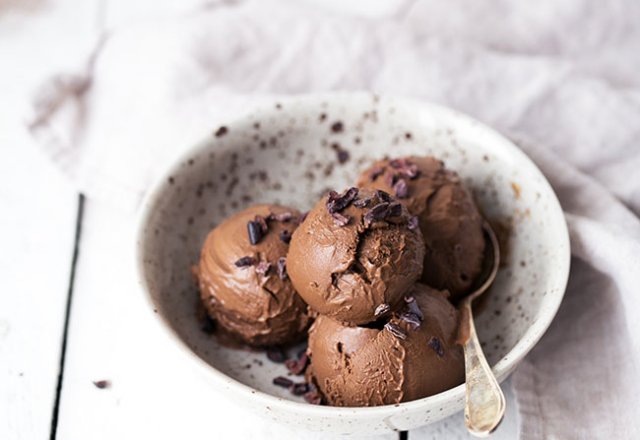 A guilt-free delight.
Just add a few spoonfuls of cacao and get a rich, creamy chocolate ice-cream. Bravo, avocado!
Ingredients
2 ripe avocados, peeled and diced
½ cup unsweetened almond milk or other plant-based milk
2 tbsp coconut butter or extra-virgin coconut oil, melted
3–4 tbsp coconut palm syrup or other sweetener
4 tbsp raw cacao powder or unsweetened cocoa powder
1 tsp vanilla extract
Method
Blend all ingredients in a blender until smooth. Taste and add sweetener or more cacao, if desired.
With an ice-cream maker: Pour the mixture into your ice-cream maker and prepare the ice-cream according to the manufacturer's instructions. Serve straight away or transfer to a freezer-safe container, cover and freeze until ready to be served. Let the ice-cream thaw for 10–15 minutes before serving.
Without an ice-cream maker: Pour the ice-cream mixture into a freezer-safe bowl and freeze for about three hours, mixing well every 30 minutes.
After three hours, scoop into bowls, serve and enjoy!
Recipe by Virpi Mikkonen and Tuulia Talvio.
Rate This