Chanterelles, buckwheat crepes & kale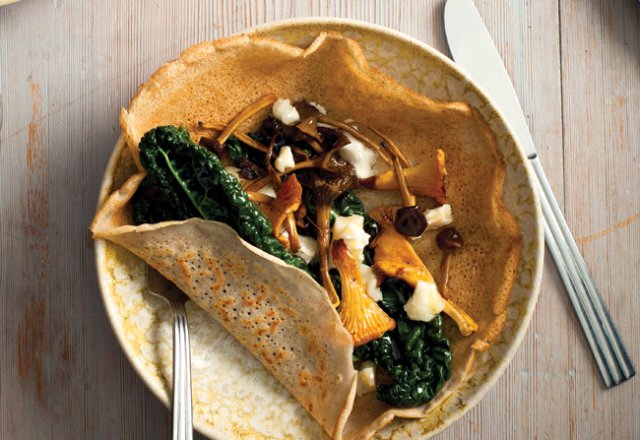 Nordic-style buckwheat crepes from food stylist and photographer Simon Bajada.
Ingredients (serves 4)
■ 60 ml vegetable oil, plus extra for frying
■ 190 ml full-cream milk
■ 3 large eggs
■ 310 g buckwheat flour
Filling
■ 100 g kale, roughly chopped
■ 1 tbsp salted butter, plus extra for frying
■ ½ tbsp rapeseed oil
■ 300 g chanterelle mushrooms, brushed, larger ones torn in half
■ 150 g creamy feta or goat's cheese
Method
First make the batter. Whisk vegetable oil, milk, 310 ml water and the eggs together in a large bowl. Gradually add flour and a pinch of salt, whisking all the time, until well incorporated. Chill for 30 minutes.
While batter is resting, make the filling. Put chopped kale in a bowl and pour over a kettle of boiling water. Leave for 3–4 minutes, then drain and pat dry.
To cook the crepes, heat a little butter in a frying pan. When it is foaming, pour in enough batter to create a thin layer on the base. Lift, tilt and rotate the pan so that the batter forms an even layer.
Cook for 30 seconds or until bubbles start to appear on the surface and the edges are solid and easy to lift up with a spatula. Flip over and repeat. Stack the cooked crepes on a plate covered with a clean, dry tea towel while you cook the rest.
For filling: Heat butter and oil in a large frying pan. Add kale and mushrooms and season. Sauté until kale just starts to wilt and the mushrooms are starting to soften.
To serve, crumble over cheese, top with kale and mushrooms, fold and serve.
Rate This