Avocado with lime, pickled ginger & toasted pine nuts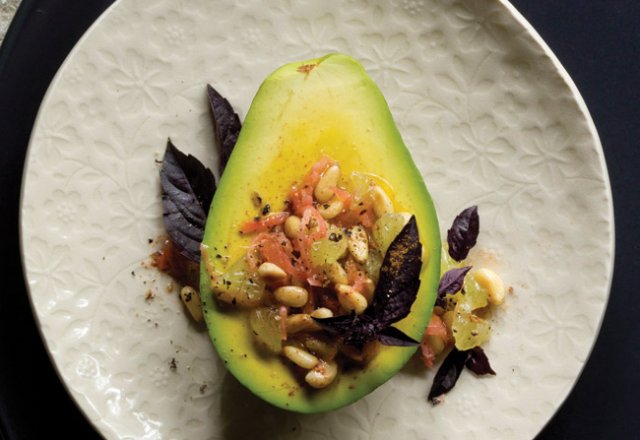 A fresh, simple starter
This avocado recipe combines tangy pickled ginger and sweet cinnamon.
Ingredients (serves 4)
2 ripe Hass avocados
1 tbsp Japanese-style pickled ginger, finely sliced
¼ cup toasted pine nuts
1 lime, rind and pith removed, and finely diced
2 tbsp (+ extra) extra virgin olive oil or avocado oil
¼ tsp (+ extra) ground cinnamon
Salt flakes
Freshly cracked black pepper
½ cup purple basil leaves

Method
Halve the avocados, remove the seeds and, using a large spoon, scoop the flesh out of the skin in one motion so the avocado half is intact.
Cut a sliver of avocado from the curved side to make a flat surface so the avocado sits flat on the plate. Finely dice the avocado slivers and place in the cavity where the seed was.

Combine the pickled ginger, pine nuts, lime, extra virgin olive oil and ground cinnamon with a little seasoning and divide evenly amongst the four avocado halves. Garnish with the purple basil leaves, drizzle over a little more oil and sprinkle a pinch of ground cinnamon on each filled avocado before serving.
Recipe from Sophie Zalokar and image by Craig Kinder
You might like Spiced brocooli with leeks OR 9 superfoods that nourish your skin
Rate This