Anti-inflammitea recipe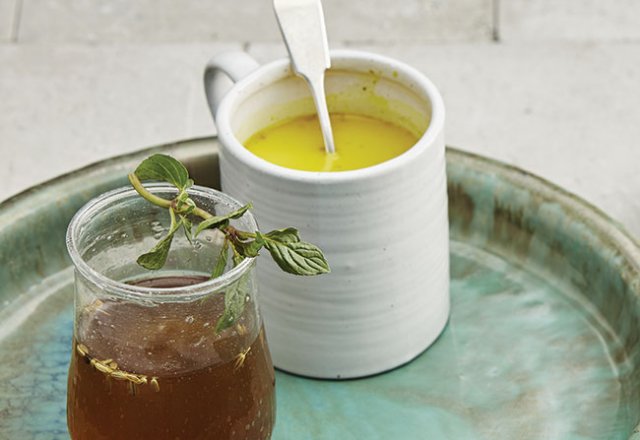 Tastes just like a chai.
Reap the health benefits from this anti-inflammatory tea.
This tea is more like a chai: milky and richly spiced. It is so delicious that it's easy to forget that you are taking your medicine. But with a formidable line-up of anti-inflammatory ingredients, this bright yellow indulgence is a go-to rescue remedy for any kind of long-term tummy troubles. Bloating, cramps and irritable bowel syndrome (IBS) might all benefit from a little anti-inflammitea.
Curcumin, a heavily researched compound found in turmeric, is the star ingredient here, and the addition of black pepper is known to help it cross into the bloodstream so that it can work its magic in other parts of the body.
Ingredients
6–8 cm piece of fresh turmeric
3–4 cm piece of fresh ginger
1 cinnamon stick
1 tsp cardamom pods
1 pinch of black pepper
1 tsp black tea or one tea bag
1 cup dairy-free milk
1 cup filtered water
manuka honey, to taste
Method
Peel and then finely grate the ginger and turmeric.
Grind your dried spices in a coffee or spice grinder.
Place all of the ingredients except the honey into a large saucepan and bring to a boil, then reduce the heat to very low.
Simmer for 10 minutes, being careful not to let it boil over.
Remove from the heat and strain the mixture, discarding the solids.
Sweeten with manuka honey and enjoy! Can be consumed daily for optimal effect.

Rate This