4 mood-boosting herbal teas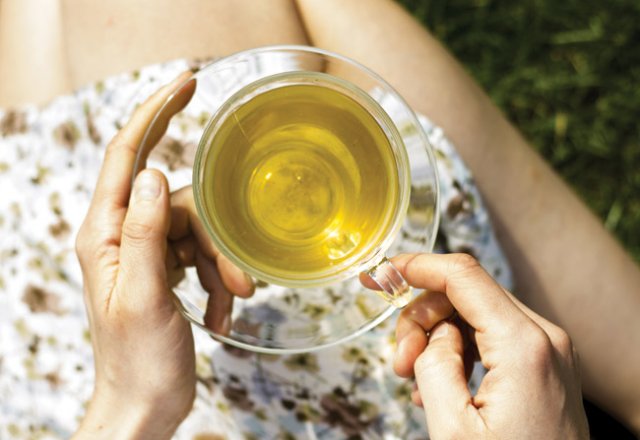 Simple tea ingredients that take you from pre-winter blues toward a happier, healthier human.
The humble 'cuppa' is so much more than a delicious morning beverage or a quiet nightcap.
For centuries, cultures near and far have enjoyed the therapeutic benefits of brewing tea, utilising ingredients to assist in treating illness and supporting health. And while we know a gorgeous brew before bedtime might be the difference between sweet dreams or something that reflects a horror movie, I'm excited to share that there are many teas out there to make your life better; after all, food is medicine and drawing on nature to support wellness is such a gift.
Let's look at some really simple tea ingredients that specifically help to support your moods, taking you from pre-winter blues toward a happier, healthier human.

Rooibos (red bush tea)
This little gem is a caffeine-free delight. It is packed full of goodness and delivers an almighty swag of benefits that will have you feeling fabulous. It contains powerful antioxidants that help protect the body from environmental damage. In fact, it has a specific antioxidant called chrysoeriol, which helps to improve circulation and lower blood pressure and cholesterol.
Rooibos houses anti-inflammatory properties and helps to prevent some cancers due to it's anti-mutagenic 'super powers' being able to defend our cells to inhibit them from changing. But wait, there's more! Rooibos has a high mineral content, specifically of the goods such as magnesium, zinc and iron. Because of this it can be enjoyed any time of the day but is especially useful to relax the body before bed to relieve insomnia. What's not to love?

Turmeric Tea
We've landed ourselves in the centre of a love affair with turmeric. It's all the go for it's anti-inflammatory aid but turmeric also helps improve wellbeing and mood as it influences both serotonin and dopamine – the feelgood hormones.

Lemon Balm Tea
Not just because the name itself sounds soothing, but also because lemon balm enhances our wellbeing as it assists in relieving stress. It may also sort out your blood pressure quick sticks. It's a beautiful aromatic tea derived from simply steeping lemon balm leaves.

Saffron Tea
This gorgeous orange spice is loaded with 'anti grumpy' qualities to help with mood swings, especially during the menstrual phase of the cycle. It's also been shown to be an affective antidepressant.

These are just a few of a long list of teas and leaves that can help you get your happy on. As a doctor of Chinese medicine, I've had the pleasure of creating many tea blends through my role as ambassador for Your Tea. What I've come to know and love is that the influence certain tea ingredients may have on the body is pretty amazing. The moral of the story – don't ever underestimate the power of a good cup of tea. In fact, the act of making a cup of tea helps to lower stress hormones instantly (by up to 48 per cent). Enjoy the benefits of tea and sip your way to your happy place.

You might like Chlorella: an immunity boosting superfood
With Nat Kringoudis
Rate This