WIN 1 of 10 Mad Millie Coconut Yoghurt Kits
WIN 1 of 10 Mad Millie Coconut Yoghurt Kits
**THIS COMPETITION HAS NOW EXPIRED**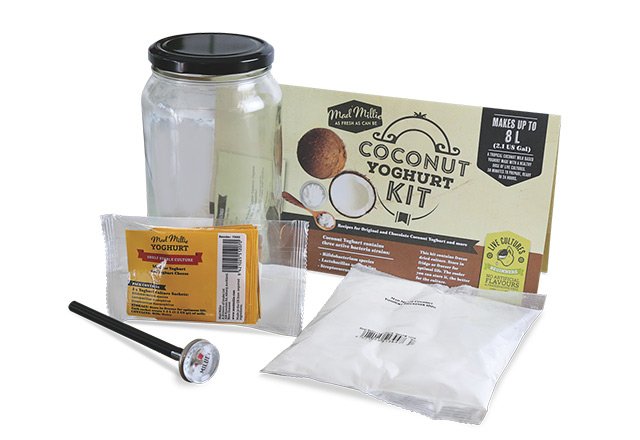 We're giving 10 lucky readers the chance to win one of Mad Millie's creative Coconut Yoghurt Kits.
The new Coconut Yoghurt Kit is packed with probiotic goodness, we couldn't wait to try it ourselves! To celebrate, nourish is giving away 10 Coconut Yoghurt Kits (valued at $34.95 each).
Create delicious coconut yoghurt that's bursting with flavour together with tangy beneficial live cultures. Each spoonful will send you off on a relaxing journey to the tropics. Containing three active bacteria strains (Bifidobacterium specis, Lactobacillus acidophilus and Streptococcus thermophilus), there are no artificial flavours or preservatives. If you love creating things in the kitchen, the kits are perfect for beginners and those who love making food from scratch.
Each kit contains:
- 1 L glass jar, which you can resuse every time
- Thermometrer
- Yoghurt culture (contains dairy)
- Thickener (made from organic tapioca, organic guar and GMO free maltodextrin [sourced from corn])
All you need to do is add coconut milk!
Visit the official website for more information and get active on Instagram and #coconutyoghurtkit.
To enter:
1. Like Mad Millie on Facebook or follow them on Twitter or Instagram; and
2. Answer this question: What are the three probiotic strains included in our kit? And send your answer to maddie@blitzmag.com.au.
Competition closes Friday 17th June, 2016.
Terms & Conditions
1. Entry is open to all residents of Australia, aged 13 years and over, except employees of the Promoter and their immediate families and agencies associated with this promotion.
2. The promoter shall not be liable for any loss or damage whatsoever that is suffered (including but not limited to indirect or consequential loss) or for any personal injury of suffering or sustained in connection with any of the prizes offered except for any liability which cannot be excluded by law.
3. All entries become the property of the promoter.
4. The Promoter accepts no responsibility for late, lost or misdirected mail or for any prizes damaged in transit.
5. The promoter is Blitz Publications & Multi Media Group Pty Ltd, 1 Miles St, Mulgrave, Victoria 3170.
6. To enter the competition, entrants must:
a. Like Mad Millie on Facebook or follow us on Twitter or Instagram; and
b. Answer the following question (with #coconutyoghurtkit tagged) - What are the three probiotic strains included in our kit?
7. The total prize value is $349.50 with 10 to be won. Each pack is valued at $34.95 each. Each Kit contains instructions, culture pack, thermometer and non GMO organic thickener and are packed into a 1 litre reusable glass jar
8. Start Date of Competition: Thursday 19th May, 2016
9. End Date of Competition: Friday 17th June, 2016
10. Date, time and place drawn: 1 Miles St, Mulgrave, Victoria 3170 on Monday 20th June, 2016 at 11am.
11. Winners will be notified on Tuesday 21st June, 2016 via email and phone.
12. If the prize remains unclaimed after three months of the first draw, then a replacement winner will be drawn on 20th September, 2016.
13. This is a game of skill, and chance plays no part in determining the winner.
14. Prizes are non-transferable or exchangeable and cannot be taken as cash.
15. The judges' decision is final and no correspondences will be entered into.
16. This competition is being advertised by Blitz Publications on its company websites, printed and digital publications as well as on Facebook. You agree and confirm that you absolve Facebook of any responsibility arising out of the competition and acknowledge that you understand that the promotion / competition is in no way sponsored, endorsed or administered by, or associated with, Facebook.
17. By entering this competition, you consent to Blitz Publications & Multi Media Group Pty Ltd giving your mailing address to product suppliers in the event that you are a winner, for the purpose of delivering your prize. Your address will not be used by Blitz Publications & Multi Media Group Pty Ltd or the supplier for any other purpose.
18. By entering this competition, you also confirm that you have read the Blitz Publications & Multi Media Group Pty Ltd Privacy Policy (http://www.blitzpublications.com.au/privacy-policy) and consent to Blitz Publications & Multi Media Group Pty Ltd giving your mailing address to product suppliers in the event that you are a winner, for the purpose of delivering your prize
19. Should you be selected as a winner of this competition, you acknowledge and agree that no liability attaches to Blitz Publications & Multi Media Group Pty Ltd for any damage to, fault with or issue arising out of the product or prize, either during transit to you, or upon its receipt by you or at any stage thereafter. Blitz Publications & Multimedia Group Pty Ltd will not responsible for this replacement of the product or prize if any issues arise.