What Healthy Sleep is Made Of: Your Mattress Material Matters
What Healthy Sleep is Made Of: Your Mattress Material Matters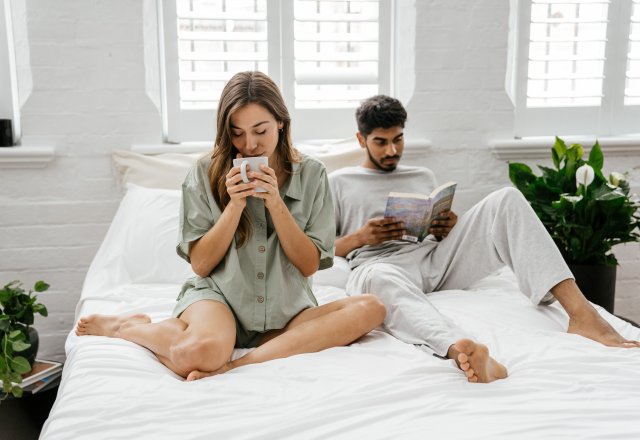 2020 will always be remembered primarily as a time of health crisis. But the year also left a legacy of health consciousness, turning self-care, fitness and wellness from indulgences to priorities.
When going out was restricted, behaviours shifted to adapt activities normally completed outside – think online exercise classes becoming the norm. In-home restaurant experiences replaced dining out. Personal spaces like the bedroom also transformed into true private sanctuaries for peace and relaxation. Staying healthy became an urgent necessity.
Quality sleep in particular received scrutiny and overhaul, with many realising how important it is to one's health. Downloading sleep apps, buying sleep aids and even upgrading the bedroom were just some examples of how consumers invested more in getting better sleep. The surge in popularity of mattress-in-a-box brands promising the perfect night or your money back made healthy sleep less aspirational and more attainable. Unfortunately, the fact that most of these mattresses are made from hazardous synthetic materials like polyurethane gets glossed over by the snazzy ads and seemingly bargain prices. Thankfully, Peacelily disrupted this trend by offering the perfect combination of luxurious comfort, ideal body support and affordable pricing. More importantly, Peacelily uses natural materials like hand-tapped 100% rubber latex, GOTS certified 100% organic cotton and kapok plant fibres that are sourced sustainably.
Why is Latex Better than Other Mattress Materials?
Latex comes from the sap of rubber trees making it the most natural material for mattresses. Rubber sap is naturally antibacterial, resilient and water resistant. It also tolerates both low and high temperatures so it will not retain heat nor be flammable. When it has been processed from liquid to latex foam, it keeps the above characteristics. So, you can expect a durable mattress that can withstand nearly three decades of use – no sagging here! In fact, the Peacelily mattress warranty lasts 25 years – the longest in Australia. Not only will you save upfront given the budget friendly price, but you also eliminate having to buy a new one every five to ten years. That's durability savings right there.
Memory Foam vs Latex as a Bedmate
Imagine the extreme trust you place in your mattress – quite literally, you are at your most relaxed and you will spend the next 6 or so hours in close contact with it. It felt so cushy and cloud-like in the showroom and promised great sleep. Now, picture the synthetic materials oh so slowly breaking down into micro-particles also known as Volatile Organic Compound or VOCs off-gassing. Not to mention, inhaling the subtle scent of eau de fire retardant sprayed on most mattresses to reduce flammability.
This is the shocking reality of most foam mattress-in-a-box brands. Memory foam or viscoelastic foam is man-made from petrochemicals and is commercially cheaper and faster to produce. The lower quality allows for constant discounts but also result in a shorter life.
Choosing a Peacelily latex mattress on the other hand has none of the above risks and all of the luxury comfort feels. On the surface, the mattress is covered in high thread count 100% organic cotton that is super breathable and is Global Organic Textile Standard (GOTS) certified. Aside from the use of a small percentage of zinc oxide and sulphur in the compounding process, there are no other harmful chemicals added, no fumigation sprays, no added toxins. Latex also has an open cell structure which allows for good airflow which is another reason for nasties like microbes and mites not to thrive within the material. Not to mention that. In bed, it's just you, luxe organic cotton and premium latex. So go ahead and fully relax.
Healthy for You, Healthy for the Environment
The accessibility of lower quality mattresses means a higher price for the environment to pay. Synthetic mattresses break down quickly and are not biodegradable or recyclable. They quite literally are huge landfill pollutants. Come springtime, almost every street features a used mattress for disposal which is wasteful and strenuous to natural resources.
Your health does not need to endanger the environment. Instead of buying a mattress, you will throw away in less than five to ten years (because why else would these brands only be covered for that duration), invest in one that will last. Peacelily is so sure about the quality that on top of the unbeatable warranty, they also offer the 100 Night Risk Free Trial. Yes, you still get your money back if the mattress does not suit your comfort or support preference. But rather than disposing of these returns, they get donated to a charity partner. Even if they do get thrown away for some reason, latex is biodegradable and recyclable – a true testament to it being the most natural mattress you can get.
Take (Mattress) Matters into Your Own Hands
If the previous year has taught us anything, being safe with our choices is always a good bet. With a mattress playing an important role in your sleep and overall health, every aspect of it is of significance. Let "add to basket" mean "I choose better for myself" because you know you deserve the best for your health.
Author: Rea Koa