Tasmania - the healthy food guide
Tasmania - the healthy food guide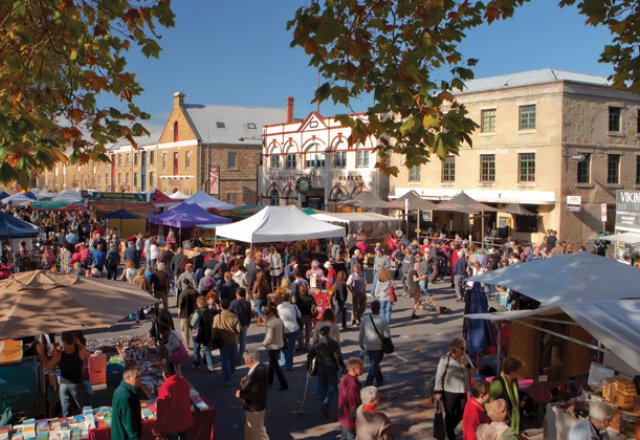 Wherever you find yourself in Tasmania you can be sure there are plenty of mouth-watering food and wine experiences ahead, writes Winsor Dobbin.
Situated off the north-west coast of Tasmania and accessible by air from Melbourne, Launceston and Burnie/Wynyard, King Island has some of the cleanest air in the world thanks to the Roaring Forties winds of Bass Strait. Shellfish flourish on its wild and tempestuous coastline – one of the world's last remaining unspoilt marine environments. Only 5000 visitors a year make it to King Island, ensuring it remains untouched by pollution.
Fancy sampling some Tasmanian cheeses from Red Cow Dairies, Yondover Farm House Cheese Farm or Elgaar organic dairy? Or some new-season apricot jam, or perhaps some juicy fresh tomatoes direct from the Tamar Valley?
Maybe some organic pork and beef from Mount Gnomon Farm tickles your fancy, or some interesting cuts of rabbit meat, or some new-vintage local wines from Sharmans or Humbug Reach?
Welcome to Launceston's Harvest Community Farmers' Market, held every Saturday morning come rain or shine and one of the best examples of Tasmania's growing producer-to-punter food culture, where growers sell direct to customers and freshness and source of origin are paramount.
Harvest recently celebrated its first birthday and has become a fixture on the Tasmanian market scene, along with the more famous Salamanca Market in Hobart, also held every Saturday.
Other markets of varying sizes at which to buy Tasmanian produce at its freshest include Hobart's Sunday morning Tasmanian Farm Gate Market in Melville Street and its recent Saturday morning spin-off at Bellerive.
The MoMa market at the MONA Museum, held every Saturday afternoon during the summer season, is curated by foodie Kirsha Kaechele and concentrates on what she describes as "fancy food, special picks and fresh produce from community growers".
Smaller markets like Cygnet in the Huon Valley, held on the first and third Sundays of each month, and the occasional markets at Ut Si Cafe in Perth, south of Launceston, feature goodies like fresh breads, local mussels, organic vegetables and preserves produced locally.
The newest is the Bream Creek Farmers Market on the road to Port Arthur, held on the first Sunday of every month. Think local smoked salmon, Berkshire pork, artisan ginger beer and home-made pickles.
In the north-east of the state the new Lilydale Village Market (every second Sunday) boasts that it features "gardeners, farmers, cooks, artisans, artists and performers" and is a zero-waste event.
Roadside farm gate stalls also pop up all over Tasmania at different times of the year, selling seasonal fruits like fresh cherries, apples and stone fruits. Many farmers just place fruit, or fresh fruit juices, in boxes by the roadside and rely on their customers to leave the correct change in an honesty box. In late summer, you can pick fresh blackberries from roadside hedgerows.
With world-class seafood and organic beef from Cape Grim and King Island, where the air is among the cleanest in the world, it is no wonder Tasmania has become a culinary hot spot. Its growing reputation is due in part to former Sydney Morning Herald restaurant reviewer Matthew Evans, who has filmed three series of Gourmet Farmer for SBS TV featuring Tasmanians who are breeding, growing and cooking their own produce.
Australia's island state has been described as "the new Champagne", "the future of Australian produce" and "one of the most beautiful islands in the world". It's also undeniably the centre of market-based cuisine in Australia.
And with cool-climate wines in vogue, it doesn't get much cooler than Australia's southernmost state, which over the past 20 years has started to produce world-class wines made mainly from pinot noir and chardonnay but also from varieties including sauvignon blanc, riesling, pinot gris and even cabernet sauvignon.
Festivals and events
Summer festival highlights include the seven-day Taste of Tasmania Festival on the Hobart waterfront in late December and early January, and three-day Festivale in Launceston in February.
Other, more intimate gourmet festivals include Richmond Village Colonial Fair, held each March in the Coal River Valley, and the Taste of the Huon, held in March at the Ranelagh Showgrounds in the Huon Valley.
Even in smaller towns like Burnie, in the north-west, there is plenty to explore throughout the year, including the Hellyers Road whisky distillery and the Makers' Workshop, a space that honours the town's makers, innovators and artists.
Opened in late 2009, the Workshop invites visitors to try their hand at various skills and on any given day there may be several artisans on site. The local farmers' market is held on the first, third and fifth Saturdays of the month at the Wivenhoe Showgrounds.
On the way from Burnie to Launceston or Hobart, pop in to Ashgrove Cheese and Christmas Hills Raspberry Farm (the Devonshire teas are legendary) and make sure to visit 41 Degrees South at Mole Creek to sample their smoked fish and ginseng products
The majority of wine grapes are grown in the north of this dramatically beautiful island. Wine tourism is in its infancy – the Tamar Valley Wine Route last year celebrated its 20th anniversary – but there are plenty of cellar doors to visit, ranging from larger operations with on-site restaurants to tiny family-run affairs with just a couple of hectares under vine. At some of these – like Holm Oak – you may have to hit the horn and wait for the vigneron to emerge on his tractor and open the tasting room door.
Hobart, the historic capital and largest city, is in the south of Tasmania, and is surrounded by three wine and food-producing regions: the Derwent Valley to the north, Coal River Valley to the east and the sleepy Huon Valley to the south.
The area around Salamanca Place is peppered with terrific eating and drinking spots including Smolt, Monty's on Montpelier, and The Grape and Cargo Bar, both of which sell many of the local wines by the glass. Also, don't miss award-winning Garagistes.
Hobart has many traditional pubs in the British style: check out the Shipwright's Arms, New Sydney Hotel or the Customs House Hotel.
If you want to dine while taking in vineyard views, then there are plenty of options, ranging from The Source at Moorilla to Frogmore Creek in the Coal River Valley, Home Hill in the Huon Valley and northern choices Josef Chromy and Velo, in the Tamar Valley.
Launceston, the state's second biggest city, has some outstanding restaurants including the eclectic Stillwater at Ritchie's Mill, with a terrific selection of wines by the glass, and sister eatery Black Cow Bistro, regarded as one of Australia's best steakhouses. Also try Terrace at Country Club Tasmania (which has an award-winning wine list), French-influenced Pierre's and Novaro's for reliable Italian dishes.
There are also several smaller wine regions: the road to the historic settlement of Port Arthur boasts a handful of wineries, while north of the city, just off the main road to Launceston, you'll discover pinot noir specialist Winstead in the hamlet of Bagdad (Sunday pizza here is great, but check for dates), while the East Coast's most charming cellar doors include Spring Vale, Freycinet and Milton.
Off the beaten track, sea-change towns like Cygnet, 45 minutes south of Hobart, are worth seeking out. The Red Velvet Lounge and Lotus Eaters Cafe are both award-winning eateries, while Tongola Goat Products and Cygneture Chocolates are both based in the hamlet.
Like Nick Haddow at Bruny Island Cheese and the team at Grandvewe Cheeses, Hans Stutz from Tongola Goat Products says he finds it "almost impossible to keep up with demand" for his goat cheeses. He says more and more people are looking for local tastes, a view echoed by former Sydneysider Gillian Ryan, who hand crafts her Cygneture chocolates using Belgian couverture and "fresh fruit, vegetables, herbs, teas, local beers, wines, ports and liqueurs from the Huon".
Chef Steve Cumper from the Red Velvet Lounge says: "I'm proud of the produce available locally and try to weave as much of it as possible into our menus."
Micheal (spelt correctly) and Mary Wilson have opened a 40-seater casual restaurant and cafe on their Velo vineyard site at Legana, north of Launceston, and say there is a desire for more casual easting options. "We see a definite move away from three-course fine dining to casual dishes, local food and a relaxed atmosphere," Mary says.
New Hobart dining destinations include Garagistes offshoot Sidecar, a Sydney-style small bar serving the likes of home-cured charcuterie and Wagyu hot dogs, the funky nearby Westend Pumphouse, a gastro pub/restaurant offering boutique beers on tap and shared plates, and Charcoal, a wine and tapas bar.
Look out for small producers and vendors of produce as diverse as saffron, wasabi, abalone, crayfish, oysters and honey dotted around the state.
Tasmania also has a thriving whisky industry with distilleries including Hellyers Road, Lark in Hobart, Nant at Bothwell, William McHenry and Sons at Port Arthur and Sullivans Cove at Cambridge.
Both the Cascade Brewery in Hobart and the James Boag Brewery in Launceston welcome visitors for tastings and tours and there are several boutique brewers who welcome visitors, including Seven Sheds at Railton in the north, along with artisan cider producers like Hobart's Captain Blighs and Lost Pippin, Willie Smith's and Frank's from the Huon Valley.
There's so much on offer, any self-respecting foodie may well need to splash out on some excess baggage.

For more information about tourism and wine routes in Tasmania visit:
www.discovertasmania.com and
www.winetasmania.com.au.