Pineapple Express: Brisbane's must-visit superfood cafe
Pineapple Express: Brisbane's must-visit superfood cafe
The superfood cafe phenomenon continues with this latest edition.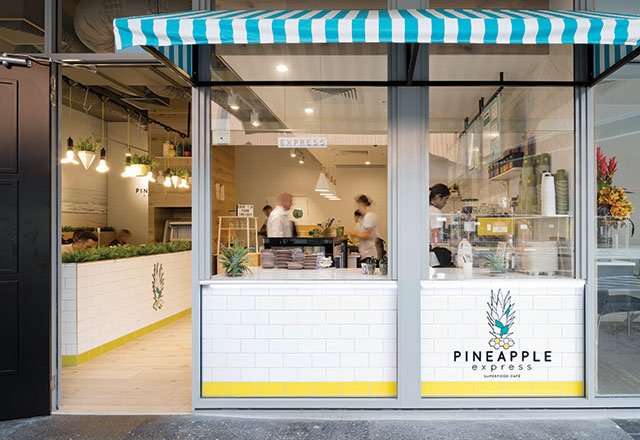 With beach vibes, bright colours, naked burgers and Cocowhip, this new superfood cafe delivers the feel-good food for all foodies.
A vision in turquoise, yellow and white, Pineapple Express is the answer to any Brisbanite's health food dreams. With an emphasis on superfoods and everything that is 'good for your insides', the café serves up an all-day offering of smoothies, acai bowls and Cocowhip.
Their breakfast menu (7am to 11:30am) ranges from everything from café essentials like smashed avo' and poached eggs to their green breakfast bowl (kale, broccolini, avocado, sunflower seeds, dukkah, chilli to taste, tomatoes and topped with a poached egg) and protein pancakes. "We offer a full breakfast menu with healthy options," says owner Jonathan Ford, "so we have dishes that appeal to the fitness fanatic and dishes for those craving more traditional breakfast options too."
The Portside Pineapple Express venue opened in June 2015, and it's cousin (Pineapple Express Superfood Box) opened in Fortitude Valley's thriving James Street precinct in October. Both are decked out in the same crisp, modern style with a little bohemian flair – a far cry from the milk crates and moustaches of the hipster city cafes. "Our whole vibe is bright and fresh and clean, modern while also being a bit retro, too, when you look at it, " says Ford. "We wanted it to be quite refined so when you walk in you feel really fresh and want to eat fresh, healthy food."
What's healthy? Well that's simple: "We make sure everything we serve is good for your insides, and that's without going down the route of different diets and fads, or saying that some foods are good or bad – I don't really believe in that," says Ford. "All of our food is simply good food."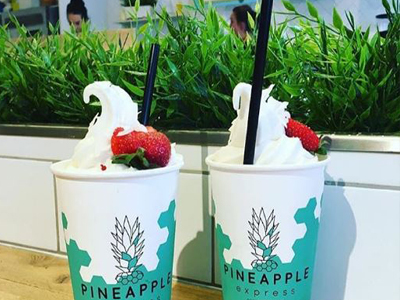 The name in itself, Pineapple 'Express', alludes to the fact that they're keen to make superfoods fast foods. Their Superfood Box venue (open from 5:30am) is set up like a kiosk, designed to offer streamlined service and grab-and-go options without sacrificing on nutritional value or taste. Everything from fresh salads and wraps to Paleo treats, acai bowls and coffee is on offer. For everything else, including their seriously sweet-sounding lunch menu (naked burger or vegan burrito bowl, anyone?) is available at the click of a button via their app. "The Pineapple Express app allows people to order and prepay so their food is ready to go when they arrive at the café," says Ford. "As soon as you order, it automatically prints to the kitchen, and you get a notification on your phone as soon as your order, is ready, which is great for people who are in a rush."
Embracing Brisbane's seemingly endless summer, where every season (except maybe winter) is bikini season, they also offer Cocowhip, an all-natural, low-calorie soft serve made from dairy free (and hence, vegan friendly) coconut water.