Maria Island Walk, Tasmania
Maria Island Walk, Tasmania
Welcome to one of the world's greatest walks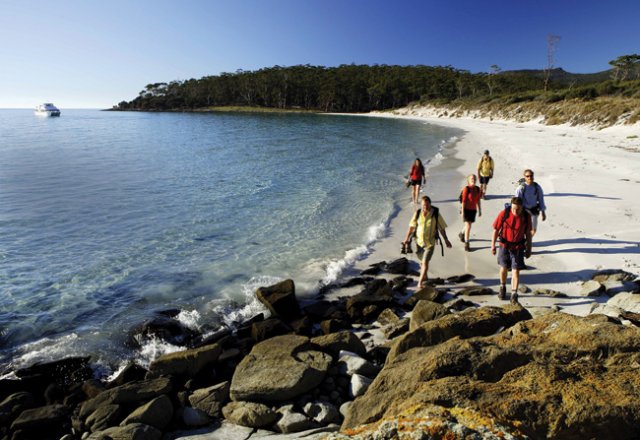 Enjoy the local cuisine while discovering the spectacular scenery of this world heritage listed national park.
Truth be told, I'm not much of a tent kind of guy. I like my comforts: a hot shower every day, a comfortable bed, good food and a cold glass of wine at the end of the day.
I like a walk with the dog; a stroll along the beach; a nice swimming pool and room service, too. Composting toilets, tent camps, mosquito nets and rocks that need to be climbed are not usually on my agenda. And, to put it bluntly, my fitness leaves a little bit to be desired.
So how would I cope walking 25 kilometres over three and a half days, with 15 kilograms in a backpack to carry, and with the option of several other walks should I survive?
Surprisingly well, as it turned out, although I opted out of most of the supplementary walks in favour of a seat in the sun, a dip in the ocean or a glass of Tasmanian wine.
The four-day Maria Island Walk is an internationally acclaimed guided walk off the east coast of Tasmania where small groups – a maximum of 10 guests and two guides – enjoy a combination of wilderness, heritage and gourmet delights.
Along the way you'll encounter somnambulant wombats, scurrying pademelons, all manner of bird life, including Cape Barren geese (the world's second-rarest breed), kangaroos and maybe even a rare Tasmanian devil or two. Dolphins and migrating whales are sometimes spotted from the pristine, almost completely deserted beaches.
The recent release of 11 healthy Tasmanian devils on Maria Island has added a new challenge and experience for walkers – and several have been spotted. The lazy wombats, however, are far easier to locate.
Maria Island has had a turbulent history. Once home to the Tyreddeme Aboriginal people, it has been used by sealers and whalers, as a significant penal settlement, a probation station and then enjoyed an industrial boom in the late 19th and early 20th centuries before declining into a small-scale farming settlement. Today, no one lives here permanently – other than the wildlife.
The Maria Island Walk is billed as 'a gentle and relaxing journey' through one of Australia's most beautiful and tranquil national parks and has been described as 'one of the world's great walks'.
I found it less than relaxing, but I could do with losing 20 odd kilos. I did find it invigorating, exhilarating and challenging. And Maria is 19.3 km long and 13 km wide, so there is plenty of opportunity to just get lost should you wish to do so.
The experience starts in Hobart, where walkers are picked up from their hotel and assemble at headquarters, where they are kitted out with lightweight backpacks, waterproof jackets, sleeping bag liners and pillow cases, water bottles and head torches and given a full briefing.
The guides (there are always two no matter how small a group), are chosen for their knowledge of Maria Island, including all the birds, native plants and animals. They've studied the history of Maria Island and the stories associated with it and can also cook, pour a wine or two and are infinitely patient with slow, heavily sweating walkers. Our pair of guides were both charming and frighteningly capable.
A bus ride to Triabunna is followed by a short crossing of Mercury Passage (quite calm in both directions) to remote Shoal Bay beach, where we were dumped with a cheery "see you in four days". It was noticeable that ours were the only footprints in the sand.
After a short walk (three km or so) we arrived at Casuarina Beach camp, with its tented village tucked away in the bush with the sound of the waves from Riedle Bay clearly audible. Others went off to explore nearby Haunted Bay, but I elected to take in the rare solitude and lack of phone signal (although Telstra does provide a weak service on some parts of the island).
Welcome to an eco-friendly, minimal-intervention world of no electricity and no hot water – although the chilly ocean makes for a pretty fine swimming pool and it is lovely to watch the stars emerge as the sun sets.
Post walk, our group savoured local wines (a choice of white or red – and good labels, too), beers and a dinner of tomato bruschetta followed by stir-fried Spring Bay scallops with soba noodles, shiitake mushrooms, wakame and oyster sauce. It was restaurant quality – as was virtually every meal on the trip. That was no mean feat given cooking facilities on the first two nights were rudimentary, to say the least.
Other meals included the likes of beetroot, rocket and goat cheese salad followed by a mixed grill of marinated quail, duck and kangaroo sausages and lamb cutlets, served with spiced couscous; and roasted pumpkin and pine nut salad with hazelnut dressing followed by herb-crusted Huon Atlantic salmon with creamy dill and chive mash.
Healthy, hearty fare followed by some quite decadent desserts – but, hey, there is plenty of opportunity to walk off any excesses. The final day's lunch – a pot pie with a bacon, cherry tomato and spinach salad – was stunning.
The wines are all Tasmanian from a selection of local labels including Milton, Bream Creek, Spring Vale, Cape Bernier and 42 Degrees South. Virtually all the produce is Tasmanian as well, and guests are given a list of suppliers (and recipes).
The next day's temperature soared to 35 degrees – and it was the longest day on the road; except the road comprised delightful bush tracks and gorgeous deserted beaches before a final couple of kilometres that really –strained the muscles.
During the day we explored Riedle Bay, glorious beaches, convict cells at Point Lesueur and an ochre pit at Bloodstone Point. At White Gums camp, most of us exhausted, we were treated to a cheese platter and pre-dinner drinks as a reward for our efforts. Some gluttons for punishment opted, instead, to head off rock climbing.
The third day takes in a 'gentle' inland track to Hopgrounds Beach and the Painted Cliffs – dramatically formed by crashing waves. There is also an option to climb Mount Maria and take in the 360-degree views – if the weather is kind.
Maria Island pre-dates Port Arthur as a convict settlement and was also home to short-lived silk making, wine making and cement-manufacturing ventures that were part of a bold but ultimately failed vision of an ambitious Italian entrepreneur, Diego Bernacchi.
On the final night, walkers stay in Bernacchi's gracious old home, which has toilets, showers, comfortable beds and a full-equipped kitchen before exploring the remains of colonial Darlington on their final morning.
I returned home a couple of kilos lighter and surprisingly lacking in aches and pains. And my troublesome back has been much improved since I covered those 13 kilometres in one day. So this is an experience that's both healthy and fun. You couldn't ask for more.
Maria Island Walks operate from October to the end of April and the price is $2,300 per person fully inclusive. The operators have won dozens of national awards. Walkers are advised to equip themselves with walking boots and warm clothing but all sleeping bags and bedding is provided.
PO Box 2054, Lower Sandy Bay, TAS 7005. 
Phone (03) 6234 2999.
NEXT: Browse food events in Australia>>
Author: Winsor Dobbim