Creating a healthy home with natural cleaning products
Creating a healthy home with natural cleaning products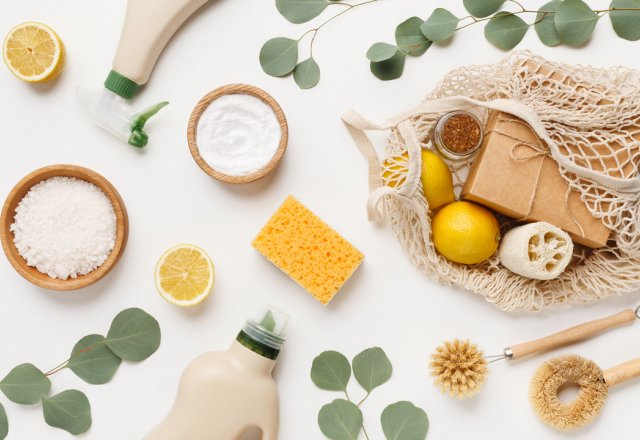 DIY home cleaning products have never looked, worked and smelled so good! One of the most common household problems is mould infestation and, naturally, we've got just the solution.
Exposure to mould via inhalation is commonly associated with health conditions such as allergies and asthma. It can also affect those with weaker immune systems, with the latest research suggesting that mycotoxic exposure can be linked to fatigue, musculoskeletal pain, headaches, anxiety, mood, cognitive impairments, and even depression.
The underlying catalyst of many health concerns, it is important that mould is never left to its own devices. However, when faced with actual cleaning options (other than the usual advice of improving ventilation and controlling dampness and moisture – which can be especially difficult in a bathroom setting), there are not too many options out there. Home cleaning products contain a myriad of different synthetic and toxic chemicals, which begs the question: are conventional products posing more harm than the mould itself?
The thing with man-made cleaning products is that the list of ingredients is just so long, most of the time we really have no idea what we're spraying, diffusing, or wiping. This Pandora's box of chemicals can cause serious harm to ourselves and the environment.
Lemongrass, its Latin name Cymbopogon citratus, is a tropical native plant of Southeast Asia. Containing citral as a terpanoid and flavonoids such as limonene, lemongrass as an essential oil provides potent antifungal and antibacterial properties. Not only does it have a zesty fresh aroma, but it also has some serious germ and fungi fighting powers!
All you need for your next DIY cleaning product is an empty spray bottle, warm filtered water and pure lemongrass oil. Fill your spray bottle with two cups of the water, add 10-15 drops of the oil, and that's it! Now that you have the mix ready to go, the next time your bathroom needs a good clean, spray this mix directly onto those mouldy, grimy and dirty spots in the shower, on and in between tiles and the toilet for some potent antifungal and antibacterial powers to provide a healthy, mould-free bathroom. This all-purpose cleaner can also be used elsewhere in the home, but avoid certain materials such as marble, natural stone and hardwood. Wearing gloves is also recommended as the oil may cause skin irritation.
But wait, there's more! You can also use lemongrass essential oil in your favourite diffuser anywhere around the house. This will help to kill existing mould spores in the air and prevent them from growing in large numbers. This is great if you live in a particularly damp area, or you've had a lot of rain and the house feels damp.
Making the simple decision to reduce your toxic exposure by opting to use or make all-natural home cleaning products is a small but important step in the right direction – one that benefits your wellbeing and the planet.
*Disclaimer: We recommend checking with your Naturopath before using essential oils
Words: Lucinda Burgess
References
Abdulazeez, M.A., Abdullahi, A.S. & James, D.B (2016). Chapter 58 - Lemongrass (Cymbopogon spp.) Oils. Essential Oils in Food Preservation, Flavor and Safety, 509-516.
Banoke, S. & Joda, O. (2004). Effect of lemon grass (Cymbopogon citratus Stapf) powder and essential oil on mould deterioration and aflatoxin contamination of melon seeds (Colocynthis citrullus L.). African Journal of Biotechnology, 3(1), 52-59.
Júniora, R. C., Capuchoa, E., Garcia, T.M, Del Valle, A.D., Campana, M. Elissandra, Zilio, E.M.C., Azevedo, E.B. & Moraisa, J.P.G. (2020). Lemongrass essential oil in sugarcane silage: Fermentative profile, losses, chemical composition, and aerobic stability. Animal Feed Science and Technology, 260
Li, M., Liu, B. Bernigaud, C., Fischer, K., Guillot, J. & Fang F. (2020). Lemongrass (Cymbopogon citratus) oil: A promising miticidal and ovicidal agent against Sarcoptes scabiei. PLOS Neglected Tropical Diseases,14(4)
Ratnaseelan, A.M., Tsilioni, I. & Theoharides, T.C. (20128). Effects of Mycotoxins on Neuropsychiatric Symptoms and Immune Processes. Clinical Therapeutics, 40(6), 903-917.