The Power Of Touch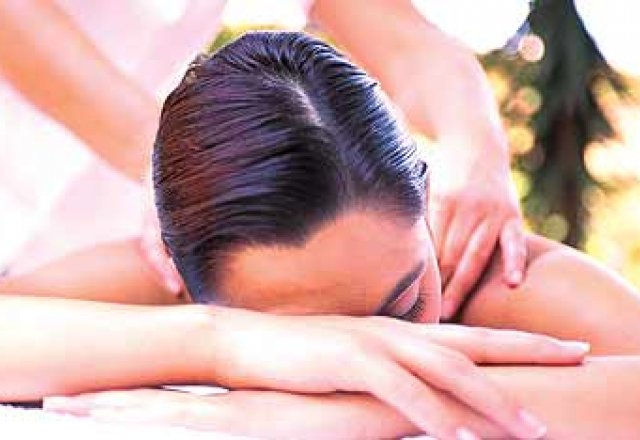 Your Guide to Massage
Massage is one of the oldest methods of healing, dating back almost 4000 years.
Whether it's at a spa retreat, sports medicine clinic or an alternative health resort, more people are turning to massage to remedy their ailments. So what is it about the touch of someone's hands that makes this ancient remedy so amazing?
The Ancient Greeks, Egyptians and Chinese were convinced of the therapeutic properties of massage and used it to treat a variety of ailments.
What is Massage?
Clinical and Thai masseur John Leckie says, "Massage is the physical, mental and spiritual healing of the human body. It involves manipulation of soft tissue structures to prevent and alleviate pain, discomfort, muscle spasm and stress, while promoting health and well being."
What are the Benefits?
Studies show that massage effectively treats a range of disorders. Leckie says his clients' needs vary, "I have clients wanting me to treat all sorts of ailments from those on work cover, to the chronically ill, wound management, post operation and ordinary musculoskeletal massage."
Many people will book in for a massage when their muscles are tight or when they feel stressed, but this is only the tip of the iceberg.
Massage reduces muscle tension, improves circulation and encourages a general feeling of relaxation. It also improves your lymphatic, muscular, skeletal, circulatory and nervous systems and enhances the body's rate of recovery.
Aside from the physical benefits of massage, there are mental benefits to be gained. These range from an increased peace of mind, a relaxed state of mental alertness, a reduction in anxiety levels and an enhancement of the mind-body connection.
Types of Massage
Some of the most common forms of massage include:
Relaxation – A smooth, flowing style that promotes general relaxation, improves circulation and range of movement and relieves muscular tension.
Remedial – A paramedical treatment to help restore function to injured soft tissues (muscles, tendons and ligaments). Treatment may involve the use of various types of massage, incorporating a range of other physical treatments.
Sports – Not just for athletes, sports massage combines various massage techniques to enhance sports performance and recovery.
Aromatherapy – Heals people through the application of essential oils and oil blends. Aromatherapy massage combines the power of touch with essential oils to promote overall health and well-being.
Oriental Therapies – Aimed at balancing the flow of energy throughout the body's meridians. Often this type of therapy is applied using finger pressure. Oriental therapies include things such as acupressure and shiatsu and seek to treat points along specific energy meridians, releasing discomfort and re-balancing energy.
Self Massage – Maybe not as effective as another person's touch, self massage does have some of the benefits of traditional massage. Even immersing yourself in a jacuzzi does wonders as the water massages. Read on and learn how to pamper your feet with a self-foot massage.
The Right Masseur For You
Given the number of people nowadays who offer massage services it can be confusing knowing how to locate the right one. "Word of mouth is a great way to find a good therapist," says Leckie, "you can be more confident of the masseur's abilities." At the least Leckie says, "Have a short consultation with the masseur before booking in for a session." Although no formal qualifications are necessary to practice as a masseur it's always a good sign if a masseur is registered with a professional body of some sort. Try contacting the Association of Massage Therapists Australia (03 9510 3930), they'll at least be able to provide you with a list of masseurs near to where you live.
WARNING
There are a few instances when massage isn't recommended. You should always check with the masseur prior to treatment to find out whether it's okay. It's advised to avoid massage if you are in the first trimester of pregnancy, have a skin rash, cut or infection or if fractures or broken bones are suspected.
Certain medical conditions require you to exercise caution if you're interested massage. If in doubt, check with your doctor before embarking on massage therapy.
Can I Afford It?
"You can expect to pay anything from $45 upwards for a 45 minute massage," says Leckie. However, he warns not to fall into the trap that the more a masseur charges the better they must be, this is often not the case.
Always check out the masseur's background first and if possible try to speak with some of their clients to get their opinion. If you are unsure whether you can afford a masseur why not contact your local university or tafe college where massage students will often provide treatments as part of their training and at a discounted rate.
The Power of Touch
Never underestimate the power of touch. Research has indicated that even just a half-hour massage can boost your immune system and lighten your stress levels, making you feel calmer and happier. There's reason in itself to treat yourself to a regular massage! NH
Do it Yourself: Foot Massage
Sit yourself on a chair. Rest one foot on the opposite thigh. Rub your favourite massage oil onto your foot. Applying pressure with your thumbs to the sole of your foot, working from the bottom of your arch to the top near your big toe.
Make a fist and press your knuckles into the bottom of your foot, moving from your heel to your toes.
Massage each toe by holding it firmly and moving it from side to side. Extend each toe gently out and away from the ball of your foot. Then apply pressure to the areas between your toes.
Hold your toes in one hand and bend them backward holding them there for five-to-ten seconds. Then bend them in the opposite direction and hold for five-to-ten seconds.
Finally, press and roll your thumbs between the bones of the ball of your foot. Repeat as many times as you like!
Rate This