Pantry essentials: 10 spices for a healthier you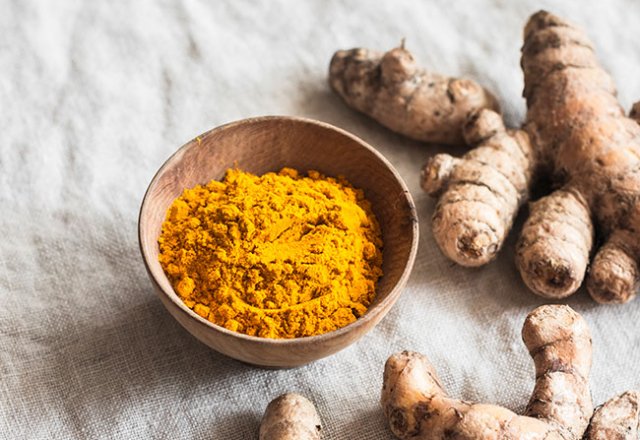 How many do you have in your pantry?
We asked Reece Carter to share the top must-use herbs for wellbeing.
Look at your spice rack. Hiding among the barely touched jars lie potent natural medicines, just waiting to be plucked from the shelf so they can show off their health benefits. See that bottle of fennel seeds you bought, used once, and then forgot about? Crack it open again and make a decoction. Now, add a handful of peppermint from the garden and, voila, you've got a tea to banish the bloat after a big meal. And the cinnamon you bought when you went through that baking phase? Blend a pinch or two into your morning smoothie to help keep sweet cravings at bay for the rest of the day.
Your local farmers' market can become your pharmacy, and your pantry can morph into a medicine cabinet, with a little knowledge of which humble ingredients have a physiological effect on the body. Here are 10 of my must-haves to make it easy for you to get started.
Liquorice
WHAT IS IT?
Liquorice root was once used to flavour confectionery, but has mostly been abandoned now in favour of artificial alternatives. The root itself though is an incredible tonic, and herbalists use it to aid in recovery from periods of intense stress, both physical and emotional.
WHAT CAN I USE IT FOR?
Recovery and adaptation to stress, and sore throats. Avoid liquorice if you have high blood pressure, and check with your doctor first.
Elderflower
WHAT IS IT?
Elderflowers are tiny creamy-white flowers that grow on elder trees in big clusters called umbels. They appear just when we need them, when allergies hit in springtime.
WHAT CAN I USE IT FOR?
Hayfever, allergies, colds and to help children with a runny nose.
Ginger
WHAT IS IT?
Like its colourful cousin turmeric, ginger acts as an anti-inflammatory. In traditional Chinese medicine, ginger is used to warm a cold body, and so it is a great tea to sip on during cooler weather.
WHAT CAN I USE IT FOR?
Bloating, colds, nausea, period pain, motion sickness and even hangovers.
Oats
WHAT ARE THEY?
'Oats aren't a herbal medicine!' I hear you cry, and maybe you're right, but they are such a medicinally powerful food. The fibres in oats bind to excess cholesterol in the gut and help lower 'bad cholesterol'. They also leave skin feeling silky smooth when used in external preparations.
WHAT CAN I USE IT FOR?
Maintaining healthy blood cholesterol and lipids, and eczema.
Green tea
WHAT IS IT?
Green tea is full of catechins, which have been clinically tested to show their antioxidant and immune-stimulating effects. Other compounds called xanthines have given green tea a reputation as a metabolism-booster and weight loss aid. It's also strongly antibacterial.
WHAT CAN I USE IT FOR?
Colds and flu, weight loss, fatigue and acne.
Fennel seed
WHAT IS IT?
Fennel is a small, elongated seed that tastes a bit like aniseed. Along with fresh peppermint from your garden, it's about to become your strongest ally when it comes to the battle of the bloat; the oils in fennel relax muscles in the gut and make for easier digestion.
WHAT CAN I USE IT FOR?
Irritable bowel syndrome (IBS), bloating, cramps and flatulence.
Garlic
WHAT IS IT?
Known to boost immunity, kill off bad bugs and even help lower 'bad cholesterol', garlic is a tonic we should all be on. Keep the parsley within reach though, and munch on a handful afterwards to ward off garlic breath.
WHAT CAN I USE IT FOR?
Maintaining healthy cholesterol and lipid levels, boosting immunity in winter and fighting off colds.
Turmeric
WHAT IS IT?
Turmeric really is the king of anti-inflammatories as it contains curcumin, which is believed to work in the same way as pharmaceutical anti-inflammatories. It doesn't have the nasty side effects, leaving your gut lining healthy and happy.
WHAT CAN I USE IT FOR?
Irritable bowel syndrome (IBS), arthritis and joint pain.
Valerian
WHAT IS IT?
Valerian root was my first introduction to herbal medicine, when I decided to take a natural sleep aid on a long-haul flight. It was a big mistake opening the tincture inside the plane; it didn't take long for valerian's tell tale old sock smell to fill the cabin.
WHAT CAN I USE IT FOR?
Insomnia and mild anxiety.
Dandelion
WHAT IS IT?
You've probably got plenty of it growing in your backyard, but since it's easily confused with another herb called cat's ear, I don't recommend that you play botanist and forage for your own. We use two parts of the plant in herbal medicine: the green leaves stimulate digestion, and the root is used for liver complaints.
WHAT CAN I USE IT FOR?
Loss of appetite and constipation.
Reece Carter holds a Bachelor's degree in Health Science (Naturopathy) as well as a lifelong passion for all things green. From the planter box to the pantry, Reece reveals how to turn leaves and petals into remedies in his latest book The Garden Apothecary ($39.95), published by HQ Non Fiction and is available in stores now.
Rate This